If I use a wired internet connection provided by my colleague is there any way for him or anyone connected to that same modem to watch the files in my laptop or if they can see my laptop while I'm using the internet like Skype or Gmail?
The short answer is: absolutely yes.
You are very right to be concerned. This is a topic I touch on from time to time, and it's worth discussing a little bit more, since the risks are very easy to overlook.
Can they access the files on your machine?
I can only say maybe.
First, you want to make sure that you have your firewall turned on. This will prevent the majority of truly malicious accesses due to malware and the like, but you also need to make sure that Windows file sharing is turned off.
Depending on your version of Windows, this can be easy as a simple change to the firewall settings. For example, in Windows 7, make sure that your network is classified as public, and that network discovery and file sharing are both turned off in the Windows firewall settings for public networks.
If file sharing is turned on, it's possible for someone to actually view the contents of your hard disk and the files on it.
Later versions of Windows tend to default to some more secure settings, but the worst-case scenario is that it's possible to see everything.
Can they see what you're doing on the Internet?
Probably.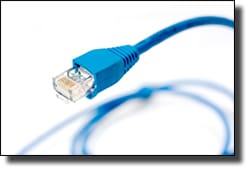 The setup you're working with is very, very much like operating your computer in an open Wi-Fi hotspot. Anyone connected to the network could potentially see your unencrypted data. Even when the connection is encrypted they can still see what sites you are visiting, just not the data you exchange with those sites.
The solutions here then are exactly the same as when you're using an open Wi-Fi hotspot.
Use https whenever available. In particular, make sure that anything truly sensitive like email or banking is only done via an https connection. And if you need more protection than that, start using a VPN service, which will encrypt everything you do between your computer and the VPN service's server; meaning that no one in-between can see much of anything.
Realize who your ISP is
I've long said that your ISP can see everything you do. Most of them aren't interested, but the point is the technology is set up so that the person providing your internet service can see pretty much whatever it is you're doing, and that amounts to everything I've just talked about.
But think about it for a minute. What does ISP stand for? It stands for Internet Service Provider.
In this case, your colleague is providing your Internet service. They're your ISP. With enough technical smarts, yes, he could indeed see what you are up to unless what you are up to is encrypted. And other people sharing that same connection potentially could also, depending on how things are set up.