Leo, I'm running Windows 7 with Microsoft Security Essentials. Five months ago I bought a Samsung portable external hard drive. It's come to my notice that these removable media drives can become very vulnerable to virus and bugs affecting them. I'm extremely worried about this. My portable drive is about 1/3 full of video movies and flv and mp4 file types. I have hundreds of movies stored. I want to guarantee that they will remain safe and preserved for hopefully many decades to come. If a virus attacks these portable hard drives then they can shut down. I think one starts getting messages like this drive is not formatted. I want to be ahead of such problems and do all that I can to be sure that no harm comes to my files in the long-term. What can be done to insure longevity and safety to the drive and its contents?
I have some very specific ideas for you, but I also want to clear up a couple of very important misconceptions.
Vulnerable? Yes, but…
First off, external hard drives, or portable drives, are no more likely to be affected by malware than internal drives. In fact, they're slightly less likely to be affected- since most malware infects the system that's stored on the internal drive.
Yes, some malware can use external drives to travel from system to system. But even when they do that, they don't typically affect the contents of the external drive itself. While I'm sure that there is malware that harms data on external drives, malware is not at all what I would worry about most in your situation.
The phrase "not formatted" as an error message is rarely the result of malware, but it absolutely does happen. I hear about it from time to time and see it myself.
The biggest risk: failure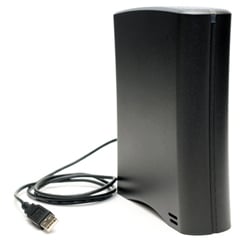 That brings us to a very important point. Your hard drive will fail!
Someday, sometime, perhaps without warning, it will break. I think it's fair to say that eventually every hard drive will fail. Some fail sooner, some fail later, some stop being used before they fail, but they will eventually fail.
When a hard drive fails it may fail in a way that allows the data to be recovered, or it may fail so catastrophically that it destroys all data on the drive. Particularly if you're looking for decades of longevity, you need to accept the fact that your drive will fail someday.
Preparing for failure
That means you need to prepare for it. Something I keep stressing to people over and over again is a very, very simple rule of thumb:
If there's only one copy it's not backed up.
If you have only one copy anywhere and that "anywhere" is lost or goes away or fails somehow, then your one copy is gone – forever.
You, my friend, need to start backing up that drive of yours immediately.
If the data on that drive is important to you, back it up. If it's really important to you, back it up again! By that I mean, make a second backup or a third copy. Back it up to another computer; back it up to another hard disk; back it up to another portable drive; back it up online. It doesn't really matter as much where you back it up to (within reason of course), what matters here is that you must start backing up the data on that drive.
Regardless of whether it's malware, or a hard disk failure, or something else failing, a backup can save you.
Heck, since it's a portable drive, you could lose it – and again, a backup will save you.
Every single one of your concerns is addressed simply by keeping that data backed up. Remember: if there's only one copy it's not backed up.