I've been told that an external hard drive can still be corrupted after you transfer files, pictures, whatever. Should I still purchase an external hard drive or get a subscription to a good online service?
Yes, yes, a thousand times yes.
Everything can fail, including the online service. Backing up isn't as much about which backup technology you choose as it is about having multiple copies.
The Golden Rule
The golden rule of backups is this:
If there's only one copy, it's not backed up.
When you have data backed up (meaning you have made multiple copies, in any medium) then data loss will only happen if all of these copies are destroyed at the same time.
Failure
You're quite correct in that there are things that can go wrong with external drives. They are hard drives, after all. They can and probably will fail eventually. But if you still have your original files, you just replace the external hard drive and resume backing up.
Online services can fail too. Your account could get hacked; your data could be destroyed. The service could suffer a failure of some sort, or even go out of business. But again, you still have your originals and thus you move to a different backing up service and resume backing up.
When it comes to backups, it's a numbers game. And more is always better. However, if I could get everyone to just back up to an external hard drive, 99% of the disasters that I hear about would stop happening.
The rule of three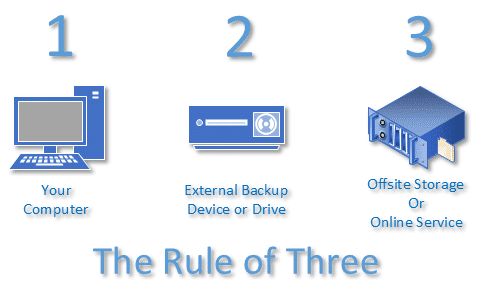 So what about that 1%? Well, one rule of thumb is to have:
three copies
on (at least) two different media types
with one stored elsewhere
That reduces the probability of disaster even more.
For example, if you add an online backup service for your data, in addition to backing up your entire machine to an external hard drive; then your data is protected from things that could take out both the computer and the external hard drive, like fire or theft.
I personally would not use an online backup as a replacement for backing up to a hard drive. But I do see it (and in fact I use it myself) as an additional part of an overall backup strategy to further reduce the possibility of disastrous data loss.