How to burn the bridge.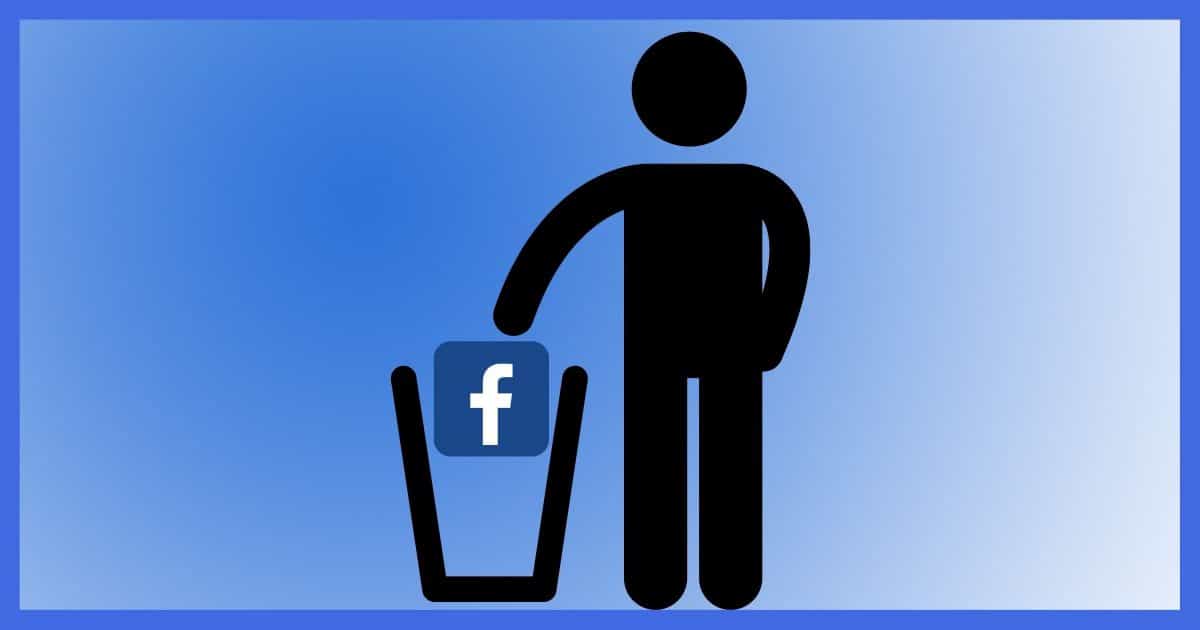 Deleting your Facebook account requires some preparation, including understanding exactly what you'll lose.
What is the safest way to deactivate and completely eliminate my Facebook account?
Many people are concerned about Facebook for a variety of reasons, and are seriously considering deleting their Facebook account completely.
I'll walk you through some simple steps to do it, pointing out a couple of issues that can cancel your deletion, and a couple of important things to know before you do it.
Deleting your Facebook account
Sign in to Facebook using the account you want to delete. (Required)
Go to Facebook Settings and "Your Facebook information"
Click on "Delete account" and "Continue"
Review what you're about to lose and consider alternatives.
Click on "Delete account"
DO NOT sign in to Facebook for at least two weeks, preferably longer
You must be able to sign in
If you've lost access to your account and want to delete it, you cannot.
I can't stress that point enough.
Think about it: if you could delete an account you couldn't sign in to, then anyone could delete any account.
Signing in proves you are the account owner and have the right to delete it.
If you can't sign in, the first thing you should do is regain access. Once you've done so, come back here to delete the account.
Deactivation
Note: Deactivation is not the same as deletion.
Deactivation "turns off" your account but does not remove your data. Someone can still tag you in photos, and much of your information may still be visible, either publicly or to other Facebook members.
The idea behind deactivation is that someday you'll come back and want all your old stuff to be restored.
Naturally, Facebook points you at deactivation rather than account deletion. Visit the Facebook Settings page and click on Your Facebook information. You'll see the option to deactivate or delete your account. (You may need to scroll down to see it.)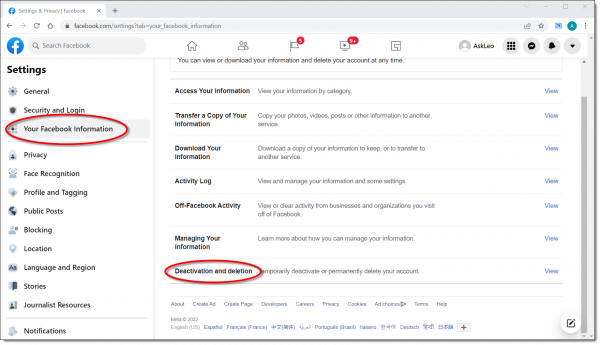 Clicking on View will give you the choice, with deactivation being the default.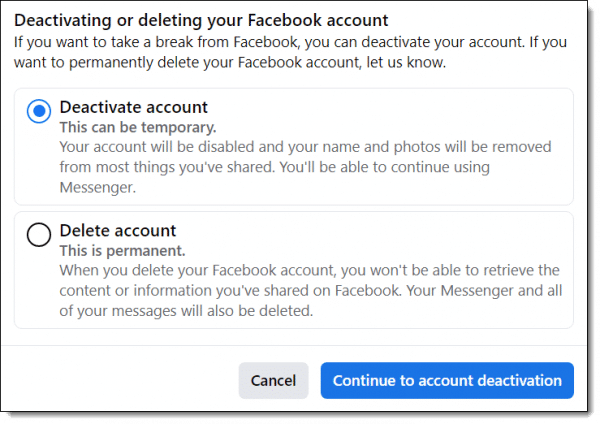 However, if you're absolutely positive you want a solution that says "I'm never coming back", this is not what you want.
You want to delete your Facebook account.
Deletion prep
First, delete all the ties you've created to your Facebook account from outside Facebook.
If you've ever used the "log in using Facebook" option on other websites or services, those logins will stop working once your Facebook account no longer exists. Go to each of those sites and change how you log in before you delete your Facebook account.
Are you using a Facebook application on your mobile phone? Delete it first, from all your devices.
Using Facebook Messenger? Delete that too, from all your devices.
As we'll see in a moment, any still-existing outside connections to Facebook can cause your account deletion to be canceled.
Deletion
In the dialog above, click on Delete account, then click on the Continue button.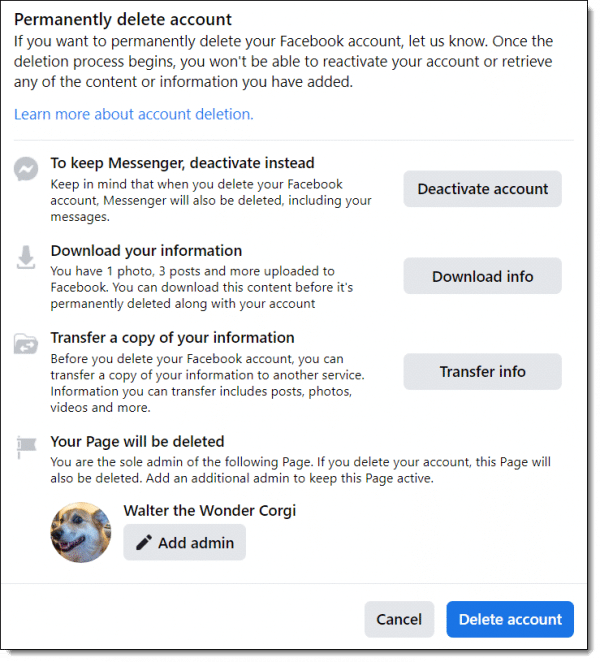 Pay careful attention to the delete dialog that appears. This details more ramifications of deleting your account and includes alternatives that may be preferable depending on your situation.
I would recommend choosing to "Download your information" to ensure you lose nothing posted on Facebook and nowhere else.
When you're absolutely certain, click on Delete account.
Don't sign in again
After the process is complete, you might be tempted to sign in to the account to make sure it's really gone. Don't do that.
It's also common to accidentally sign in to the account, either on your computer or via one of the connected apps I mentioned above. Don't do that either.
Don't try to sign in to your account for at least two weeks.
I'd wait longer.
If you sign in within two weeks, you may cancel the deletion. If any of those external Facebook applications sign in again, I believe you also risk cancelling your account deletion.
After 14 days, the deletion is permanent. If you change your mind and want a Facebook account again, you'll need to create a new one.
Do this
I personally don't see any reason to delete Facebook accounts. If you don't like it, don't like using it, or whatever, then simply don't sign in. Remove any content you don't want people to find, make the account private if you like, but otherwise just pretend it's been deleted.
That way, you can always change your mind.
Permanent deletion is permanent; there's no going back.
Instead of Facebook, how about subscribing to Confident Computing? Less frustration and more confidence, solutions, answers, and tips in your inbox every week.
Podcast audio

Download (right-click, Save-As) (Duration: 8:10 — 7.7MB)
Subscribe: RSS