Question: When I want to open a file in Excel a dialog box appears: "PROGRAM ERROR: EXCEL.EXE has generated errors and will be closed by Windows. You will need to restart the program." How do I fix this?
This can happen for a number of reasons. In fact, it can happen to any of the Microsoft Office programs, including Microsoft Word, Microsoft Excel, Microsoft Outlook, and others.
Fortunately, Microsoft Office has an option to help deal with situations like this.
You can repair Microsoft Office.

Launching Microsoft Office Setup
Fire up the Windows Settings app, and click on System.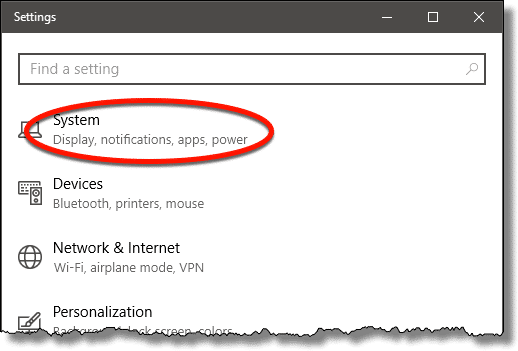 On the next page, click on Apps and Features.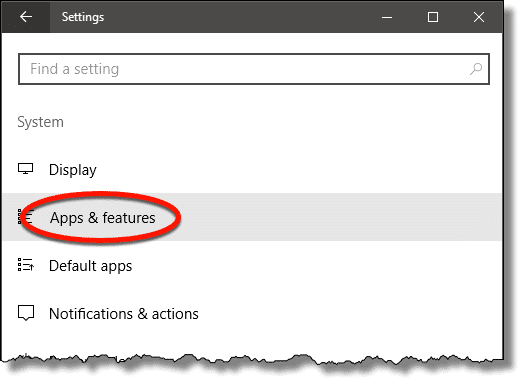 (In earlier versions of Windows, launch Control Panel, and click on Add/Remove Programs or Programs and Features.)
After the list populates, which can take a few seconds, look for Microsoft Office (or use the search box and just enter "Office").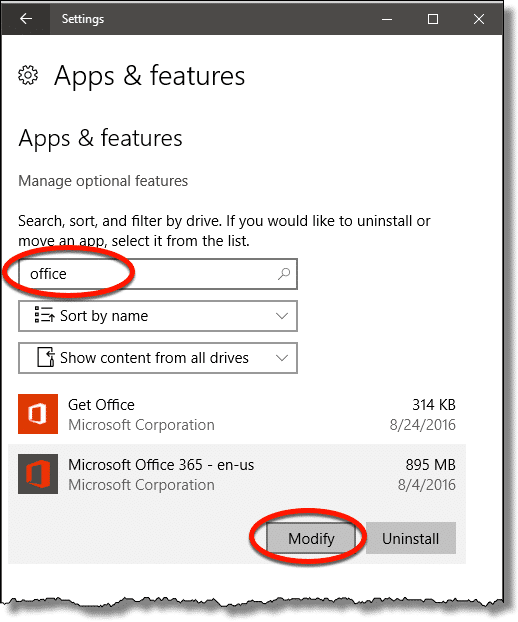 Click on the Microsoft Office entry to expose the actions you can take. (In earlier versions of Windows, you may need to right-click to see the options.) Click on Modify (or Change in earlier versions).
You may be presented with a UAC prompt, asking for your permission to let the set-up program make changes to your system.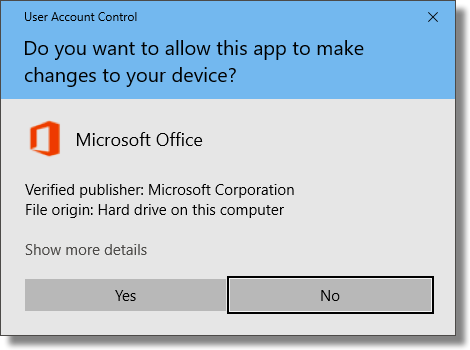 Click Yes.
Repair with Office Setup
Depending on how you installed Office, you may need your original installation media – either the original install CDs, DVD, or the equivalent. If you installed one of the more recent versions by downloading directly from Microsoft, the repair may happen without any additional discs required.
Having clicked "Modify", Office Repair begins with a choice of how thorough you want the Repair to be.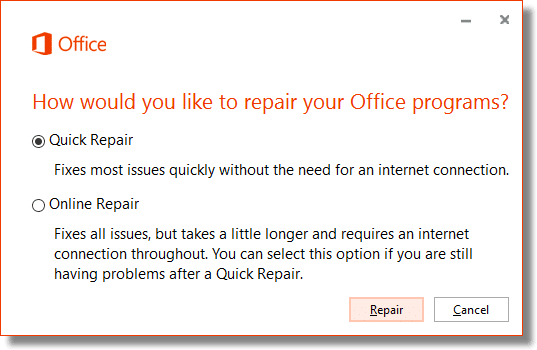 My recommendation is that you try the "Quick" repair first, which I'll demonstrate here. If that doesn't resolve your issues, repeat the process using the "Online" repair.
Click on Repair. You'll get a confirmation message asking if you're ready, since the operation may take some time.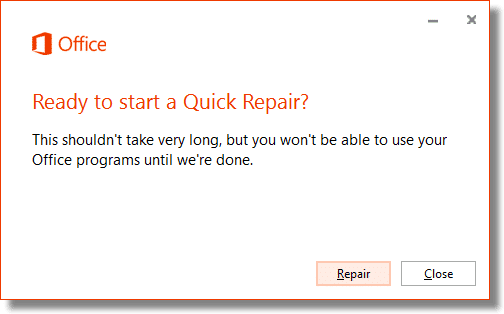 Click on Repair, and the operation begins.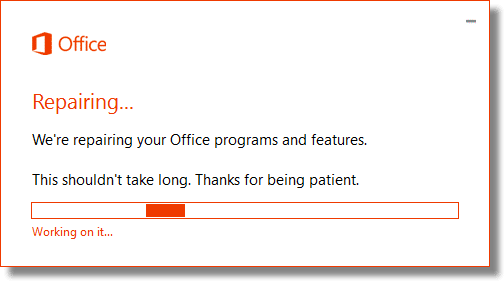 Since programs cannot be updated while they're actually running, the repair process may let you know that it's closing some apps as part of its work.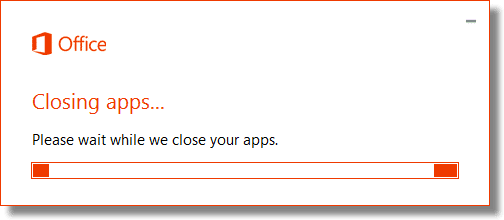 Eventually the repair finishes.
Depending on the changes made, you may be asked to reboot your computer for the repair work to finish.
If that didn't help…
Repairing Microsoft Office will not repair any of your Office data files. If a document has somehow been corrupted, it's possible that this could potentially crash your Office program.
The easiest way to determine this is to take the document to a different computer, running another copy of Microsoft Office, and attempt to open the document there. If it works, then it's likely your installation of Office is the problem, and not the document. If it fails, it's likely the document itself is at fault.
Unfortunately, there's no general-purpose Microsoft Office document repair tool. The closest is ScanPST, a tool specifically created to repair Microsoft Office Outlook's PST files. Unfortunately it's only for PST files, and there are no equivalents for other Office file formats that I'm aware of.
Otherwise, if your documents are the cause of the problem, hopefully you have backup copies that haven't been damaged.
Another possibility is a misbehaving add-on. Like many programs, Microsoft Office's tools can be extended by third-party add-ons. Occasionally, those add-ons can cause issues. You can try uninstalling or disabling any you're aware of. Exactly how you do this will depend on the specific add-on. If you're not sure, the Programs and Features list we started with is a good place to look.
Finally, if nothing else seems to help, there's always the "nuclear option": back up your data, uninstall Office completely, and reinstall it from scratch. That should get you a pristine working copy of Office.
Podcast audio

Download (right-click, Save-As) (Duration: 4:30 — 2.1MB)
Subscribe: RSS