Question: I have lost my internet toolbar which allows me to go to my tools, file, internet options, etc. What do I do about this?
From your description, I'm going to assume you mean that all this is happening within Internet Explorer, though similar features are present in other browsers (as well as other applications).
It's easy to accidentally hide menus and toolbars.
I'll examine those, and show you how to get your toolbar, menu, or whatever it is that you're missing back.
The big surprise: F11
A lot of people get bit by this one. Here's Internet Explorer (showing the current contents of https://askleo.com), displaying its menu and toolbar as normal: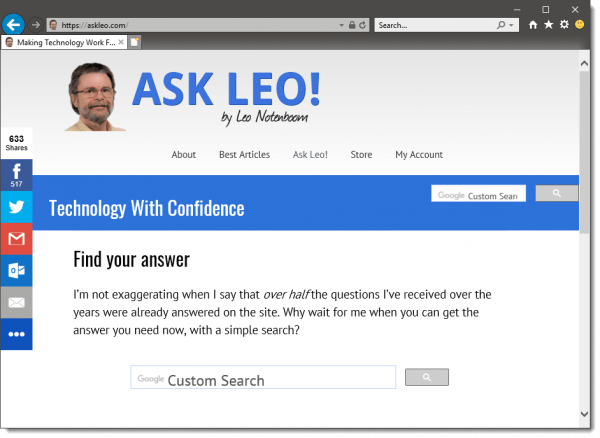 And here it is after pressing F11, accidentally or otherwise:

F11 instructs Internet Explorer to a) go full-screen, and b) hide all the menu bars, toolbars, and window frames.
If you find yourself in this situation unexpectedly, just press F11 again, and it should return to normal.
F11 works the same way in Edge, Google Chrome and Mozilla Firefox, meaning that if you suddenly find yourself full-screen and with no address or menu bar in those browsers, try hitting F11.
In fact, F11 has become enough of a pseudo-standard that if you find yourself in this same predicament in any application, give it a try.
The Internet Explorer Menu Bar
The by-now-familiar File, Edit, etc. menu bar may default to being hidden in IE, as you can see from the "before" image above; but it's easy to get back.
Approach #1: press and release the ALT key.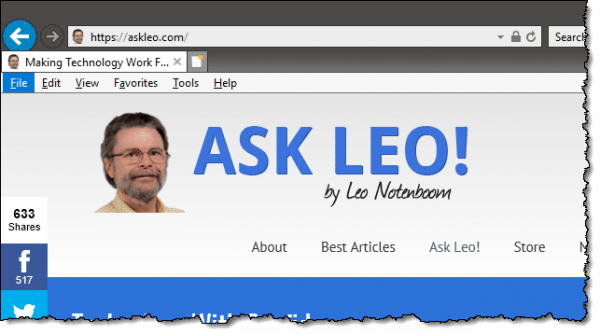 This will make the menu toolbar appear temporarily, and you can use the keyboard or mouse to access it normally, after which it goes back into hiding. This works when you're in the full-screen F11 mode above, too.
I did call it a "toolbar", and that's the key to making it appear all the time.
Approach #2: right-click in an empty area next to the tabs, or on the Favorites button, and you'll see a dropdown menu, one item of which is "Menu bar". Make sure that's checked, and the menu toolbar will reappear. Now it won't go away when you use it.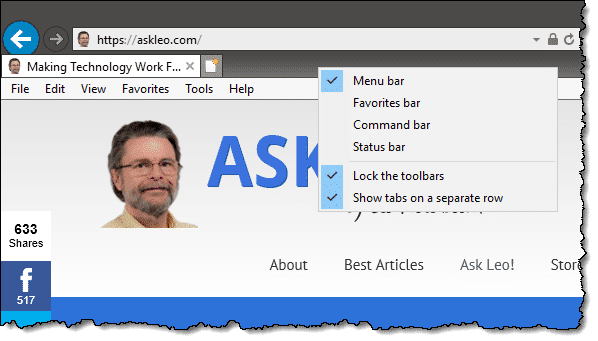 That popup menu has options for several different toolbars you might want to display.
Mozilla Firefox has this same functionality. Google Chrome no longer has a menu bar, per se, but instead relies on the vertical ellipsis (three dots) on the far right of the address bar.
Podcast audio

Download (right-click, Save-As) (Duration: 3:14 — 1.6MB)
Subscribe: RSS