Microsoft updates are getting to be a pain in the neck, but yesterday they really got to me. Many programs I use for business, and personal use were no longer functioning. The main concern I have is the loss of Corel products, especially WordPerfect, I was wondering why Corel was hit so bad. I suspected Corel had something to do with this crash since my Corel products are very old, 2004, and thought maybe they wanted me to buy newer software.
I am simply frustrated and will accept any guidance you will suggest.  I really don't know what to do, I have uninstalled most of the Corel products and WordPerfect appears to be working, but I have lost most of the products that were included on the 2 CDs in the package.
While it's not as common as the headlines might lead you to believe, this isn't the first time I've heard of the scenario you outline: Windows 10 updates itself, and you find that other software on your machine has stopped working. Often it's older software you've been using for years without a problem.
I can't guarantee a fix, of course, but I'll outline what I would do in this situation to maximize the chances of everything working again.
Years of random updates can leave a machine in an odd state.
Back up everything first, using an image backup.
Re-install Windows from scratch and get it up-to-date.
Re-install the applications you use from their original media, and update them as appropriate.
Recover your data from the image backup you started with.
Time and software
Software shouldn't degrade over time, but it does. The combination of operating system, application, and driver updates, installing and uninstalling programs, adding and removing hardware and more, all happening at random times and in random order, can seriously impact a machine's stability.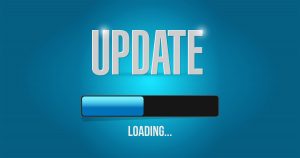 The term for it is "software rot".
It's better than it used to be, but particularly for older machines (that have had both software and hardware  upgraded a few times, not to mention all the different things that change over time) it can still happen.
Software rot can result in one update — say a Windows update — causing unintended consequences elsewhere.
The approach I rely on is somewhat time consuming. But by carefully starting from scratch and isolating all the updates, we can stack the deck in favor of ending up with a system that works once again. As a side effect, the result is often somewhat leaner and faster, as we avoid installing things we no longer use.
Back up
This is a critically important step. What follows will erase everything on your computer's hard drive. Backing up first, before we begin, ensures that everything on your computer now can be recovered should you need it later. Specifically, we'll recover the various data files you have, like documents and pictures, from this backup in the final step.
This backup should be what we call an "image backup", which creates an image of absolutely everything on your hard disk. This way, you don't need to know, remember, or care exactly what you need to back up. You'll simply have a backup of everything, whether you need it or not.
Macrium Reflect or EaseUS Todo are two image backup tools I use and recommend. They both have free editions, and either will do.
Reinstall Windows
Step two is to reinstall Windows from scratch.
You do this by finding the installation media for your current version of Windows. You may be able to download disc images if you don't have them, which is very common for machines that have been upgraded to Windows 10 from a prior version.
Boot from the installation media and follow the installation process. If asked, you do not want to save any pre-existing Windows installation or files — this is an installation from scratch.
Once the installation is complete, get Windows as up-to-date as possible. Generally this involves visiting Windows Update in Control Panel or the system settings app, and checking for and taking all available updates until there are no more to be had.
Reinstall applications
Now reinstall the applications you plan to use in the future.
For this step, you'll need to either have the original installation media or be able to download the setup programs as needed.
The process that follows is the same as with Windows: use whatever update mechanism the applications have to get them as up-to-date as possible.
I'm not necessarily saying you need to upgrade to the latest versions, but you should get whatever version you have as up-to-date as the manufacturer provides for. In your case, that might mean you don't necessarily need the latest version of Corel (2019), but you should get Corel 2004 as up-to-date as Corel allows.
Recover data and carry on
Using the backup tool you used to create the backup image, you can now recover your data. This needn't be done all at once; you can simply grab what you need from the backup image as you need it. (Hopefully, you'll also use this as opportunity to set up regular backups.)
If you have the files elsewhere — say in an online service such as OneDrive or Dropbox — it's possible you don't need to use the backups, and can simply copy the files from the service. The process of setting up some of these services will restore all your data for you without any additional work.
When things don't work
The weak point in this scenario is the third step: reinstalling your applications.
It's quite possible that some applications — like a 15-year-old copy of Corel — is simply no longer supported in Windows 10. There's little to be done about that other than bite the bullet and upgrade to the most recent version, or look for alternatives.
But by carefully sequencing all the installs and updates, we've at least stacked the deck in favor of it working, and being able to get more years out of the software we have.
Podcast audio

Download (right-click, Save-As) (Duration: 6:41 — 3.1MB)
Subscribe: RSS
Video Narration