Question:
How do I set and use my laptop screen and TV screen together?
Unfortunately, the answer really depends a lot on the type of TV, the specific model of the TV, and the specific model of your computer. What I'll do here is I'll look at a few of the details that factor into this kind of setup.
What's on TV?
Most modern flat screen TVs typically have two types of input: HDMI, which handles both video and sound, and DVI, which is video only. On some sets, you might find a VGA connector; an older analog type of input that is actually very much computer related.
There are often also what are called "RCA" connectors. These are the ones that you would use to connect the audio in conjunction with either the DVI or VGA connectors.
If your TV has none of these, then it's simply unlikely that it could be used as a computer monitor at all. Or in situations where it could, it will probably look pretty darned bad.
What on your laptop?
In order for this to work, your laptop needs to have some kind of a video output. Most do. Older ones will have a VGA connector. More current ones will have either a DVI or an HDMI, or something that's called "Display Port".
Ideally, you want to connect same to same. For example, if you have an HDMI port on your laptop, you will want to connect to the HDMI port on the TV.
I prefer HDMI if it's available at both ends, simply because it's a single cable that carries both video and audio. Sometimes, you can convert from one to the other, but not all combinations will work or work well.
VGA and DVI connections don't include audio. So if you use one of those, you'll need an additional cable for sound. Typically what that means is that you'll be plugging one end of the cable into a speaker or headphone output on your PC, and then the other end to the "RCA" audio input on the TV. Alternately, you could just use the laptop's own built-in speakers for sound.
Connecting is really only half the problem.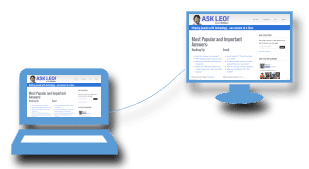 Making it work
Windows 7, 8 and 10 support the Windows + P key: hold down the Windows key and hit the letter "P".
That enters what's called "Presentation mode". This allows you to choose how multiple screens should be used. You can set it to:
duplicate whatever is on your laptop screen to an external monitor or TV
use only the laptop screen and ignore the TV
use only the TV and turn the laptop screen off
use both the laptop screen and the external monitor or TV as if they were, side by side, one big desktop
Note that the resolution of your laptop screen might change if you enable duplication. If the TV is not capable of supporting the same resolution as your laptop, then typically Windows will reduce the resolution so that the image can be the same on both screens.
Older laptops and older versions of Windows will often use Function keys on the laptop keyboard to enable presentation mode. There's often a blue Fn key that's used in conjunction with another key, perhaps a key that has a monitor icon on it, to cycle through the various options available. In other words, you type Fn + the monitor key once, you get one combination; you type it again and you get a different combination, and so on.
These same instructions apply to pretty much any situation where you want to get a computer screen's image to show up somewhere else: whether that's a TV screen, a monitor, or even a projector. It doesn't matter whether you're using a laptop or a desktop computer.