I recently downloaded and installed an application. It works just great, but having no CD, how do I reinstall the program in the event of a disaster?
There are several possible answers to reinstall downloaded programs that depend on exactly what it is you purchased and where you purchased it from.
The good news is that there's rarely a reason you would ever lose what you purchased, as long as you took a few precautions.
Let's look at what those precautions might be.
Save the receipts and the keys!
I don't think I can stress this enough: when you make an online purchase of software – any software – it's important to save both the purchase receipt or confirmation email and any kind of activation key or code. Having these available when you need them may make the difference between being able to recover your purchase or needing to purchase it again later.
Similarly, back up what you save. If you save it all in a folder on your hard disk and that hard disk then dies, you'll lose this critical information at exactly the time you might need it the most: when replacing the hard disk and all the software installed on it.
While you're at it, save the download, too. I'll have more to say on that below.
Operating systems
More operating systems are now available primarily as downloads, albeit large ones. There are typically two approaches:
Make media: Many downloads are provided in a form that allow you to immediately make installation media. Ubuntu, for example, is offered as a DVD image in the form of a .iso file. Because it's free, you can download it at any time using any computer and make a bootable installation media by burning that .iso file to a DVD.
Even if you've purchased an operating system like Windows 8 online and installed it directly without making media, it's possible that by using the information on your emailed purchase confirmation that you can download it again, this time making the choice to make installation media – either USB or DVD. For Windows in particular, remember to reinstall the operating system. You'll need to have saved the product key that you received when you purchased it.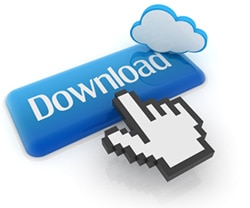 Make a backup: If for whatever reason re-downloading the operating system to make installation media isn't an option, you should immediately make a full backup image of your machine. Ideally, you would do this immediately after installing the OS in the first place, but if you haven't, then "as soon as possible" will have to do. Now, when disaster strikes, you simply restore this backup image to your presumably fixed machine and you're running once again. This is also the only scenario that doesn't require that you re-enter your product key to recover.
Applications
Particularly for free applications, a scenario that is forcing you to reinstall things is also a perfect scenario for making sure that you're as up-to-date as possible. So, step one is to simply re-download the current version of the application from the original site or source and reinstall that.
When you've purchased an application things get a little more interesting.
Some vendors will let you download the program again at any time, and then have you enter your product key to activate, enable, or otherwise legitimize the installed program. Naturally, this is the reason I so strongly recommend that you save your product keys at the time you purchase the software.
Often a download link will expire after a certain amount of time. If you need that download again, you'll usually be directed to that vendor's customer support to provide some kind of proof that you did indeed purchase the software often in the form of an order or confirmation number from the original receipt. This is the reason I so strongly recommend that you save those as well. Having proved that you purchased the software once, most vendors will then provide you with another temporary link from which you can download the software.
What if you can't download again?
The unfortunately too-common scenario is that people can't download again. Perhaps the vendor has gone out of business. Perhaps you need a specific version that's no longer available. Perhaps you're not online any more. Or perhaps you've lost your receipt.
Then, my friend, you are out of luck.
Unless…
Unless you saved a copy of what you downloaded on the day you purchased it.
Much like the receipt and the product key, whenever you purchase downloadable software, save it. Back it up. After you download the file (making sure to select "Save As…" if asked when you click on the download link), copy the file somewhere to save it. Make sure that copy gets backed up and you'll always have it, ready to reinstall whenever you need it.
And, yes, that's exactly what I do. Whenever I download software – purchased or not – I copy the file that gets downloaded to a location on another machine, which in turn gets backed up nightly.
Just in case.