I received a question that pointed me to an article on a reputable mainstream press site discussing the Windows 8.1 Update that Microsoft recently rolled out. The update will become the new baseline for Windows 8 and within a month or so, it'll be required in order to receive continued updates.
Their article's  headline compared getting the update to the way Microsoft discontinued support for Windows XP and it insisted that people need to take action now.
While  there are some similarities, the headline was pure hyperbole.
In reality, you may not have to take any action at all. If you do, you'll probably want to take that action sooner rather than later, but it's not the end of the world if you're late.
Windows 8.1 Update is … an update
I don't know why Microsoft elected to call this an update, because we get updates all the time. I see it more as a service pack, but for whatever reason, Microsoft elected to give this the formal name of Windows 8.1 Update (note the capital "U").
Call it what you will, but it's just an update – albeit a large one. In fact, if you're like me, you may already have it installed.
In Control Panel, fire up Windows Update: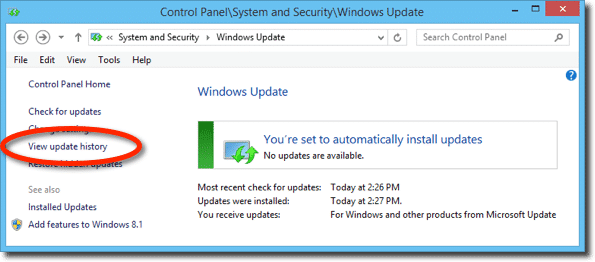 Click View update history.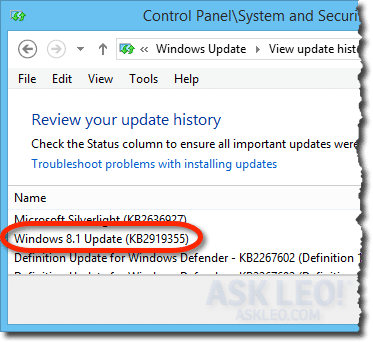 In my case, it was already there. (You may need to scroll down in the installed updates list to locate the update.) I did nothing special, but the update had already been downloaded and installed.
Why is that? As we'll see in a moment, the update is considered important. As a result, if you have Windows Update set to install important updates automatically (as I do), it'll do just that – download and install this update automatically.
So, you may not have to do a thing.
If the update's not installed
On my laptop, however, things were different. I went to Windows Update and noted that I had an important update available: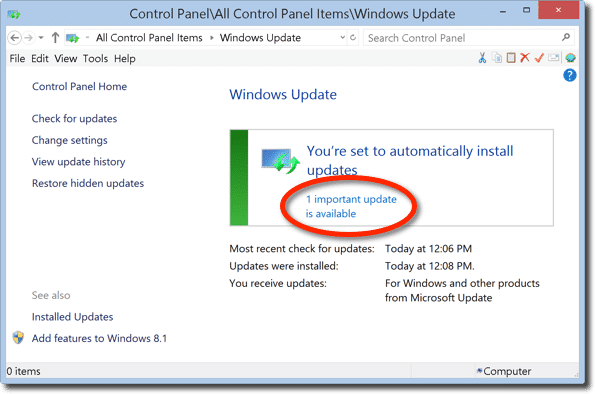 And sure enough, when I clicked through to see what it was, I saw that it was "the" Windows 8.1 Update:

Note: One of the reasons why the update might not be installed is its size: 890.2 megabytes in my case. It's possible that not leaving the system running long enough to download it all (as is the case for my laptop copy of Windows 8) might delay its installation.
I simply made sure it was checked and clicked Install; it began downloading right away: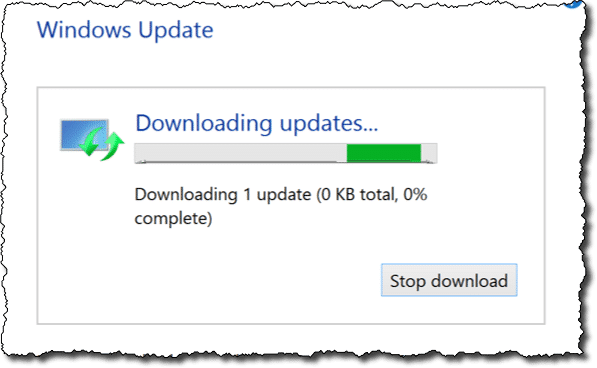 Some lengthy amount of time later, it completed the download and installation.1
Why the urgency?
As I said, I think the urgency implied by some of the news reports is overblown.
Unlike Windows XP, you can continue getting updates after the deadline by making sure that Windows 8.1 Update has been installed on your Windows 8 machine. In the meantime, your hardware, software, and peripherals will continue to be supported – again, unlike Windows XP.
Naturally, I recommend installing Windows 8.1 Update prior to the deadline (currently, the beginning of May 2014). Other than the download size, there's really no compelling reason not to, for most people. And of course, it will become the new "baseline," as Microsoft puts it, on which future updates will be built.
Why a new baseline? I can only speculate, but I would assume Microsoft is attempting to accomplish two things here:
Reduce the complexity of future updates by reducing the number of different possible combinations of updates that people have installed. By assuming that everyone has Windows 8.1 Update installed, they no longer have to worry about all possible combinations of updates that may or may not be installed when they develop and test future updates.
Increase the frequency with which they can reset the baseline. Clearly, Microsoft has been moving to a more frequent release of somewhat-major updates to their operating systems. Resetting the baseline is one of those updates.
The net result should be more effective distribution of the bug fixes and security updates that you and I want.
But I still wish they would have simply called it Service Pack 1.