Perhaps this is an odd question or this isn't the right place to ask it but I have to start somewhere and you might be the best beginning. I'm an old lady but a computer user/lover who knows more than most of the people in my category and what I don't know, I enjoy researching. Eventually, but not always, I find what I need. I constantly find menus and setting and clicking choices and such that I don't understand and the regular available manuals just don't explain. There are probably manuals that do but they would undoubtedly be beyond my capabilities to understand or just TMI.
My question is , how can I find a way to learn more and more without being a professional? I want to learn not the mechanics of the computer – not how to build one for example but how to understand and interpret some of what I see and proceed to use it to my advantage. I don't know what kind of course, what kind of study would give me that. There must be something.
First of all, I absolutely love your attitude. I truly, truly wish more people were like you.
Unfortunately, while there must be something, there are so many "somethings" that it's really difficult to know where to send you.
Back to school
Classes are one option. Depending on where you live, there may be classes in computer basics available at community colleges, libraries, senior centers and more.
The biggest issue I have with classes is that they typically have a fairly fixed agenda and what I'll call a focused level.
If you're at a level below what they're teaching you'll probably quickly feel lost. If you're at a level above, you might end up being bored. I think the most important thing you can walk away from a class with is contacts; local contacts that you can later ask questions of.
User groups
Another option is a local computer user group. Now, user groups have been around forever, and they often present a perfect place for people of various skill levels to get together periodically and help each other out.
Don't make the mistake of thinking that computer user groups are only for the "geeky".  I know of several (some of whom republish some of my articles in their group newsletters) that cater to novice and intermediate adult computer users. And once again, this gives you a community of peers that you can then feel comfortable asking questions of.
Online groups
Online discussion groups and forums are all over the net. Most are topical, meaning that you might easily find a discussion that focuses on a specific technology. It's not uncommon for me to find answers in groups like that when I'm researching a question that someone has asked.
There are also more general online groups, but they tend to be offshoots of other organizations. I know of open discussion groups on places like Yahoo Groups and Google Groups, as well as areas within organizations like the AARP.
Ask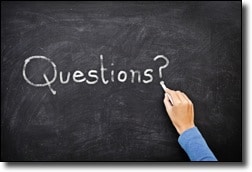 The common thread to the options I've listed so far is simply this: don't be afraid to ask questions. It's perhaps the single most important thing that you can do.
And yes, it might take a little legwork to find a venue where you feel safe asking what you might feel are "stupid" questions. Here's the big, big secret about these so-called stupid questions: for every "stupid" question I answer and publish, a number of people write to say they had the exact same question, but were afraid to ask.
But that's also why I stress finding the right venue, be it a discussion group online or in person, that you feel comfortable in, or sites like Ask Leo! or others. I wouldn't ask a lost-password question in a database discussion group, for example, or a Windows question in an Apple forum. But once you find that right place, then absolutely ask away – please!
Books? Not for this
You'll note that I've not mentioned books. In my opinion, books are great when you're dealing with a specific task you want to accomplish; tasks like backing up, or keeping your computer clean and speedy. But when it comes to the more general level of how things work, or what menus mean, or just why things are the way they are – to me at least – books don't quite cut it.
There's no real substitute for just diving in and trying things out, and of course, asking questions along the way.
It's hard to really break your computer
Lastly, I have to address a surprisingly common fear that I encounter all too often: you cannot break your computer by poking around.
Yes, you can mess up the software on it and get things in quite the state if you really go after it. But that's all software; none of that actually breaks the computer itself.
And that's why I always emphasize regular and complete backups. No matter how badly you mess up your computer's software (and lord knows, I've done this myself, I've messed it up real good), restoring to the most recent backup undoes all the damage – quickly.
If nothing else, knowing that you have a good backup in place allows you to be a little bit more adventuresome; a little bit more willing to try things out, discover new things and of course, ask questions along the way.