Question:
I've noticed sometimes when I get an email from someone who used a distribution list, that everyone's actual name along with their email address is displayed in the "To" field. I've noticed this from friends who use MSN and AT&T though I'm not sure about Yahoo and Gmail and so forth.
Seeing all the recipients' actual names along with their email addresses tells me who they actually are when I might not be able to tell from some other cryptic email addresses. Now I know I can set up my mail so that my name appears as the "send" instead of my email address, but how can I have all my note recipients' actual names, along with their email addresses, always be displayed in the "To" field? All my contacts have their first and last names in the appropriate fields in my Contacts list. But is there another field in AOL that will allow me to do that?
I'm not exactly sure whether you're asking about the "To" line in email that you receive, or in email that you send. The answer is actually quite different depending on which it is – and I'll touch on that, and email addressing in general.
Though I will throw out the caveat that I'm not very strong on AOL. So if things don't work the way I describe with your AOL email client, you may need to actually ask AOL for some help.
Addresses and names
The low-level email protocol that all mail servers use to send email back and forth supports two different pieces of information for each recipient:
A descriptive name or display name, which is actually optional and is in fact ignored by the protocol.
The actual email address of the recipient; the email address to which to send that email.
If you've ever seen a name followed by an email address in angle brackets, that's what you're seeing:
John Q. Public <example@randomisp.com>
An email address alone? It's just an email address. An email address in angle brackets is what the mailer actually pays attention to if there's a descriptive name in front of it. Like I said, the descriptive name is otherwise ignored.
You set your own when you configure an email account. Most email programs or services will actually ask you for two pieces of information: your name and your email address. Then, when it sends email, it sends it as being "from" your name as the display name followed by your email address in angle brackets:
From: Ask Leo! Reader <awesome@randomisp.com>
Now, this isn't something you can type in when you compose a message; it's actually something that the email service or program constructs for you using the name and email address you configured when you set up the account in your email program or service.
As I said, the name's completely ignored so you can set pretty much whatever you want. That's why so often you'll get spam where the name is one thing, and the email address is something that's clearly completely unrelated to the name.
Display this, or that?
If there's both a display name and an email address, email programs can choose what they want to display on the email you receive. They can display only the display name (hence the term), which is very common; they can display the display name followed by the email address in angle brackets, which is what it sounds like you're seeing on the email you receive, or they can ignore the display name and show only the email address. Typically, they only do the latter if there is no display name to display.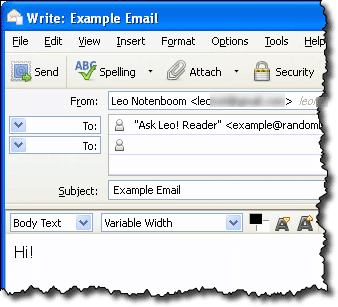 When you compose email, the "To" line gets kind of interesting.
In most programs, if the email address you type in is in your address book, the program will automatically fetch the display name if there is one. And in most programs, if you start typing someone's name that matches a display name, the program will show you one or more potential email addresses from your contacts, or perhaps email addresses you've recently sent mail to, and allow you to select one.
But in most cases, if you have both a display name and an email address, regardless of how you type it in, the email program should use both in the "To" line. Unfortunately, if that's not what you're seeing with AOL mail, I can't quite explain it.
Changing what's displayed on received mail
If you're asking if you can change what you see when you receive email, the answer is simple. You can't.
What's shown when you display the email you receive is completely determined by the sender. Your email program isn't really supposed to play around with that at all.
And of course, I have to point out that it's bad form to send email to a distribution list in such a way that everyone's email address is visible to the other recipients. You, or the sender, should probably be using the BCC line for that. Among other things, that cuts down on spam.