Question: I'm changing email accounts, but I don't want to lose people who have my Hotmail address. How do I automatically forward Hotmail messages messages to my new account at a different provider?
The recent forced switch-over to the Outlook.com user interface left many long-time Hotmail users upset and dissatisfied. Many are considering leaving Outlook.com behind, except that this would mean abandoning their Hotmail.com email address.
Fortunately, it's very easy to automatically forward Hotmail messages or any email that comes into your Outlook.com account to another email provider.
Setting up the forward
Login to your Outlook.com account and click the gear icon in the upper right: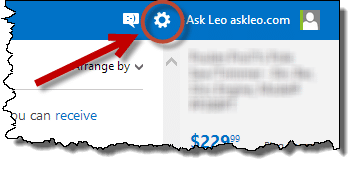 Then, click More mail settings: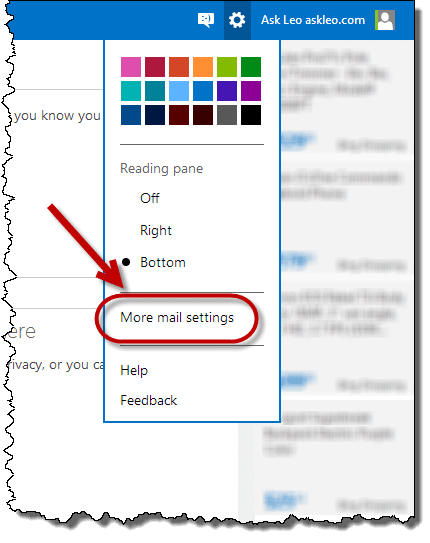 This will take you to the Options page. On the left, underneath "Managing your account", click Email forwarding: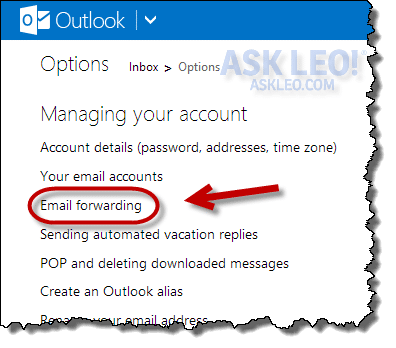 On the resulting page, there are several important bits of information to pay attention to: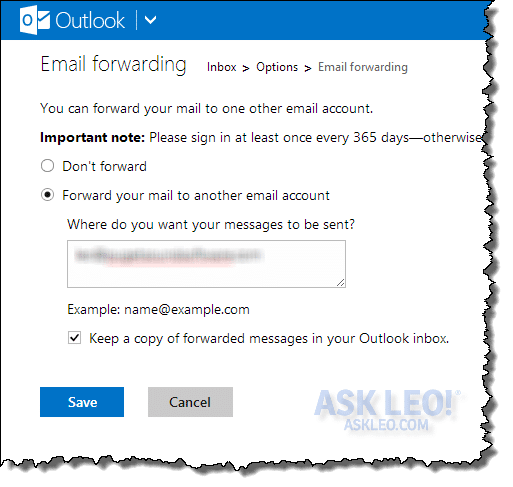 Specifically:
Select "Forward your mail to another email account."
Enter the email address where you want all your Outlook.com (and Hotmail) email to be forwarded.
Select whether you want to keep the forwarded email in your Outlook.com inbox or not. If you're not sure, I recommend checking this as a form of backup for your email, if nothing else.
Click Save.
Your email is now being forwarded.1
When you return to your inbox, you will now see a notification at the bottom of the screen:

The message reads: "Your mail is being forwarded to another email address. To stop forwarding your mail, go to Options." This is to remind you that your email is being forwarded elsewhere and to give you the option to change your mind.
This is also a security measure: if your account is ever hacked this notifies you if the hacker set up email forwarding without your permission.
Login regularly anyway
Even though you're now forwarding your email to a different email account on a different provider, it's critical that you still login to your Outlook.com account periodically. Quoting the Email forwarding page that we used above:
Important note: Please sign in at least once every 365 days. Otherwise, your account looks inactive and could be deleted.
You must retain control and ownership of your Outlook.com/Hotmail account in order for forwarding to continue. That means you must login periodically or Microsoft may assume that the account has been abandoned.