Managing scanned documents. I've been using Visionere scanners and Paperport since version 1, and ever since Nuance took over the software, well, it's been a disaster. Version 11 crashes multiple times for no apparent reason. The worst part is that I can't find any comparable program to replace it that can do everything it can do. I end up living with it but it's really frustrating. What do you do?
My document management approach has changed over the years. I used to, very carefully and manually, scan documents, name files, put them in organized folders and so on. I don't do anything like that anymore.
Going paperless
I've talked and written before about how I strive to be as paperless as possible. I get documents electronically whenever possible. Bills, receipts, and much more come to me in the form of bits rather than on sheets of paper.
One of the biggest reasons I do this is that I can do something with bits much more easily than I can with paper: I can back them up. With paper, unless you burn more paper with a copy machine, you have exactly and only one copy. With electronic documents, you can have as many copies as you care to create.
I think for most of my electronic documents, about half a dozen machines in something like three or four states would all have to implode simultaneously for me to actually lose something – and those include not just my machines but some that are owned by some pretty large companies.
So, what do I do when I actually get paper? Needless to say, I scan it, but it's how I scan and how I manage my documents after that where things get kind of interesting.
Scanning documents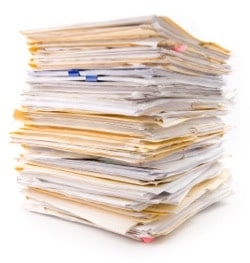 I have a Fujitsu ScanSnap scanner. It's an older model, but it has worked solidly for several years and it has been worth every penny I paid for it. You can drop a multi-page document into its feeder, push a button, and it'll proceed to scan both sides of the entire document with pretty amazing speed.
Once it's done so, I typically shred the actual paper document for security. My thinking is that the recycle bin on my street is a lot less secure than my own electronic document management techniques.
When a document is scanned by my ScanSnap, it automatically runs OCR; Optical Character Recognition. Remember, a scan of a document is really just a picture of that document. There's no text associated with it that a computer can use. OCR is actually a separate process where the computer looks at the picture and tries to determine what the actual text is on that page.
The document with the text is then stored.
I put it all in Evernote
Now, I store almost all of my documents in Evernote. For security, of course, it has two-factor authentication enabled. I've stopped trying to name or file any of the scanned documents in Evernote beyond a rudimentary scanned documents folder.
So how do I find anything? Well, I use search first, and it's awesome. That's why the documents are OCRd in the first place. It allows me to search for the term I think the document I'm looking for contains.
Evernote search is blazingly fast, and I quickly cut the list of hundreds or thousands of documents down to just a few or even just one. If there are more than one, I do a quick visual scan and I've got exactly what I'm looking for.
But note my overall process:
insert the paper into the scanner
push a button
That's all I need to do. Everything that happens after that is completely automatic until of course, I need to find a document. Then I just perform a quick search and have what I need.
Now, it gets even better. Evernote has a mobile app. That means two things. 1) Wherever I go, I have almost immediate access to all the documents in my collection and 2) I can add documents quickly and easily wherever I am.
How? By taking a picture.
Like I said, a scan is nothing more than a picture of a document. My phone has a camera. So, for example, I take pictures of receipts at restaurants rather than carting home the paper slip. That picture goes directly into Evernote. Evernote even does OCR on uploaded pictures this way, so I can easily find them later with a search.
Honestly, the only time I ever have trouble finding documents these days is when they pre-date my switch to Evernote a few years ago. Then I have to go back to searching my old collection of folders and files.