I have a Compaq Presario that I purchased new in 2006, which came preloaded with Windows XP. Due to the loss of support for Windows XP, I'm looking to purchase a new computer, but with limited funds available at the moment. My question is this; if I do purchase a new CPU from HP, will my current CRT type monitor still be able to work with a newer computer?
First of all, be aware the term "CPU" actually refers to only one chip that's inside the box. We typically refer to that box that I think that you call CPU as "the computer" and the external monitor, "the monitor".
Will the old monitor work? Well, quite probably. It's not an unreasonable scenario at all.
I'll review what you need to look for and what you might be missing out on.
Cables
The biggest issue you'll come across is the physical connector. Your CRT most likely has a VGA-style connector to take a VGA analog signal.
Newer computers may not have such a beast. Most will have, at a minimum, the newer DVI digital connector for the digital interface. Some may even have an HDMI interface, which is actually the digital TV interface we're using these days, but which also works really well for computer screens.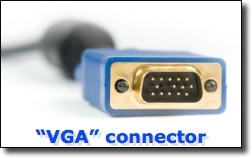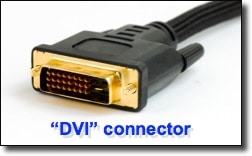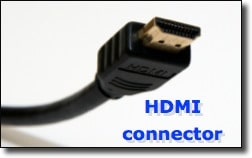 You'll need to find some kind of adapter. Exactly what adapter you'll need will depend on the video card in your new machine. If you can, confirm before buying that the video output will be capable of producing VGA. In that case, the computer might actually come with the small adapter that you need. Connect the adapter to the computer and the cable to the adapter, and you could be good to go.
No VGA?
If the computer cannot output VGA signals, then things get interesting.
You can look for a DVI-to-VGA conversion device, but at that point it might be cheaper to bite the bullet and get a new monitor. Before you do that, though, check your TV. Besides taking HDMI, many newer TVs also often support DVI directly. So, if you can use your TV as a computer monitor, you may already have everything you need.
And for the record, it's also possible that an older CRT actually has a DVI connector, which would make all of this moot, of course. It would just work with your new computer. I just don't know how common that is. DVI connections became more popular with the digital signals and newer computers.
A word about resolution
We also have to talk a little bit about screen resolution. That CRT that you have will have a maximum resolution of some sort. 1024 x 768 is one of the old common ones, but it could be as low as 800 x 600. That's something I think you need to check on. Windows and many applications are now assuming a larger screen resolution, or they're at least optimized for these larger resolutions.
For one example, I've had one of my virtual machine copies of Windows 8 configured to run as a 1280 x 720 resolution. That's the equivalent of HD 720p on most televisions. It's not a bad resolution to work in at all. However, there are apps – specifically a few Windows 8 tiled apps – that simply will not run because the vertical resolution, that 720, is too small. They need something like 768 or better to even come up.
So you might want to confirm that your old CRT will be capable of supporting those applications before you make the jump.