To unsubscribe or not to unsubscribe: that is the question.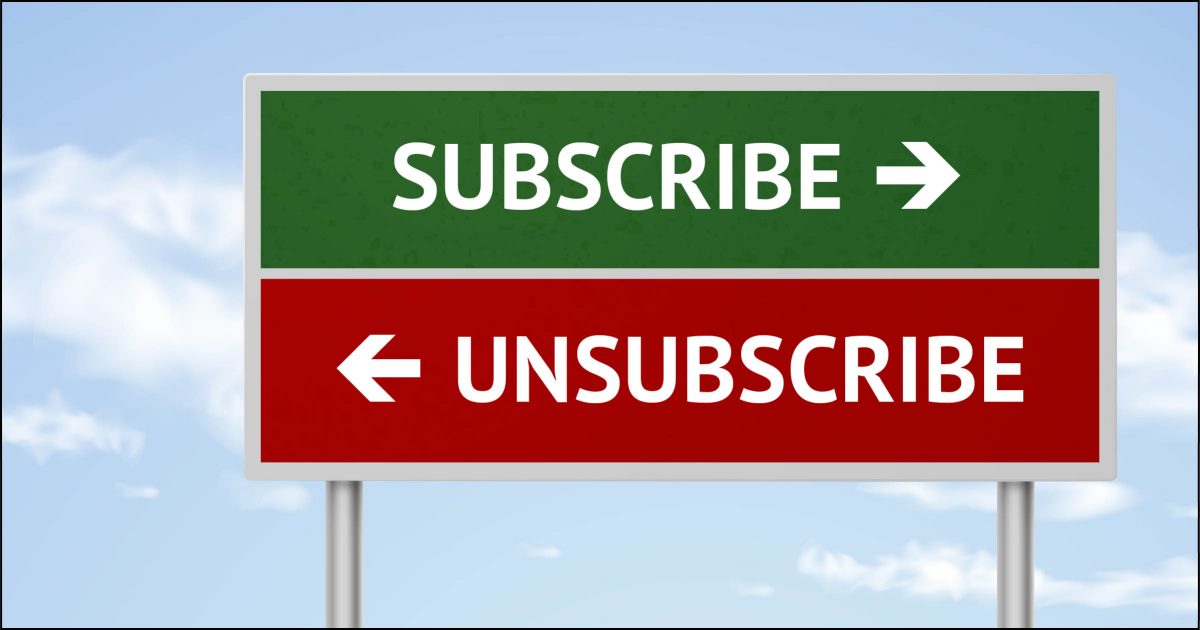 To unsubscribe or not to unsubscribe: that is the question. The answer depends on how you got there.
Question: How does one get off of an unwanted email distribution list? Does clicking the "unsubscribe" button really work? That just seems to generate more.
It depends on how you got on the list in the first place.
Sometimes "unsubscribe" is exactly the right thing to do.
Sometimes you should avoid it at all costs.
The general rule is simple: click on the unsubscribe link for emails you asked to be on, and never click on unsubscribe for unrequested emails/spam. Marking as spam should never be your first choice when it's email you explicitly signed up for, but if an unsubscribe request isn't honored in a timely fashion, then it's become spam.
If you subscribed to the list
If you subscribed to the email list yourself, then clicking the unsubscribe link is exactly the right thing to do.
That means at some point, you:
Filled out a form to subscribe
Joined an organization with a mailing list
Made a purchase
Made a purchase and also checked some kind of a "send me updates" checkbox
Some other explicit step you recall
99% of the time, click unsubscribe and you'll be removed from the mailing list without any hassle.
Naturally, there's that other 1% where things don't go as promised.
I give lists a couple of days to remove me. Some lists tell you "It may take up to 48 hours for you to be removed." There should be no need — unsubscribing from an email list should be instantaneous — but I've seen lists claim it takes up to a week.
I may not give them a week, but I usually give them a couple of days.
If you continue to get emails after that, it's time to call it what it has become — spam — and follow the guidelines below.
If you didn't subscribe
If you've been placed on a list you didn't ask to be on, then by definition, it's spam.
NEVER click an unsubscribe link in spam. You'll just get more spam.
Clicking on the unsubscribe link in spam tells spammers that you actually read email sent to this email address, and thus you become a bigger target.
The best way to deal with spam is simple: if it appears in your inbox, mark it as spam every time it arrives. Your email program will eventually learn that email like this is spam, and should either be rejected outright or delivered into your spam folder, where you need not look at it.
One "this is spam" caveat
If you subscribed, try to unsubscribe first.
"This is spam" should not be your first choice to stop receiving something you asked for. Give the provider the chance to do the right thing. Only when they fail to remove you from the list should you mark it as spam.
The issue is that when you mark something as spam, it makes it less likely that others who want the mail will get it. Spam detection is complex, but one of the signals used is the "this is spam" button. If enough people hit it, the mail will be more likely to be filtered as spam for everyone.
Clicking "this is spam" on legitimate email unjustly punishes the folks who play by the rules.
Related questions
How do I unsubscribe from unwanted emails?
To unsubscribe from email lists that you originally asked for but no longer want, click the unsubscribe link in the most recent email. Do not try to unsubscribe from email you didn't request, but rather mark it as spam or junk.
How do I remove my email from spam lists?
You cannot remove yourself from spam lists used by spammers. The only thing you can do is mark spam as spam when it arrives. While you will still get spam, as everyone does, it will eventually be delivered to your spam or junk folder rather than your inbox.
Is it safe to click unsubscribe in spam emails?
It is never safe to click unsubscribe in spam emails. This tells spammers that you exist and you read your emails. Rather than unsubscribing you, they will send you more spam.
Should you block spam emails?
It's generally a waste of effort to try to block spam emails. The "From:" address in spam is generally forged, and changes all the time. Blocking only applies to a single "From:" address, and would have no impact as the fake sender continues to change it.
Is it better to block or delete spam?
Neither blocking nor deleting spam is worth the effort. The better approach is to train your spam filter by marking spam as spam. This will move it to your spam or junk folder so you need not see it, and will tell the spam filter "mail that looks like this is spam," so it will hopefully do a better job of sending spam directly to the spam folder instead of your inbox.
Why am I suddenly getting spam emails?
It may appear that you are suddenly getting spam, or getting more spam, but in reality, everyone gets spam, and often lots of it. It's not uncommon for spam to come in waves, particularly if your email address makes its way onto more spammer lists. There's little to be done other than marking spam as spam and getting on with your life.
Podcast audio

Download (right-click, Save-As) (Duration: 6:14 — 7.6MB)
Subscribe: RSS