Question: I always use KeePass installed on a USB stick. I bought a new stick for this purpose. It is formatted as FAT32. Can I leave it like that or do I have to change that to FAT64 or NTFS?
We can rule out one right away: there is no FAT64.
FAT32 is the default formatting used on most thumb drives. Let's review some of the alternatives, and consider when you might want to switch.
File system formats like FAT32, NTFS, and exFAT are standard ways of organizing data on hard disks. Each has strengths and weaknesses, and which is most appropriate depends on how the drive will be used. For USB thumb drives, FAT32 is typically the default, and is the most compatible for drives moved between machines with different operating systems.
File systems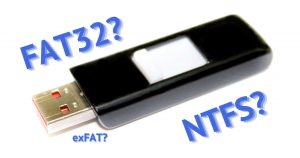 File systems are how the bits and bytes of your data are organized on a disk.  The type of file system is selected and initialized when you format a drive.
Let's use a reference book as an analogy. As with most analogies, this relies on gross oversimplification and is not intended to describe the details of how disks work. Rather, it's to understand the differences between how file systems organize data.
Regardless of the information in a reference book, it can be laid out and augmented in many different ways. Some books include only a table of contents. Some have an index at the back. Some include footnotes at the bottom of the page, others put them at the end, and some have no footnotes at all.
Similarly, some might use large text and wide margins, resulting in less information per page, while others cram a lot of words onto each. Some books are in color and have pictures; others do not.
The same information can be published in a variety of ways. All have the data, but with different characteristics. The same is true with file systems: they all store data, but organize it differently.
Different file systems
The three most common file systems you're likely to encounter1 are FAT32, NTFS, and exFAT.
FAT32
FAT32 (File Allocation Table, 32 bit) is the oldest and perhaps simplest of the three. Think of it as a reference book with only a table of contents.
Because it's been around longer (it dates back to MS-DOS and Windows 95), it's by far the most compatible file system. All versions of Windows support it, and so do almost all other operating systems and devices that use disks. It's well suited to transferring data between different devices, such as your camera, your phone, or your Mac, PC, and Linux computers.
Individual files on a FAT32 formatted drive are limited to 4GB in size. This limitation is becoming a more common reason that other formats might be used.
NTFS
NTFS (New Technology File System) was introduced with Windows NT, and is the default file system used by Windows. The Windows system drive (typically "C:") must be formatted with NTFS. Think of it as a reference book with all the bells and whistles: table of contents, index, bibliography, footnotes, annotations, and more.
NTFS is optimized for fast, reliable, and perhaps most importantly, multi-user access. While FAT32 has no concept of "permissions" (other than generic "read only", "hidden", and "system" attributes), NTFS supports a robust, complex, and complete set of access controls at the user account and group level that can allow or deny read and write access separately, as well as access to many other characteristics.
NTFS carries much more overhead information as compared to FAT32.
Because of its performance and reliability, NTFS is the choice for hard disks and removable drives accessed only by Windows systems. Unfortunately, support for NTFS is less complete on other operating systems. Mac and Linux only read it, though addons can be installed to write to it. NTFS support in small, portable devices is very uncommon.
exFAT
exFAT (extensible FAT) is an attempt at a compromise: a FAT-like file system that can be supported with minimal changes to existing FAT32-supporting software. Think of this as our original FAT32 reference book with an index added and printed on bigger, easier-to-read paper.
exFAT is optimized specifically for flash-based disks, and is becoming the standard default file system format for memory cards over 32GB. It also supports individual file sizes well in excess of the 4GB FAT32 limitation.
You might think, then, that exFAT would be a great choice for a USB thumb drive or memory card — and it is, except if you need to use that thumb drive on other devices as well. While exFAT compatibility is better than NTFS, it's still not uncommon to run across devices like older cameras that don't support it. Current versions of major operating systems including Windows, Mac OS and most Linux distributions support it.
So, what file system should you use?
In your case, for storing a password vault, I'd leave it as FAT32. There's no compelling reason to change. In fact, unless you have a compelling reason to change the default format, I'd leave the format of any USB stick or flash-based memory card exactly as it came.
"Compelling reasons" include the additional performance that might be gained from an NTFS or exFAT file system, or the ability to store files larger than 4GB. In either of these cases, I'd probably use exFAT on flash-memory devices.
What happened to FAT64?
The concept of FAT64 never existed.
While we think of the operating system as being 32-bit or 64-bit, that's a characteristic of the CPU inside your computer, which operates on data either 32 or 64 bits at a time.
When it comes to file systems, the "32" in FAT32 refers to the size of some information stored about the data on the drive. It's not dependent in any way on the CPU.
Limitations like the 4GB file size are a result of that "32" choice. I suppose one way to remove that limit might have been to move to a 64-based format, but it's very likely that the structural differences would have been too great and would seriously impact storage efficiency and size as well as performance.
Alternatives like NTFS and exFAT were developed instead.
Podcast audio

Download (right-click, Save-As) (Duration: 7:34 — 8.2MB)
Subscribe: RSS
Footnotes & References
1: At least in the world of Windows.