I have a Fujitsu laptop running Windows 7 with Service Pack 1. It's running fine. I used Microsoft Security Essentials per your recommendation. After reading your last newsletter about manual updates, I went searching around the MS download site and found out about the Microsoft Malicious Software Removal tool and Microsoft Security Scanner. Should I download both of these and run them? Or are they earlier versions of software that are now wrapped up in Microsoft Security Essentials?
I wouldn't necessarily consider them wrapped up with the existing software. But you don't have to worry about them. Let me explain.
What is the Malicious Software Removal tool?
The Malicious Software Removal tool compliments anti-malware tools like Microsoft Security Essentials. It takes a different approach than your normal anti-malware tools as it looks for software that's known to be malicious and removes it. I don't know exactly how it does what it does, but I do know that it's downloaded automatically if you turned on Windows Update. It essentially runs for everybody, typically once a month, regardless of which anti-malware tools they use.
Chances are it's on your system already. Click on the Start button, click on Run (or type the Windows key + R), and type MRT into the Run dialog: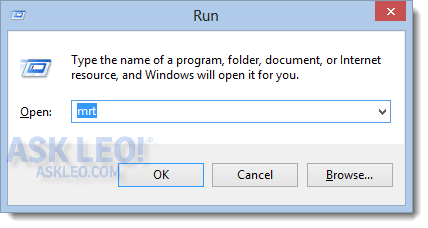 Click on OK, and the program will be launched: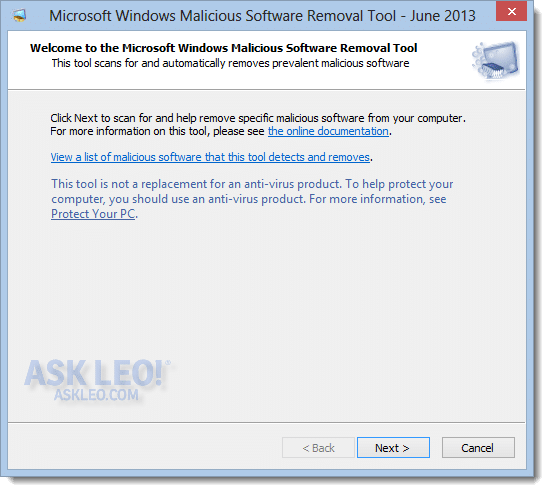 It's designed to provide a base level of protection in the operating system without you necessarily having anything else installed. You'll note, however that the tool itself is careful to point out that it is not a replacement for ananti-virus product.
Downloading the Malicious Software Removal tool is really something you need not worry about, perhaps unless you are actively tracking down some kind of malware problem, and then only to make sure you have the latest version.
Normally I wouldn't spend any time running it manually. It all gets handled transparently for you in the background by Windows Update.