Question:
I have a home network: two PCs hard-wired to a Belkin router and a laptop Wi-Fi connected most of the time to the same router. The Wi-Fi connection is secured according to your recommendations with WPA2 and so forth, as confirmed by the small window currently connected. For outdoor use of the laptop, I use a Linksys RE1000 range extender. When I connect, the same windows show security type "unsecured."
I tried to configure the extender as specified in the supplied CD (i.e. by wireless), but there's no provision for security. Hardwiring the device gives access to the configuration panel, but there's no provision to secure either.
My questions: Is the lack of a security setting typical of extenders in general or is it my model only? Is the situation insecure? I guess I'm okay on the internet side because the link to the internet is the Belkin which is secure, but what happens if someone picks up my extended signal? Could that someone interfere with my laptop? Thanks in advance.
It's interesting. There shouldn't be an issue here, but what you've described definitely makes me nervous.

What is a range extender?
A range extender is essentially a little device that connects to an existing WiFi hotspot and makes a proxy or repeats the signal. Essentially, it acts like another WiFi hotspot.
I have a range extender myself. It's a different model, but it's the same idea. I have a WiFi hotspot here in my home, which has a good range, but it's not far enough to reach the travel trailer that I have parked out behind my barn. Occasionally, the travel trailer turns into a nice little recording studio for Answercasts.
So, I installed a range extender in the barn. It's just something that I plug into an outlet, it connects to the hotspot in my house, and it provides a hotspot that's within range of my trailer.
In my case, I'm able to configure that range extender hotspot with appropriate WPA2 security.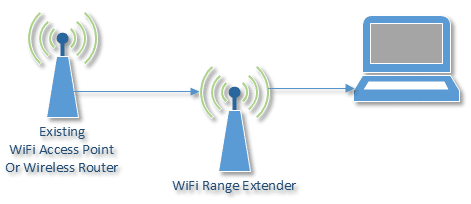 Range extender security
Now, the fact that your extender isn't giving you access to actually set up security concerns me. I don't believe it's common and to be honest, I'm really surprised that it's not there. I can't believe LinkSys would make a range extender that doesn't include security, so my first suggestion is to turn to the documentation for that specific model.
Without security, you're effectively setting up an open WiFi hotspot and anyone or anything that came into range could connect to it. They won't necessarily see the traffic in your home, but anything that's going over that open WiFi hotspot will be snoopable.
Whether this is bad or not depends on your situation. In some ways, your open hotspot is like sitting in a Starbucks – accessible to anyone in range. On the other hand, for a long time I had all of my WiFi hotspots completely open because nobody could get close enough to connect where I live.
If you're in a situation where it's very unlikely that someone could even get within range of your open WiFi hotspot, maybe it's not a big issue. But if you're in a crowded neighborhood, you need to add some security. This is a case where I would definitely be concerned.