Why do I need a computer? I surf, I shop, I follow auctions, I email and I download photos from my point-and-shoot camera. I have an online bank account, which receives my directly deposited pension check. I also occasionally use Open Office to compose and print a letter. That's it – no games, no design programs, nothing. I'm a digital Neanderthal who recently started using a tablet. Will a tablet do what I need without the seemingly never-ending hassles of the Windows operating system?
Everything you've described can be done on a tablet.
While the demise of the desktop computer has been grossly overstated in my opinion, scenarios like yours are certainly candidates for just using a tablet. I know several people who do.
However, it's my opinion that you may replace the seemingly never ending hassles with Windows with a completely new set of hassles based on whatever tablet technology you pick up.
Changes and updates will continue
Tablets will continue to change and be updated. The software on those devices will continue to change and be updated.
Most of the hassles people experience with Windows are really nothing more than changes resulting from updates. The same will continue to be true for your tablet as well. It may happen at a different rate; it may be more change, or less change, but I don't want you to think that you're avoiding one of the most common sources of frustration for people – change.
There's a strong argument that sticking with the devil you know might be appropriate. By that I mean, since you have some experience with Windows and know how to make it do certain things, it could be appropriate to stay there. When hassles come up, you probably have a pretty good sense of what to at least try, or where to go for help. If you switch to a tablet, realize that you'll be starting over completely.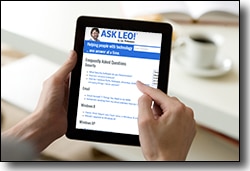 You'll need to learn the tablet's way of doing things: be it Apple's IOS on an iPad or the various Android derivatives. And that, at times, is going to be a bit of a hassle. Finding the appropriate application to do each of the things you want to do will take a little research and patience as well. You might even find the lack of a so-called "real keyboard" a problem. I know I do. Tablets are fantastic data consumption devices, but I really can't see typing lengthy emails or Ask Leo! articles using them.
Security
We also have to talk about security.
Like you, hackers are becoming more and more interested in tablets, and specifically the potential vulnerabilities that may be present on tablet and mobile platforms. In many ways, we're still in the early days there.
While a number of lessons will have been learned from years of Windows experience, there's still new ground to explore in mobile platforms, for the hackers as well as the security and anti-malware folks. It's an exciting world, but do realize that it's still young in many ways.
Now, I don't want this all to sound like I'm trying to dissuade you from switching to a tablet. As I said, I know several people who have switched to tablets as their primary computing device. For them, it works great; though most still keep a desktop or laptop computer around for the few things that are better done with a full screen and mouse and a keyboard.
You may not need a traditional computer to do everything you want to do. Only you can really say. My point here is just that if you take this kind of leap, I want you to know what to expect. And zero future hassles just isn't one of those things.