Hi, Leo. If I'm sure that a hacker is controlling my computer and I was online in my Skype account, in a video call to a friend. Could hackers then see and save a video message during the recording? In other words, can a hacker see my screen and record my video call with my friends and show our faces at the same time?
While this does seem like a very specific scenario and a very specific concern, I want to address it because it's a fine example of what a lot of people just don't seem to realize, something that's very important about the nature of hacking, malware, and compromised machines.
To directly answer your question, yes, absolutely. If your machine has been hacked into or is compromised in some way, then a hacker could certainly record your Skype video calls.
But the problem here is that it's much, much worse than that.
It's not your computer
There's an old adage that I think people need to hear more often:
Once there's malware on your machine, it's not your machine anymore.
Or if you like different terminology: once your machine has been hacked, it's not your machine anymore.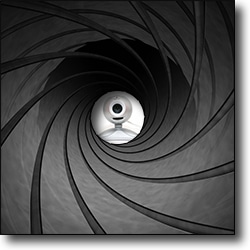 The bottom line is that once your machine has been compromised, a hacker can do anything. And by anything, I mean anything! He can record your video, your audio, your keystrokes, your mouse movements, your screen; anything you do. He can copy your data, your history, your programs, your files, your emails, your pictures; anything on your machine.
He can use your computer to send spam, or hack other computers, or spread malware, or hide his location, or do anything. And if he's any good as a hacker, he can do almost all of what I just described without you noticing.
Why I harp on staying safe in the first place
As as soon as you say, "If I'm sure that a hacker is controlling my computer", without going any further, I can tell you you're screwed! It's not your computer anymore. The hacker can do anything he wants with it.
That's why people like me harp so hard on staying safe in the first place. That's why we want you to keep your system up to date, run anti-malware scans, and so on. And above all, learn what it means to stay safe.
Avoid downloading and installing stuff you don't need. Don't believe everything that's emailed to you. Don't open attachments that you aren't 100% certain are safe. Whatever it is, if you're not sure, just don't. This is all stuff you already know or should already know. The key is remembering it and making it a habit.
I know that it sounds overwhelming, but it's completely doable and really, it doesn't have to be a huge imposition. Just like there are rules to driving a car safely, once you get them memorized, they become second nature as soon as you pull out of the driveway. Working to use the internet safely can become second nature, and then you won't have to worry about whether or not your video chat is being recorded.
But is it possible?
In response to repeated comments in this vein, let me be extra clear about a few things:
Yes, it is possible.
No, there's no way to know.
No, there's nothing you can do about it after the fact.
Yes, it's technically possible that a video call from years ago could have been recorded and used to blackmail you today.
But it's extremely unlikely.
Please read Can Video Chat Be Intercepted and Recorded? for more on the topic.