For some reason, my computer randomly shuts down a lot. It's been happening more and more. It started around the start of summer. It usually would shut down for no reason. Yesterday, it said Over Temperature. This shutting down thing is annoying. When I'm trying to do work, I lose it all and the computer shuts down. I asked my cousin, he said that it could be my fan. I haven't checked yet, I'm going to ask you first, is it my fan? Or is it another problem? 
Maybe.
The "Over Temperature" is definitely a clue, and the fan is a definite possibility.
But first we should talk about … dust bunnies.
Dust bunnies
For those who might not be familiar with the term, "dust bunnies" are clumps of dust and debris that form in and around computers, furniture, and other areas that aren't cleaned regularly.
We might not think much of them, and indeed, in places they exist it's typically because someone isn't thinking about them very often.
But here's the dirty (no pun intended) secret: dust bunnies can kill computers.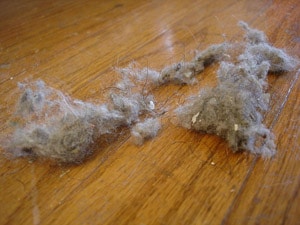 Computer fans and dust
As you've noted, your computer has at least one fan, and possibly more. The computer's components generate heat, and the purpose of the fan(s) is to keep the computer cooler by pushing warm air out and pulling cooler air in.
The problem is the "pulling air in" part also pulls in dust and dirt. This detritus accumulates into clumps that, if left unchecked, eventually block the vents through which the air is supposed to move. This can happen both outside your computer, where it might be visible, as well as inside, where it's not.
The result is your fans might well be running but can't do their job because the airflow is blocked. In fact, the fan motors themselves end up adding even more heat to the mix.
As a result, when things get too hot, your computer overheats and crashes.
Cleanliness is cool
As you might imagine, the solution is fairly clear: keep the area around your computer clean and clear, and periodically check for accumulations of dust and dirt in and around your computer.
More specifically:
Make sure there is room around your computer, particularly around the vents, for air to flow. This might mean moving your computer away from objects that block the airflow.
If you can, put your computer in a cooler part of the room, or near a natural air flow.
Vacuum around your computer, particularly behind it, on a regular basis. How often depends on how quickly dust accumulates in your particular location. If you're seeing clumps, as pictured, you've waited too long.
Recovering from a bunny infestation
If you're already in the "covered with dust bunnies" stage, shut down and unplug your computer, open the case, and use a can of compressed air to carefully blow the dust out of your computer. Pay attention to the location of the fans and any accumulations of dust and dirt. You might have a vacuum running nearby to capture the dust as it flies out of your machine.
In the past, I've recommended using a brush attachment on your vacuum cleaner and directly vacuuming the interior of your computer. The problem with this approach is that the movement of air around a large electrical device such as a vacuum cleaner often generates static electricity, which, if it discharges in the wrong place, could damage your computer. You'll be safer with that can of compressed air and the vacuum nearby (but not in contact with) your computer. (Small battery powered vacuums specifically designed for cleaning your computer are generally safe to use, though often under-powered.)
To get back to your question, yes, it could be the fan. While you have your computer open, after you've cleaned it, plug it back in again and make sure those fans are actually running. If not, they may have been damaged by getting clogged with dirt, and need to be replaced.
These bunnies aren't cute
Dust and dirt inside a machine is easy to overlook. I've personally seen some amazingly overlooked computers in my day.
The good news is, it's an easy thing to stay on top of, and it's worth it. There are enough other things that can go wrong. We don't need killer dust bunnies to add to our problems.
Podcast audio

Download (right-click, Save-As) (Duration: 5:01 — 4.7MB)
Subscribe: RSS
Video Narration