A friend told me that my boyfriend was on Match.com. After discovering that he was, it was quite easy for me to guess his password and check the emails he sent/received. I didn't send or receive anything in his account or change any of his settings. I simply read them, copied and forwarded them to myself. After asking him about it and his denying it, I then confronted him with the emails (though I said someone else accessed them and sent them to me). So here's the question….Part 1: How much trouble can you get in for figuring out someone's password and accessing their email on say Match.com? Part 2: Is it possible to tell who accessed the account? If he reports the "break-in" to Match, will they be able to discover that it was me who accessed his account?
I normally avoid these types of questions, because in all honestly they're not about technology or computers – they're about relationships and ethics. And I'm no Dear Abby or Dr. Phil.
The problem is that I get several of these types of requests every day. Seriously.
And it's just wrong on so many levels.
So let me start by answering the questions asked:
A lot.
Possibly.
I've said it before:
Hacking into someone else's account without their permission is wrong.
In my opinion, if you do so, you deserve to get into a lot of trouble. (And yes, if they didn't tell you the password, successfully "guessing" it is still "hacking" into their account.) It's a breach of trust, and it's unethical.
I'm no lawyer, but it wouldn't surprise me in the least to find out that it was illegal as well.
So yes, you can get into a lot of trouble with your boyfriend, girlfriend or spouse, you can get booted from the service you hacked into, and in the worst case scenario I'm guessing you could even face legal action.
Can the service track you down? Quite possibly. Match.com, HotMail and other on-line services are, as you might expect, reluctant to do it, but it's possible they can. I would expect it to require a court order, but when served with one, these services would be required to provide whatever records were available.
"
No matter what that other person did, or what you think they did, hacking into someone else's account is wrong.
Here's a hypothetical scenario: you hack into your boyfriends email account, and he finds out about it. He then gets the police involved who then charge you with harassment. As part of the court proceedings, the records of the email provider are subpoenaed, and show that his account was accessed from some IP address. That IP address is tracked down to an ISP – your ISP. The records of that ISP are then also subpoenaed by the court, and they find that that IP address at that time lead to your home.
Each step there is possible. Likely? Perhaps not, but still possible. It all depends on the laws, the courts and the service providers you're dealing with.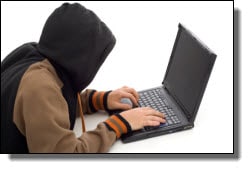 Online harassment is definitely getting more attention from the courts, and in my opinion what you've done falls squarely into that category.
The people that write to me attempt to justify their actions by the wrongs committed by the person who's account they've hacked, or are trying to hack. "He's cheating on me, and that makes it OK for me to hack into his account to confirm it" is simply wrong. It's not OK.
No matter what that other person did, or what you think they did, hacking into someone else's account is wrong.
You may not trust him … but if you're looking into hacking into his account, he shouldn't trust you.
If it's that important, and you don't trust them, hire a private investigator to find out – legally.
Or move on to someone you do trust.