If only it were that simple.
Edge is essentially impossible to remove. I'll review the choices you have.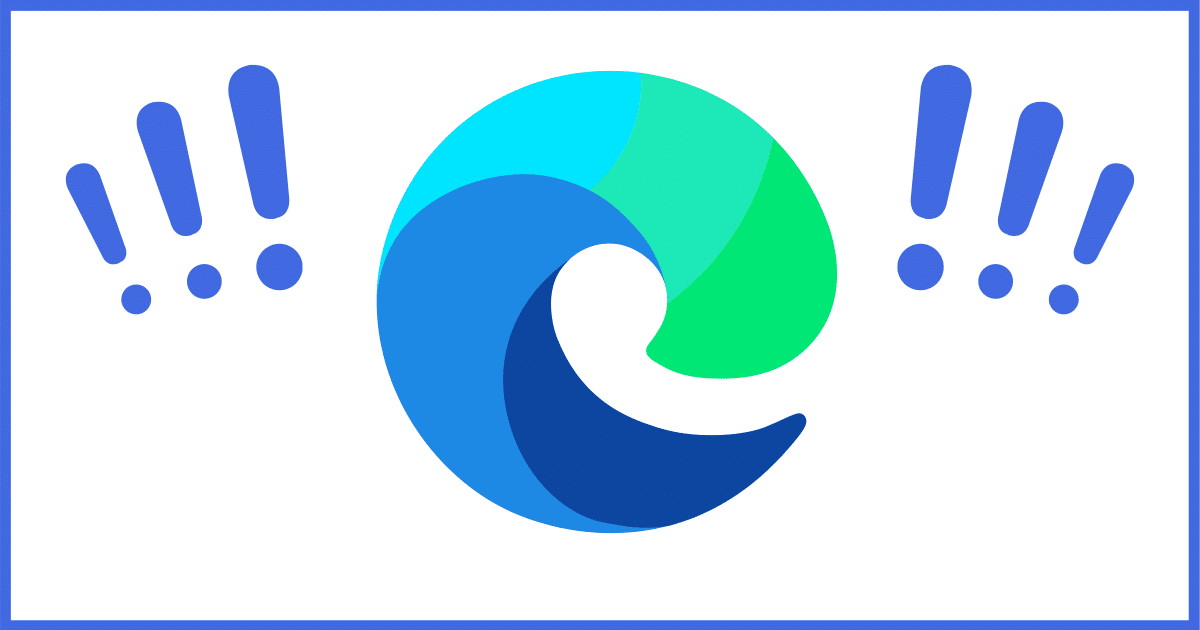 Can you tell me please how to get rid of Microsoft Edge Browser on a Windows 11 laptop if it won't hurt anything?? It won't let me delete the program, and I have tried 2 different approaches through command prompts without success.
No, I cannot.
I do wish it were otherwise.
I'm sure Microsoft thinks they're being helpful, but it comes across as anything but. And from what I hear, it's only going to get worse.
Getting rid of Edge in Windows
Realistically, you cannot uninstall Edge because it's used by Windows itself. You can install a different browser and set it as your default, but Windows may still elect to use Edge in some scenarios, ignoring your preferences.
There's no uninstall
The Edge browser is so embedded into Windows that it's essentially impossible to remove. If this sounds at all familiar, it's because it used to be the same with Internet Explorer.
You can find Edge in Settings > Apps > Installed Apps, but the option to Uninstall it will be greyed.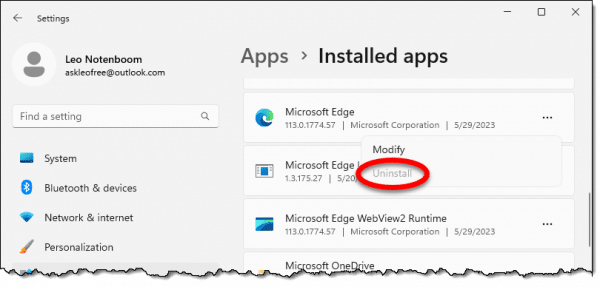 Unlike Internet Explorer, the option to remove it does not appear in the "Turn Windows features on or off" dialog.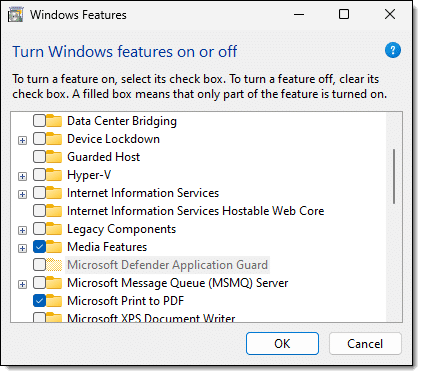 Why?
Edge is Windows is Edge
The issue is that some components of Microsoft Edge are used by some components of Windows itself. If Edge were removed, then various Windows features would break or disappear completely.
This is one of the reasons you'll often see Edge-related processes running even if you're not running the browser.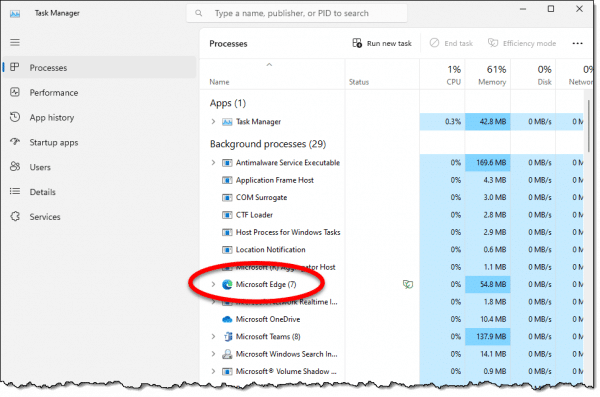 Again, this is very similar to Internet Explorer in the past. Windows uses the browser whether you do or not.
Workaround?
The best you and I can do is to install a different default browser like Chrome or Firefox and set it as the default to use those in place of Edge. Edge will still be present and may even be running as other parts of Windows make use of it, but you can still use your browser of choice.
Most of the time.
You might notice that in Windows 11, the Taskbar search box has an icon in it.

That's the icon for Bing, Microsoft's search engine.
It's also a clue.
The search engine — Bing — is completely unrelated to the browser — Edge. But if you use the Taskbar search box to perform a web search:
The Edge browser will be used regardless of your default browser setting.
The Bing search engine will be used regardless of your configured default search engine.
Microsoft is pushing their tools so hard they're ignoring our preferences.
I hear it's getting worse
There's a good chance that this "ignoring our preferences" thing is going to get worse. Other scenarios that cause Windows to open a web browser may be altered to use Edge regardless of our configured default browser.
Time will tell.
Do this
Download and install your browser of choice. Set it as the default. Use it all you want.
If it annoys you that Edge appears because you use Windows search, then don't use Windows search. Open the browser you prefer, visit the search engine you prefer, and perform your search there.
Just don't be surprised if Edge keeps poking its nose in where it doesn't belong.
Want another good source of information? Subscribe to Confident Computing! Less frustration and more confidence, solutions, answers, and tips in your inbox every week.
Podcast audio

Download (right-click, Save-As) (Duration: 4:14 — 3.1MB)
Subscribe: RSS