Question: System Reserved partitions 60% full and this is preventing my backup program from running. What should I do?
Honestly, I'd have to see the exact error message to be sure, but there is one thing about this scenario that concerns me.
The amount of free space in a system reserved partition should have nothing to do with your ability to back up.

System reserved partitions
Partitions marked as "reserved" on your hard disk are are just that: reserved.
System reserved partitions most commonly contain back-up and recovery information, but it's of the extreme variety: information used to refresh Windows or reset your computer back to its initial factory state.
It's a partition I recommend you back up, but not a partition in which you would place your backups. As a result, how much free space they have, if any, is completely irrelevant. It's not uncommon for a reserved partition to be completely full, and that's OK.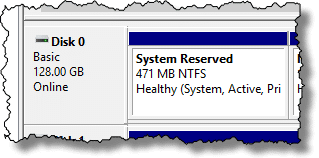 The occasional appearance of reserved partitions
Occasionally, system reserved partitions may appear as a drive on your running system. You might see a drive "D:" in Windows File Explorer, for example.
In some cases, Windows, or other monitoring utilities, may even complain that the partition is low on space.
It doesn't matter. It's still a reserved partition. That it's considered "low" on space is, once again, irrelevant.
You should ignore the low-space warning (disabling it if you can), and you simply never use that drive.
It's reserved. :-)
System reserved partitions and backup programs
I'm not completely certain what's happening in your situation, but I can hazard a guess.
Your hard disk has one or more system reserved partitions.
At least one of those partitions is visible in Windows File Explorer.
Your back-up program is trying to back up to it.
The solution is simple: re-configure your back-up program to back up to your intended destination – typically, your external hard drive – instead. Exactly how you do that will, of course, depend on which back-up program you're using.
Deleting system reserved partitions
A follow-up question I often get is whether or not system reserved partitions can be removed, so as to free up the space they take.
In the past, the answer used to be pretty simple: yes, as long as you take an image backup of them before you do so. The image backup protects you in case you ever need the partition to be restored in the future.
Today, the answer has become more complex. Some system reserved partitions are actually required to be present to boot UEFI-based systems, for example. Other partitions are used by Windows functionality, such as a system refresh. Other partitions are used for who knows what.
As a result, my recommendation has changed.

Leave well enough alone. Particularly on newer machines, where it's not uncommon to see multiple system reserved partitions, the hard disks themselves have become so large that they still represent only a small fraction of the overall disk space. Deleting them won't buy you that much space, and may buy you a world of trouble instead.
Naturally, if you must, back up first. I can't stress enough the importance of taking a complete image backup of your machine prior to performing partition management of any kind.
Podcast audio

Download (right-click, Save-As) (Duration: 4:24 — 2.1MB)
Subscribe: RSS
More for Patrons of Ask Leo!
Silver-level patrons have access to this related video from The Ask Leo! Video Library.
  Peeking Inside Reserved Partitions