Yes, there's a difference.
In one of the more frustrating recent turns of terminology, the term "app", which one might think is shorthand for "application", now more commonly refers to something quite specific and quite different.
The adoption of the app/application difference in Windows started in Windows 8, and is carried forward in Windows 10 with a vengeance. It's driving people who are trying to explain things – you know, people like me – absolutely nuts.
And, particularly when it comes to Windows 10, the distinction turns out to matter.
App and application: both are programs
One thing we can agree on is that everything is a computer program. Whether you call it an "app", an "application", or something else entirely, what we're really talking about is software – a program running on your computer.
A program is nothing more than a series of instructions that tell your computer what to do. Be it to draw a picture on the screen, accept some input from your keyboard, print something to your printer, or communicate in some form across the internet, it's all done by nothing more than very carefully coded and often very complex series of instructions. Instructions boil down to "do this", "now do that", "do this", and so on, with the occasional "if this is the case, then do that instead" thrown in.
Every app, every application – even an operating system like Windows itself – is nothing more than a computer program built using lots and lots of combinations of instructions.
One definition: size matters
I ran across a relatively simple definition in my research: apps are small applications. Apps do one thing (or a few things), whereas applications are designed to do "more". So a calculator might be considered an app, but Microsoft Excel would be an application.
It's a reasonable rule of thumb, but it also breaks down. For example, just how much "more" does an app have to do before it qualifies as an application? Consider that calculator: we could keep adding features and functionality to it until it became the equivalent of Excel. Where, exactly, does it stop being an app and become an application?
Another definition: source matters
As best I can tell, the Store app in Windows 10 provides only apps, not applications. In fact, it's possible that Windows 10 apps only come from the Store. (Though it does seem to draw a distinction between a "game" and an "app" for some reason. I'm treating them both as apps in this discussion.) In addition, the software and utilities that come pre-installed with Windows are also apps.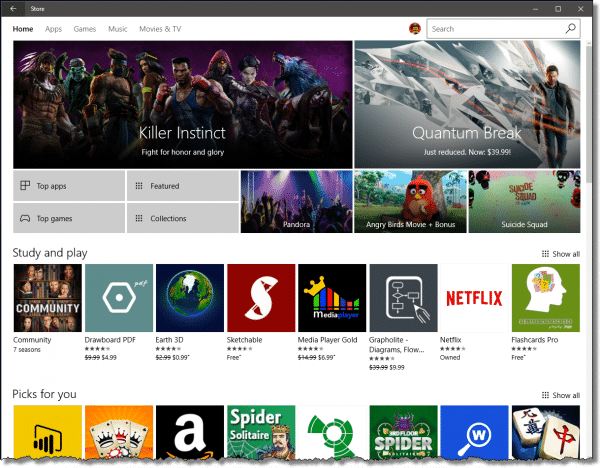 Applications, on the other hand, can be downloaded or installed from just about anywhere, including an app. There's an app called "Get Office 365", which would presumably let you purchase and install the suite of applications that make up the Microsoft Office product.
Yet another definition: style matters
Currently, one of the ways to determine if something might be an app or an application in Windows 10 is to note its window style. What we might consider the flatter, tiled look introduced in Windows 8 would likely be an app:

On the other hand, a window with an application icon to the left in the title bar, as well as a more traditional menu interface, might be that of an application:

I'm not certain how long this distinction will hold true, however, as more and more applications are adopting the tiled appearance so as to operate more effectively on tablets and other devices without mice or keyboards.
Probably the real definition: implementation details
When it comes to Windows 10, the "real" definition is very likely that apps are implemented in a specific way, using specific technology. More precisely, apps are implemented using the "Universal Windows Platform", UWP, standard. Applications are not.
This standard allows applications to be written once and then run on multiple different types of Windows platforms1, from phones to desktops. This, then, accounts for the similarity in the tiled style, as well as the single-store delivery mechanism.
So, how do you tell how a particular program was implemented? You don't. You'd use the other factors above – size, source, and style – to make a best-guess determination. If it's a small program with a tiled-looking interface that you got from the Store in Windows, then it's almost certainly an app. If it's a large behemoth of a program that you downloaded from some website, that's an application.
Confusion reigns
Perhaps the most obvious example of the confusion that abounds is the app and application I used as an example of the difference in style.
They're both Skype.
They're both running in Windows 10.
One is an app, the other an application.
The Skype preview app was pre-installed on the machine. The Skype desktop application was downloaded from the web and installed. And they both work2. (Why do both exist? Your guess is as good as mine. My guess is simply that including a Skype app in Windows is a move on Microsoft's part to promote the software, and the older application download continues to exist for other Windows versions. The application is currently more fully featured, but I'd expect the app to get more of those features over time as well.)
Why it matters
Normally, I'd be content to let the terms just intermingle as they have been for some time, considering "app" a kind of generic shorthand for "application", where both simply mean "computer program".
Unfortunately, I believe that Windows – specifically, Windows settings and preferences – uses the term "app" in a very specific way that requires we know the difference. For example, in the Windows Settings app, under Privacy, in Camera, is the phase "Let apps use my camera", with an On/Off setting.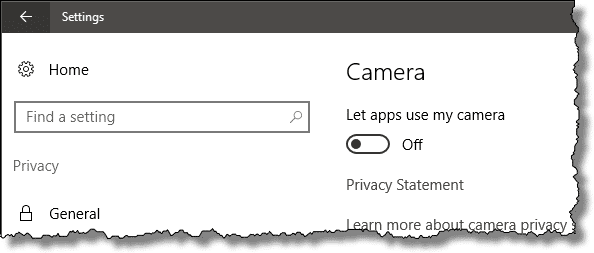 I take that to mean that only apps – in fact, probably only apps developed using that UWP standard – pay attention to this setting. Applications that might use a camera would not. The Skype app would pay attention to this setting, whereas the Skype application that I downloaded from the web would use the camera regardless of how this setting was set.
At a minimum, then, understanding the difference between an app and an application is key to understanding just what impact your Windows 10 settings and preferences might have.
Podcast audio

Download (right-click, Save-As) (Duration: 7:24 — 6.8MB)
Subscribe: RSS