Question: I've connected my Optiquest monitor to my HP PC but it won't restart. I get an RGB "no input" message. What can I do?
This is actually an example question. I get a number of questions like this from time to time. The scenario is this: you have something like a laptop whose screen has failed. In other words, you can't see what's on your computer. One of the very common approaches to try and work around that until it gets fixed or replaced is to connect to an external monitor. The problem is that the external monitor doesn't show anything.
There are a couple of additional steps that might be necessary, beyond just plugging in the monitor.
Turning on the port
In general, that external monitor port is usually not turned on. You actually have to take extra steps to turn it on.
Normally, on older computers, there was a magical key sequence, usually involving a function key or a manufacturer specific "Fn" key and one of the other keys on the keyboard. I can't even tell you what it would be because it varies from one manufacturer to another.
On my older Dells, it was a blue "Fn" key used with a key that had a little blue diagram of a monitor on it. By pressing those, it would cycle through the different ways that an external monitor could be used:
laptop monitor only
laptop mirrored to the external monitor
the external monitor only so that the laptop screen was turned off
By cycling through each one of those, you could get the external monitor to do whatever it is you wanted the external monitor to do.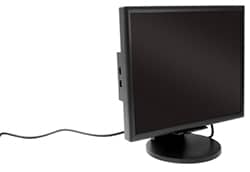 One of the complications is that it often took something like five, or even ten seconds, of being in one of those states for either the computer or the monitor to figure out that it had been turned on, that it had been connected and it should show something.
So one of the things to do is to look on your computer for some special key sequence that causes it to act as I described; that causes it somehow to either enable or cycle through the various ways that the external monitor can be used. You may need to check the documentation for your machine to find out exactly what that keystroke is.
Windows 7 adds support
Now, what's really kind of nifty is that Windows 7 actually incorporated native support for this kind of thing. Holding down the Windows key and pressing the letter "P" invokes what's called "Projector mode."
Normally, on a working machine, the assumption is you can see what's on the laptop screen – and if you do that on your laptop, what you will see is a pop-up where you can choose how you want that external monitor to be used:
external only, laptop screen off
external mirroring what's on the laptop screen
laptop screen only, external monitor off
laptop screen and external monitor combined as a two monitors system
The problem of course is what happens when you can't see the laptop screen because the laptop screen is broken.
I believe that if you press Windows+P repeatedly, it will cycle through the various options. Now, again, I have to caution you that you should do so slowly. Give the external monitor a couple of seconds to figure out that somebody's trying to talk to it, that the laptop is trying to send it a signal.
Depending on the hardware that's involved, both the laptop and the monitor itself, it can take a few seconds for them to figure it all out. Once they do, then you're done and you can see what you're up to.
But that's the kind of a thing that I believe you'll need to go through to actually get your external monitor to work if you can't see the laptop screen.