Question: I have a Dell running Windows. When I put my computer in standby or sleep, or if it has been inactive for several hours, when I resume use I find I cannot connect to the internet — or the browser says "website cannot be found" like it's not connected. I use DSL and the connection works fine on my other computer with no problems. I restart, the problem goes away for a short time — until it is inactive again. What gives? I have two hard drives on this computer. My other drive never has this problem. I have even deleted, reformatted and reinstalled Windows and the problem is still there.
This is an update of an article originally published nearly twelve years ago. One would hope things have improved since then. While I suppose they have to some degree, a dozen years later, this scenario remains fairly common.
Sigh.
Lost network
What you're seeing is simply a lost network connection.
As you say, the computer cannot connect to the internet — at all — so web pages can't be retrieved; the browser error is the result. If you have other machines or networked printers on your local network, this machine probably can't connect to them either, at least not until you reboot.
The issue here is power management. When you put a computer into standby, software is not unloaded, but left in RAM memory.  Most hardware, other than RAM, is turned off to conserve power. When you resume from standby, the hardware is turned back on, and then needs to not only be re-initialized, but restored to the exact same state it was in before standby.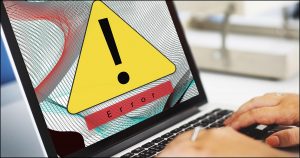 That's when things can get confused.
As I said, there are two common causes.
BIOS & UEFI
Your computer's BIOS — or UEFI, in more modern machines — is the software "built in" to your computer's hardware. It acts as an interface between Windows and that hardware.
It also plays an important role in power management. Problems with standby were very common in older laptops as the BIOS on many computers didn't handle every standby scenario properly.
Your first step should be to check with your computer's manufacturer — Dell, in your case — for an updated BIOS or UEFI for your machine. Installation is typically a download which you then run, or copy to something you then boot from.
Drivers
Waking up from standby requires each piece of hardware to re-initialize, and that's in part the job of the drivers for that hardware. Drivers are software installed in Windows itself that act as the interface between Windows and the hardware, often managing communication between Windows and corresponding BIOS/UEFI components.
You didn't mention what kind of network interface you're using, but if its drivers don't handle the resume state properly, the result could be a dropped or stuck network connection. This is most common with wireless connections.
Your next step would be to check for updated drivers for your network interface. Once again, I would locate any updates on your computer manufacturer's site.
Finally — and this is something you should be making sure of for many reasons — make sure Windows Update is enabled and your machine is fully up-to-date. Not only are updated drivers often provided by Windows Update, but in rare circumstances, the issue may be a problem with Windows itself.
Podcast audio

Download (right-click, Save-As) (Duration: 4:09 — 2.0MB)
Subscribe: RSS