I have a very specific problem. I have a router which connects to both my desktop PC (which is wired) and several wireless devices: a tablet, a laptop, and so forth. Whenever I turn on the desktop, my laptops, and my tablets, the internet almost stops working. It takes three to four refreshes to open up a page ( which is irritating) and the internet, if it's working at all, is very slow. Usually, when the laptop and the tablet are on, the internet runs fine. How do I fix this?
This sounds like your desktop computer is simply hogging all of your internet bandwidth.
There are several reasons why this could be happening.
When your internet s…l…o…w…s…
The desktop computer may be trying to upload or download something (probably a very large file or maybe several things). In doing so, it's taking up all of the available internet speed that your ISP is giving you.
This could be temporary. For example, if the desktop is downloading updates, then the speed should return to normal after the download is complete.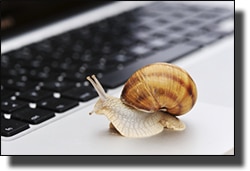 It could be malware. Malicious software on that desktop could be trying to upload and download constantly to the exclusion of everything else.
It could be a router. Normally, your router does a better job of getting everything more or less equal time, but that's actually an impossible task depending on exactly what's happening. The concept of equal time doesn't really apply. Some routers are simply better at it than others.
What do I do?
I would start with my article, "How do I monitor network activity on my Windows 7 machine?" This examines what the desktop machine might be doing when it's running.
Run the diagnostic tools outlined in that article and see exactly what that desktop machine is trying to do. From there, you could probably make some decisions about turning off software or allowing downloads to run. But that's where the information is and that's where I'd have you start.