Leo, I can't connect to my hotel's wireless with my Win 7 laptop. It's happened twice at different places. I can with the iPad. After it connects, a browser page pops up, asking me to agree to the terms. After I check the box, the browser closes and I'm on wireless. But for some reason, using Win 7, that browser doesn't come up, but a bubble note says to click for browser; nothing happens. I tried disabling Norton's firewall with the same results.
Many providers of free, open hotspots force you to agree to terms of service before they allow you to access their internet.  It's a legal issue: they need to cover themselves in case people misuse or abuse their service and somehow hold them liable for it.
Sometimes that can get in the way.
The first time your device connects to the internet at one of these hotspots, you'll be routed to the hotel's (or restaurant's, or café's) "interstitial" page. This is the place where you have to check a box to accept the terms and conditions, and maybe enter an email address, before you're allowed to access the internet. Interstitials are designed to be simple. Ideally you should get through to the open internet in a few clicks.
Many devices have become very good at detecting when this interstitial happens. I know that on my Android devices, as soon as I connect to an open Wi-Fi hotspot that has one of these, the device will actually ask me: "Hey, there's a page here you need to see before you can use the internet. Would you like me to show that to you?"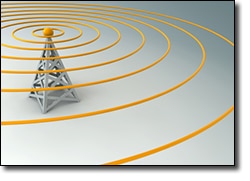 The problem is that not all devices are good at determining that an interstitial is required, or that this kind of agreement has popped up. So what you need to do in a case like that is ignore what the computer may or may not be telling you.
Instead, open up your browser yourself; whichever browser you prefer. Type in any web address (with the exception of addresses starting with https, since these can confuse the server). You won't get there. Instead, by attempting to access the web, you will force the interstitial page to come up. Once you agree to the terms and hit OK, your browser should go either to the address you initially tried to access, or to a corporate landing page. For example, once I click through the interstitial page at Starbucks, I get to a page with Starbucks-specific content. From there, I can navigate to other websites.
Bottom line: If that interstitial page doesn't pop up by itself when you connect to Wi-Fi, fire up a browser; go to just about any page, and you'll see the interstitial that should enable your internet access.