Question: How come some items I delete don't go into the Recycle Bin? It seems to happen when deleting files using windows explorer.
The Recycle Bin has, I'm sure, saved many a user from a mistaken delete – I know it has for me!
But there are rules about what will and will not get placed into the Recycle Bin.
One Bin, many folders
One thing to realize about the way Windows manages the Recycle Bin is:
There's one Recycle Bin – the icon in Windows File Explorer, or the icon on your desktop. It's the user interface you use when you want to see what's been deleted, or to undelete (restore) something.
There are multiple recycle folders – one per drive that supports recycling. Each holds the deleted files – the files placed into the Recycle Bin – on that drive.
Right-click on the Recycle Bin icon and then click on Properties.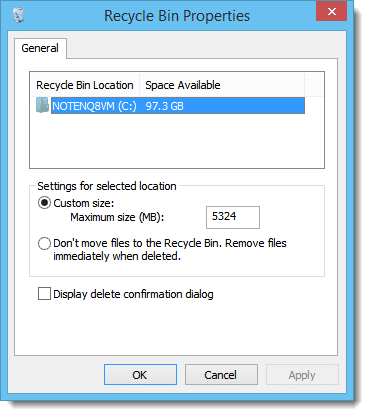 You'll see that the Recycle Bin has several characteristics that you can control.
You can select the size of the recycle folder on each drive that has one.
You can turn the Recycle Bin off completely.
You can control whether or not a warning confirmation is displayed when you delete a file.
When the Recycle Bin isn't used
There are several scenarios where the Recycle Bin may be bypassed:
If you turn off the Recycle Bin in the properties above, then of course it's not used.
Not all drives have recycle folders, so not all drives are part of the Recycle Bin.

1

 Typically, removable flash drives and drives you access across a network will not have recycle ability. (I've seen external drives both with and without recycle.)
Files larger than the size of the recycle folder of the drive on which they reside cannot be recycled. Typically you'll get a warning when you delete the file, and once you confirm, it will be permanently deleted.
If you happen to be a Windows Command Prompt user, as I am, it's important to realize that it doesn't use the recycle bin at all. The same is true for almost any program within Windows that allows you to delete files: it may not use the Recycle Bin at all. Recycle Bin is primarily a feature of Windows File Explorer.
If you hold down the Shift key when deleting a file in Windows File Explorer, you are explicitly telling Windows File Explorer to bypass the Recycle Bin and permanently delete the file.
About "permanent" delete
The alternative to recycling a file is what's called a "permanent" delete. It's slightly misleading.
When you recycle a file, its contents are not deleted; the file is simply moved to a special recycle bin folder.
When you permanently delete a file, however, the space used by the file is marked as free and available disk space. That means another file could overwrite the deleted file's contents. Until that data is actually overwritten, deleted files can sometimes be recovered by file recovery software.
There are no guarantees, of course, but sometimes permanent isn't quite so permanent.
Podcast audio

Download (right-click, Save-As) (Duration: 3:49 — 1.8MB)
Subscribe: RSS