What's with hiding things in today's world? Chrome, now Firefox, IE, and almost all of Windows 8! Talk about wanting to see everything – we're going backwards. It took me a long time to figure out how to do a simple restart in Windows 8 and I consider myself at an advanced level of computer knowledge.
Windows 8 really brought this home for many people, but it's true for most applications, web services, and other operating systems as well.
I won't say that they always get it right, but I understand why they're doing it.
The idea is to simplify features
The people that typically complain the most about hidden functionality don't see the questions that I do; rather they don't see the level of computer use that's implied by those questions. Most operating systems and applications are trying to work for a wide variety of users, from newbie to the experienced.
But many individuals are so intimidated when they see a plethora of options and functionality that they freeze.
One solution is to focus the application or operating system on only those features that most people use most of the time and make those easy to find. And yes, that means going so far as to move the distractions that few people use.
Those other features are more often used by people with the skills to find them.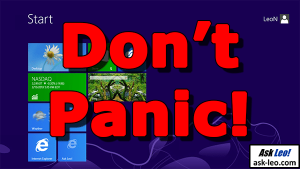 Designers can't please everyone
There is no 100% solution. Changes that you may think are incredibly stupid are either a godsend or completely irrelevant to many other people.
I'm certainly not saying that Microsoft gets it right all the time.
For one example, you could argue that making the Windows 8 interface hard to turn off was a mistake.
But then again, many people don't turn them off. They simply close the laptop or tablet and let the operating system worry about whatever happens next. Or they use an external power button. They don't care that Standby, Hibernate, and Power Off are three different things. They just close the computer and get on with their day. So why take up screen real estate with a Power control if they're never going to use it?
Again, I have to say, I'm not saying that this is the right or wrong solution. I'm just describing some of the thinking that might have gone into that.
And yes, rest assured, a lot of thought goes into these kinds of decisions.