A picture really is worth a thousand words. Perhaps even more.
A screenshot -- an image of your computer screen saved as a picture -- can eliminate a lot of frustration when trying to describe what you're seeing on your computer to someone .
A screen shot, screenshot, or screen capture is a way to "take a picture" of your computer screen (or a portion thereof).
Let's say you're trying to explain a computer problem to a technical friend of yours, and you're trying to describe what you see on the screen: the dialogs, buttons, messages, whatever. You're not sure of the terms to use, and your friend is having a tough time understanding your description.
And of course, your friend insists that the exact wording of everything you see is incredibly important (and for the record, he's right.)
So, send him a picture.
Taking screenshots

+PrintScreen and ALT+PrintScreen are two quick ways to get screenshots, which are placed automatically in your Pictures\Screenshots folder. For a little more power and flexibility, including the ability to annotate your screenshots, run the Snipping tool.
Print Screen
The quickest way to take a screen shot is to press

+PrintScreen, which takes a picture of your entire screen and saves it to the Screenshots folder.
Alternately (so to speak), press ALT+PrintScreen. This will take a picture of only the current application. For example, if you're working in Microsoft Word, then ALT+PrintScreen creates only a picture of the Microsoft Word window, whereas

+PrintScreen would include everything on the screen.
In Windows 11, PrintScreen will also leave a copy of the image in the clipboard so you can paste it into another program capable of operating with images if you're so inclined. For example, you might paste the image into a WordPad document or an email.
The screenshots folder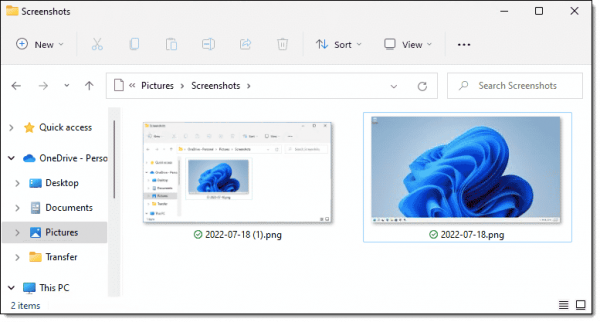 By default, the PrintScreen function places your images into a folder called Screenshots within your Pictures folder. Pictured above is my Screenshots folder with two screenshots:
On the right, a screenshot of the entire computer screen captured with +PrintScreen.
On the left, a screenshot of the Windows File Explorer window captured with ALT+Printscreen.
The first time you make a screenshot using this method, Windows may ask if you want to store your screenshots in OneDrive.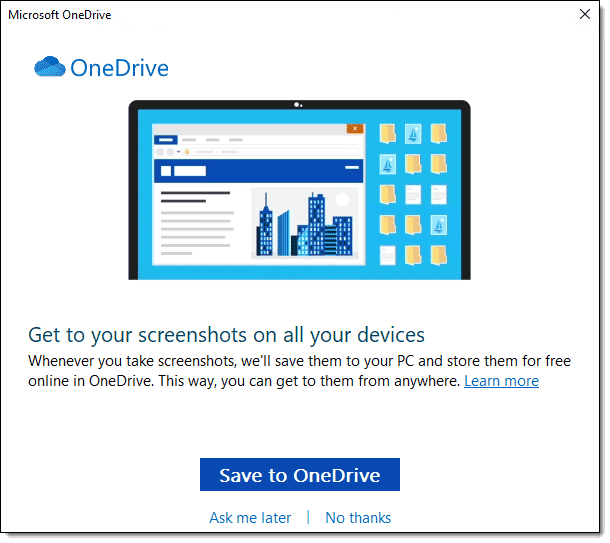 If you save to OneDrive, the Screenshots folder will be within the Pictures folder within OneDrive. In my examples above, that means "C:\users\<username>\OneDrive\Pictures\Screenshots". If not, then the local folder is used outside of OneDrive: "C:\users\<username>\Pictures\Screenshots".
Which you use is up to you. I find it convenient to have the screenshots replicated to my other machines enrolled in the same OneDrive account.
Snipping Tool
The Windows utility that allows us to take screenshots is called the Snipping Tool.
Click on the Start button and start typing "snip". One of the first search results will be the Snipping Tool. Click on Snipping Tool to run it.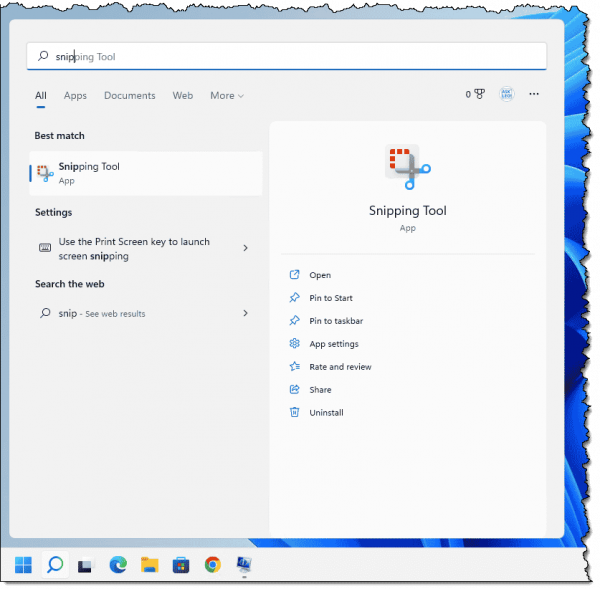 The tool has several modes, including Full-screen Snip (a picture of your entire computer screen), Window Snip (a picture of a specific window you designate), Rectangular Snip (a picture of an arbitrary rectangular area on the screen), or Free-form Snip (a picture of a shape you draw on the screen with your cursor). In the example below, I've selected Window Snip.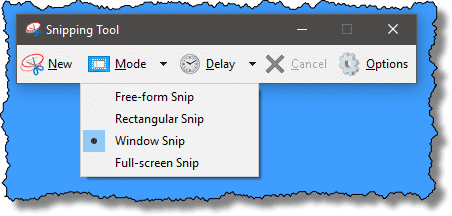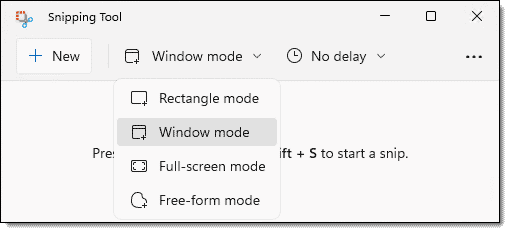 Next, click on New to begin the snip. The screen dims until I click on the window I want to capture. The Snipping Tool takes the picture and presents a notification.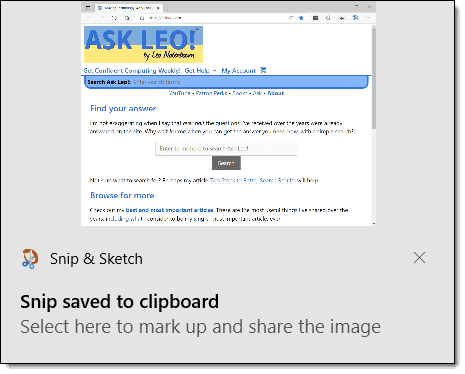 Click on "Select here to mark up and share the image" to edit or mark up the screenshot before saving it.
On a Mac?
Macintoshes have screen-shot capability as well. Check out How to take a screenshot out at Mac Help For Mom.
What I do
The Snipping Tool provides a basic yet powerful approach to getting screen captures. It's free and included with every copy of Windows.
I use something else.
I use Snagit.
When run, Snagit replaces the PrtScn functionality with its own. It allows for full screen, partial screen, and even full scrolling-window capture, video capture, and a number of capture-time options. It also comes with a fairly powerful image editor that allows me to quickly add call-outs, arrows, and the fancy "torn edge" effect I use in many of my screenshots, including a couple of those shown above.
Most folks don't need an additional screen capture utility.
That being said, if you take screenshots regularly (as I do), a more powerful tool with more options both in capture and annotation might well be a valuable addition, and Snagit is an excellent choice.
Do this
Hopefully, you see the value of screenshots by now.
You're presented with a complex situation or a huge, long error message that you don't want to re-type and want to show someone.
Run the Snipping Tool or press PrtScn, and you're on your way to creating an image of the screen, with everything exactly as you see it.
Something else that'll help? Subscribe to Confident Computing! Less frustration and more confidence, solutions, answers, and tips in your inbox every week.
Podcast audio

Download (right-click, Save-As) (Duration: 6:26 — 8.9MB)
Subscribe: RSS