It depends on your recipient.
Choosing a computer for a loved one can be very difficult. I'll review a few areas to consider when purchasing a computer as a gift.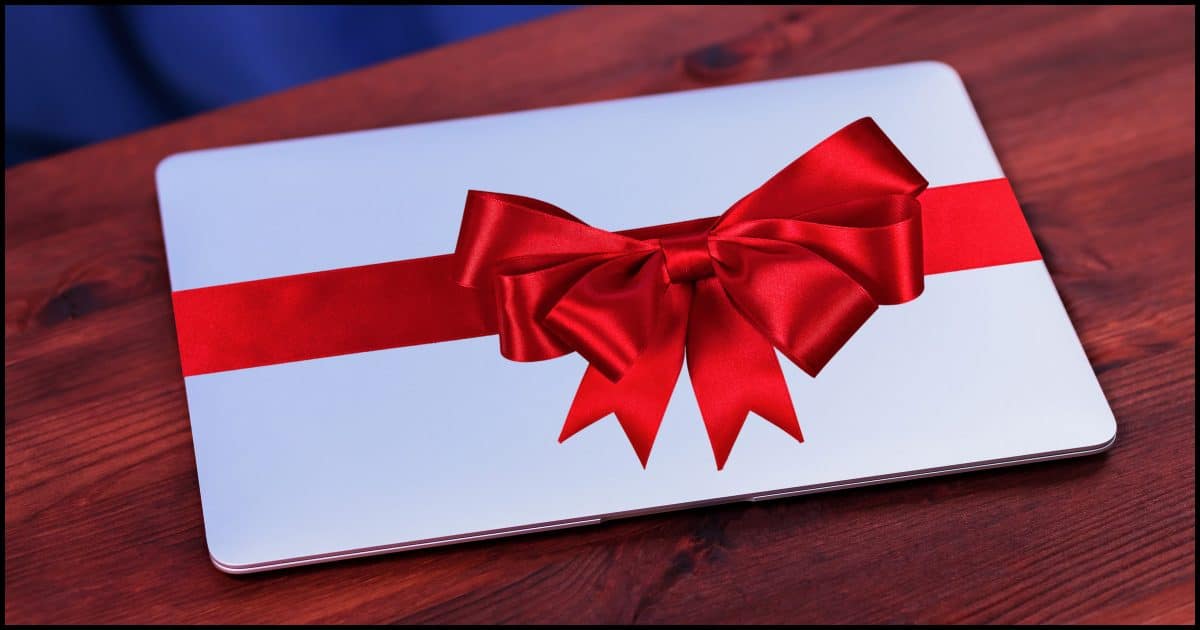 In a related article, What Kind of Computer Should I Get?, I discuss the criteria I use when deciding what computer to purchase for myself and what benchmarks you might consider.
But what if it's not for you? What if you're looking for a computer as a gift?
Things get more difficult, that's what.
Giving a computer
Choosing a computer to give to someone as a gift will depend greatly on their own abilities and specific computing needs. The more closely you can match their requirements, the better a gift it will be. It's not at all unreasonable to allow a somewhat knowledgeable recipient to make their own choices to make sure they get something they can use.
Buying a computer for someone else is difficult. In a nutshell, you're trying to gauge both their ability and their needs. And perhaps even your own availability to help.
Ability
How technically proficient is your intended recipient?
If they're a computer geek, well, they'll appreciate the thought, but they'd probably rather select their own computer, thank you.
If they're moderately proficient with computers, able to install and diagnose software and hardware, for example, then selections from online or discount computer retailer might be appropriate.
If their technical expertise is limited and you're not available to take up the slack, then it may make more sense to purchase a computer from a local retailer with strong local support.
Need
Consider how your giftee might use the computer and what they want to accomplish on it.
Computers have so many options and configurations, it's important to get something that your recipient will use and appreciate.
Here are some common criteria to look at.
Do they already have a computer and are they happy with it?
If they have a computer already, make sure that what you get is compatible. This is most important in the Mac versus PC decision. The best way to offend many Macintosh users is to give them a PC, and vice versa.
Do they have external requirements?
Does their school or work require a certain type of computer or specific functionality in order for the computer to be useful? This could include operating system version, installed applications, or perhaps the ability to support certain accessories.
Is portability a concern?
Or put another way: do they need a desktop, laptop, or perhaps even a tablet?
Most students and many businesspeople these days will appreciate a laptop that they can take with them, but it'll be more costly and perhaps less powerful. For others, a desktop will be more appropriate.
If your recipient is a new computer user or will use their computer for surfing the web and reading email, then a low-end computer can do very well. In fact, for new users, I'd avoid spending a lot of money. Basic functions such as letter writing, email, and the web are easily handled by inexpensive machines.
If their interest never increases beyond that kind of use,  they'll be happy with it for quite some time.
On the other hand, if they suddenly get interested and think of many other things to do with their computer, they may outgrow the machine. However, at that point their needs will allow them (or you, if you're still in a giving mood) to determine what the appropriate next steps might be: upgrades or replacement.
I want to put in a special caution here for gamers. If you're considering purchasing a computer for someone who'll use the computer to play high-end computer games, you'll want to put extra thought — and money — into three areas: processor speed, RAM, and perhaps most of all, a high-end video card. Computer games often push the envelope with respect to these items, so a little research might well be in order.
Which components can be replaced?
A computer system is a composite of several components.
If you purchase a laptop, it's an all-in-one affair. But for desktop systems, you typically also purchase a monitor and speakers. The system will have some of its functionality provided by replaceable expansion cards, and of course it will come with a keyboard and mouse. As an example, a high-quality monitor can be kept and used with any new system that your recipient might upgrade to in the future. That might be an investment they'll appreciate now.
If you're not sure about their future computer use, it might make more sense to go the inexpensive route now and then upgrade the monitor or other components at some later date when the computer's usefulness has been proven.
Do this
For actual specific computer specifications, read What Kind of Computer Should I Get?, where I walk through the decision-making process. Reviewing that process with an eye to your potential recipient will help define the specific characteristics of your planned gift.
I expect that I may have raised more questions than I've answered, but ultimately, that's a good thing. There's no such thing as choosing "a computer" — it's made up of many choices. The better you ca understand the needs and the implications, the better your gift will be received, the greater a chance it has of being used, and the longer it will last.
And if your recipient's been thinking about it already, it might be wisest to let them choose. In fact, if you're uncertain, I'd even recommend it.
Subscribe to Confident Computing! Less frustration and more confidence, solutions, answers, and tips in your inbox every week.
Podcast audio

Download (right-click, Save-As) (Duration: 5:42 — 4.1MB)
Subscribe: RSS