With the Christmas holidays in full swing, it's a busy, busy time of year.
And nowhere is that more apparent than in our email inboxes. Companies are reaching out to us with a constant stream of last-minute gift ideas, online specials, and more.
The kicker is that these are all legitimate emails from companies we've done business with in the past, and that we will, in all probability, continue to do business with in the future.
Just not at this breakneck holiday pace.
It's the perfect time for a little email pruning.
Evaluate every email
I use my holiday inbox as an opportunity to evaluate every email I get.
Does it add value? Is it something I read, or routinely delete? Is it so much noise, or something worth keeping?
Every email. Every subscription. The holidays are a great time for a little email pruning.
Unsubscribe from those that add no value
Next time you get email from a business or email list that you've subscribed to, ask yourself: do I get value from this email?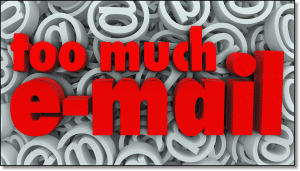 If you find yourself never reading it – or never even opening it – it's a candidate for unsubscribing. Why continue to clutter your inbox with email you never actually look at?
If it's a list you intentionally subscribed to in the past, you can re-subscribe in the future should you find that you actually miss it. If it's an email list of company you've done business with or otherwise given your email address to, you can always return and do business with them by going to their web site.
Again, if you're not paying attention to the email anyway, of what value is it to you? Why keep getting it? Unsubscribe.  ("Unsubscribe" links are almost always found at the very bottom of the email.)
Unsubscribe from those that add too much noise
I find there's a class of email subscriptions that I would like to continue, but I find that I just can't. Not because they don't add value – they do. Not because I'm not interested – I am.
It's because I'm not that interested.
I don't need daily reminders of all the interesting stuff that this company has. Yes, it's cool, it's awesome, it's fun – but once a week would be plenty.
Daily? I just don't have the time to invest in that. It's too much of a distraction every time I open my email.
Unsubscribe. If I want, I can visit them on the web – on my schedule.
How many emails do you get that fall into the "too much" category? Would your time be better spent elsewhere? Unsubscribe.
Don't unsubscribe from spam
Now, I have one caution for you: never ever "unsubscribe" from spam.
Spam is email you did not ask for. Spam is email from companies you've never done business with.
Clicking on the "unsubscribe" link on spam emails only confirms to the spammer that they've found a live person in their mass mailings, and it will likely get you more spam, not less.
On the flip side, never mark email that isn't spam as spam.
Email from companies you do business with typically isn't spam. Often, as you go through the purchase process, you give them permission to add you to their list (sometimes inadvertently, by failing to uncheck a checkbox). This is not considered spam. Unsubscribe instead.
Similarly, never mark email that you actually asked for as spam. For example, if you subscribe to my newsletter and later on you no longer want it, unsubscribe.
In both cases, marking legitimate email as spam can actually harm the business and its customers, because email providers may use your actions to begin filtering this legitimate email as spam for others, who may not think it's spam at all.
Don't unsubscribe from emails that give you value
It should go without saying, but if you're getting value from an email subscription, don't unsubscribe.
If the emails are things you look forward to, or file away for future reference, or just generally read and value, that's exactly what email mailing lists are for: putting value into your inbox.
Naturally, I hope you feel that way about The Ask Leo! Newsletter. :-) (But if you don't … then yes, you should unsubscribe, using the link at the bottom of every message. Seriously, if you're not getting value from my newsletter, I don't want to bug you.)
My criteria
I've been doing this for a few days, and have developed a little bit of a sense for what appears to be valuable to me.
Keepers:
My friends' mailing lists. As you might expect, I have a few entrepreneurial friends, and I subscribe to their work both to show support and to give them feedback they might not hear from less invested readers.
Email that I actually read. This falls into a couple of buckets: entertainment (like This is True, though that falls into the prior bucket as well), and business-related (a couple of CopyBlogger's lists are good examples). If I find myself reading them immediately, or saving them to read later and then actually doing so, then it's a clear keeper.
Businesses I do repeat business with. Starbucks and Amazon contact me regularly, and that's OK.
Most (though not all) non-profit organizations that I support.
Unsubscribe:
Emails that are too frequent. I mentioned earlier a business that was emailing me daily with new and cool featured items. It hurt to unsubscribe, because they are indeed cool items … but I only have so many hours in the day.
Emails that I routinely discard. That's a clue that I shouldn't be getting them in the first place. Unsubscribe.
That's just me; your criteria may be different. What I recommend is that you think about what your criteria should be. Then, during this busy holiday season, when all of these email sources are sending you plenty of reminders, evaluate each, and start unsubscribing.  In the midst of holiday chaos, here's one arena in which you can have complete control!
Subscribe to Ask Leo!
I'd be remiss if, while talking about email subscriptions and unsubscribing from things, I didn't mention my own newsletter – The Ask Leo! Newsletter.
I believe that my newsletter adds value by including lots of information, solutions to problems you might be experiencing, tips for using your technology more effectively, and strategies for staying safe online.
Subscribe, and give it a try.
If you find that it doesn't add value, if you find you're simply discarding it unopened each week, then unsubscribe. In fact, please unsubscribe. Like I said earlier, I don't want to bug you. :-)
Podcast audio

Download (right-click, Save-As) (Duration: 7:40 — 7.1MB)
Subscribe: RSS