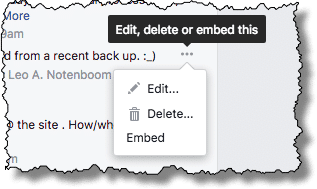 This is almost a pet peeve: seeing people reply to their own comment to correct a typo or other mistake. The result is two comments: one with the error, and one following with the correction. (Heaven help us if the second one also has a typo… the chain can get even longer.
)
There's simply no need. You can edit any comment you post on Facebook.
On the website, click on your comment, and then click on the ellipsis (…) that appears to its upper right. You'll have an option to embed the comment (link to it from another website), but more importantly, you'll also see an option to delete or edit your comment. No need to reply to yourself.
In the mobile Facebook app, a long-press on your comment should also bring up a pop-up menu including, among other things, the option to edit your comment.