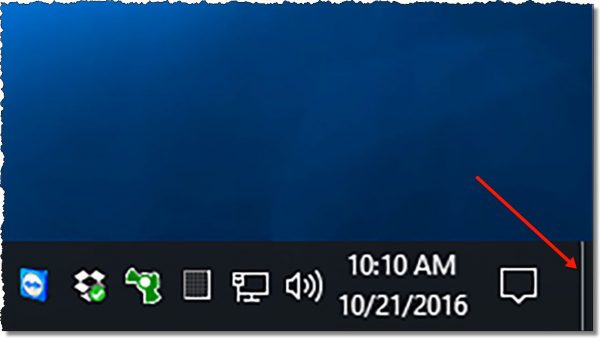 I realize I'm an aberration in the Windows world: I keep a meticulously clean desktop. Many people keep their desktop full (some might say cluttered
) of icons for programs and documents and folders and who-knows-what.
Of course, that's all hidden behind the programs you have running, which cover the desktop.
Enter "Desktop Peek". Or "Desktop Show", if you prefer.
Right-click on the very small vertical area at the far right of your Windows taskbar.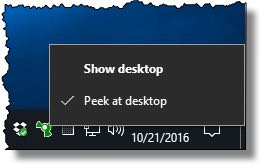 This small area works a couple of ways:
When Peek at desktop is checked, whenever you hover the mouse over this control (no click needed) the currently-running applications become transparent, and you can see (peek at) the desktop underneath.
When you click on this area (or click on Show desktop), all the running applications are minimized, revealing the desktop. Simply click again to restore everything to the way it was, or click on individual program icons in the taskbar.
It's a feature I rarely use because my desktop is typically clean. But if you keep any amount of information on your desktop, it can be a quick way to remind yourself of what's there.
Related Video