Solve the chicken-and-egg problem, of course.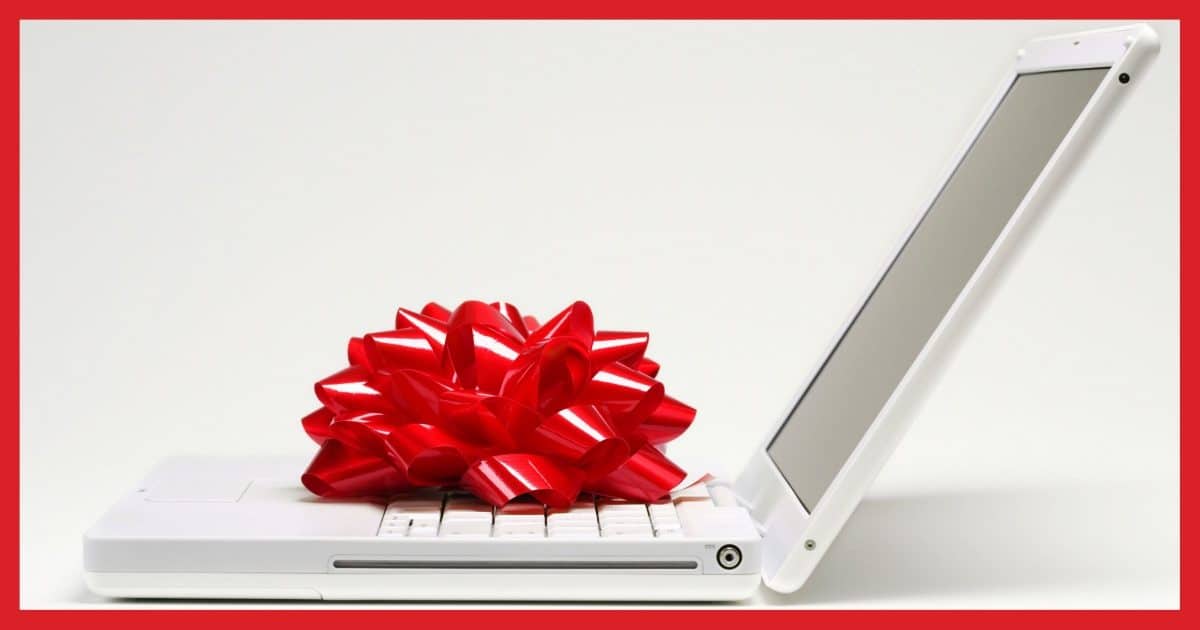 If you can, wait to play with your new computer for a little while. I have something important I want you to do first.
It's a common and difficult-to-answer question: "I got a new computer. What do I do first?"
I take that back. It's easy to answer, but it's difficult for many people to follow the answer.
You want to start playing.
I want you to do something else first.
The first thing to do with a new computer
Back it up. Ideally, before booting into and configuring the operating system, boot into backup software and image the as-yet untouched hard disk. If that's not feasible, install backup software and take an image back up as soon as possible after setting up the operating system.
Back up
I want you to back up your machine.
Specifically, I want you to create a pristine image of the hard drive before you do anything to it.
Anything.
That way, no matter what you do to the machine you can restore it to the exact condition it was in when it arrived — before you even touched it.
Unfortunately, in order to install backup software, you normally have to fire up the machine and complete Windows setup first. That defeats the purpose, as by then the hard disk will no longer be pristine; it'll have been modified by the setup process.
I want you to have a backup before you set it up. I want you to have an image of what I've semi-jokingly referred to as the disk before you turn on the machine.
Of course, short of removing the hard disk (usually not a practical option), you'll have to turn on the machine to back it up.
You must solve a classic chicken-and-egg dilemma: you have to turn the machine on to back it up, but you want to back it up prior to turning it on.
Rescue disk to the rescue
Popular imaging backup software like Macrium Reflect, EaseUS Todo, and others create rescue disks. They "rescue" by restoring a backup image to a machine that won't boot from its internal hard drive by replacing whatever is on that hard drive.
What many don't realize is rescue disks can also be used to back up.
So the sequence I propose is this:
Using a different computer, create a bootable Macrium Reflect rescue "disk" on a USB stick. You can do this with the free version of the software.
Change it to boot from a USB stick.
Reboot, booting from the rescue disk.
From the rescue disk, make a backup image to an attached external hard drive.
Reboot, immediately entering the UEFI configuration to reset it to boot from the hard disk as normal.
Reboot one last time into the Windows initial setup process.
The result will be an image of the hard disk before Windows setup was ever attempted.
Changing UEFI settings
Step 2 is the most difficult part.
Modern UEFIs are complex and have additional security that — in extreme cases — can lock things down so tightly you wouldn't be able to do this. Similarly, every UEFI is different. Not only different between manufacturers, but often different from model to model from the same manufacturer.
The result is that I can't tell you the exact sequence of steps you need to take or if this is even possible on your machine. (I'll talk about what to do if this is the case below.)
The goal is simple: change the boot order so the UEFI attempts to boot from your USB stick before it tries to boot from the hard disk. In most UEFIs, there is a setting called "boot order" or "boot sequence" or something similar. It's typically enough to ensure that the computer tries to boot from USB prior to trying to boot from the hard disk.
Once you've done that, you can reboot, and the machine will boot from the USB stick and into Macrium Reflect's rescue media.
Creating the image backup
The copy of Macrium Reflect on its rescue disk is essentially identical to the version you install on your PC. It will display its usual interface.
To create a backup image:
Click on the Create Backups tab.
Click on Image selected disks on this computer.
Make sure the disk drive you wanted to back up is displayed and its checkbox checked.
Attach an external USB drive to receive the backup.
Specify that external drive as the destination.
Click Finish.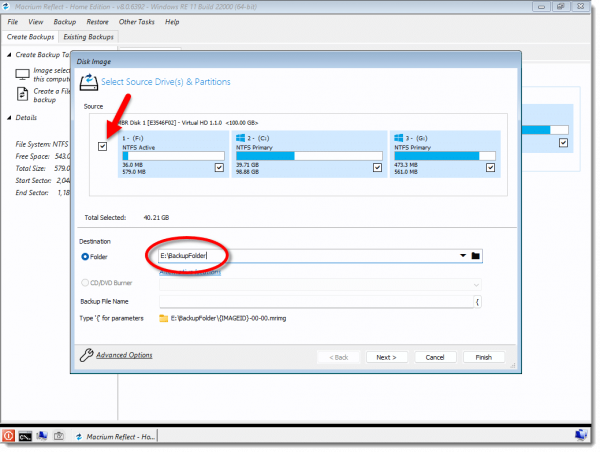 Reflect will then image the internal hard disk and create an image backup file on the attached external drive.
Undoing the UEFI changes
You may or may not need to undo the changes made above to your UEFI. Here's how to tell:
Remove the rescue media.
Exit Macrium Reflect by clicking the button in the lower left, where the "Start" button normally is, and select Reboot.
If the machine boots into Windows, you're done. You can proceed to configure Windows and carry on playing with your new machine.
If the boot fails, the first thing to do is undo the UEFI changes made above and return the boot order to what it was: checking the hard disk first. Once you've done that, reboot again, and you should land in Windows.
Why?
This seems pedantic and nit-picky. Why go through all this trouble?
The moment you turn on a machine with Windows pre-installed, you initiate the Windows setup program. By definition, that immediately begins making changes and customizations to the copy of Windows installed on that hard drive.
By backing up the hard disk before any of that happens and saving the backup image somewhere safe, you have an additional recovery option available in the future: a restore to the true factory-fresh condition as if you'd never touched it. You can start Windows setup from scratch and, should you want to, make completely different choices in the process.
This truly pristine backup gives you the ability to truly start over. Anything that setting up Windows might do will be undone. You'll be starting with a completely clean slate. You can make different choices as you set up Windows, set up different accounts, or anything else you care to do differently.
If you can't or just don't want the hassle
I admit my recommendation requires a bit of work. If it feels like too much, or if you were unable to re-configure your boot order to boot from the rescue media,1 there is a more pragmatic (albeit less pristine) alternative.
Boot into Windows and set it up.
Install your backup software, such as Macrium Reflect, before you install anything else.
Create an image backup to an external drive.
This represents a backup image "as early as possible". While you won't be able to restore your machine to a truly pristine condition, this freshly installed alternative is often enough should you ever feel the need to start over.
Do this
Back up your new machine, one way or another, as soon as you can.
Backing up is just one of the important topics I cover regularly in my weekly newsletter, Confident Computing. Subscribe for less frustration and more confidence, solutions, answers, and tips in your inbox every week.
Podcast audio

Download (right-click, Save-As) (Duration: 7:11 — 6.6MB)
Subscribe: RSS
Footnotes & References
1: Something you'll want to investigate further with the computer manufacturer. While an annoyance today, it may become critical if you ever do face a hard disk failure and need to replace it. Booting from rescue media may be your only recovery mechanism.