You've mentioned that you back up
Gmail
somewhere on your own computer; how do you do that?
Of all the current free email services, Gmail is my favorite. I know I've railed against free email services as your only email service, but they definitely have their place. And Gmail is the service I recommend.
In part, I recommend it because I can answer this question. Gmail is very easy to back up.
Desktop email programs
In a nutshell the easiest way to back up Gmail (or many other online email accounts) to your own machine is to use a "traditional" email program like Outlook, Windows Live Mail, Thunderbird or others and configure them to download your mail.
If you don't already have one, or have a preference for one, Thunderbird, which is free, is a good, reliable and feature-rich email program. I used it myself for many years before switching to Gmail's web interface. One of the reasons I prefer it is that the email is stored in a non-proprietary format on your machine – plain text. If you've ever had an email program's database become corrupt, you'll appreciate the simplicity of this approach.
Another contender is Microsoft Office's Outlook (not to be confused with outlook.com – they are unrelated). Outlook is an incredibly powerful desktop email and personal information management program. If you have Microsoft Office, depending on which edition of Office you have, it may already be available to you.
Windows Live Mail is a free download from Microsoft. It's the closest thing to an Outlook Express replacement that they offer, and many people find it a convenient and comfortable program.
Honestly, there are literally hundreds of different desktop email programs out there, and almost any of them will work to back up Gmail. The important features that they need to include are:
IMAP protocol (most current ones will do this)
SSL connections
The ability to have a "leave messages on server" option when using POP3
Other than that, it's really your choice.
Use POP3
POP3 is the way traditional email programs that run on your PC get your email from your ISP. It's perhaps the oldest email protocol still used, and is one of the reasons that so many different email programs – even ones decades old – can often be used for our backup purposes.
Once you have an email program, Gmail's online help has instructions for configuring POP3 access in many popular email programs. The important points are:
POP3 access must be enabled in your account – it's a setting you'll need to confirm in the web interface at gmail.com.
Your email program must be appropriately configured to use Gmail's POP3 servers.

IMPORTANT: Before you download your email, there is one setting that applies only to using your desktop email program to back up Gmail: "leave messages on server":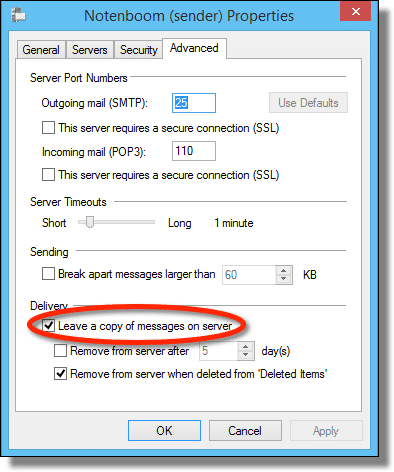 The reason that this is so important is that without it your email may be moved from Gmail's server to your PC and disappear from the web interface. What we want, like any good backup, is to make a copy on your PC, leaving the originals on the server.
Once configured, when you go to download or "check for new mail" using your email program, you'll back up Gmail by downloading all your email. The first time it could be a lot, depending on how long you've been using Gmail and how much email you have.
Do that periodically, and the mail that's stored on your machine is your backup should you ever lose anything from Gmail.
If at any time you want to re-download all the mail in your Gmail account, you can. Gmail help includes instructions to backup all mail by forcing Gmail to download all email, even that which might have been downloaded before. That's a good way to create a snapshot at any point in time.
Using IMAP
IMAP is the protocol used to allow multiple devices to all access the same collection of email in a synchronized way. Rather than moving mail to your PC by default, as POP3 does, IMAP simply makes a copy on your local machine, and synchronizes what you do on your machine with what's stored on the server. Read something on your PC? It's marked as read on the server and reflected as such on your mobile device. Delete a message from your mobile phone? It's deleted from the server and disappears from your PC.
"Makes a copy on your local machine"? Sounds like a perfect way to back up Gmail. :-)
Much like POP3, Gmail's online help has instructions for configuring IMAP access in many popular email programs. The important points are:
IMAP access must be enabled in your account – it's a setting you'll need to confirm in the web interface at gmail.com.
Your email program must be appropriately configured to use Gmail's IMAP servers.

Once you do so, fire up your email program and synchronize. A backup of your Gmail will be created on your PC.
Unlike the POP3 scenario above, using IMAP to backup isn't really any different than simply using IMAP. If you choose to, after setting up IMAP access to your account you could continue using your desktop email program for your day to day email. Or you can switch back and forth between the desktop program and Gmail's web interface. It all just works and stays in sync.
Backing up the backup
One of the nice side-effects of using your PC to back up Gmail like this is that your backup will, itself, be backed up again when you back up your PC.
You do back up your PC, right? (If not, start now, before something happens and you lose everything on it.)
By backing up your PC you're creating an additional safety net that ensures you'll never lose the contents of your email again.
Using another free account
One other approach that I'm not as fond of, but can work, is to use a different free email account to back up Gmail.
There are two approaches:
Configure Gmail to automatically forward all email received to the other account's email address.

Use a "POP3" in the other free account to fetch your Gmail. Make sure that this makes a copy and leaves the email in Gmail.
As I said this can be a viable solution for many. I dislike it because I prefer the control of having my backups on my own machine. By pulling your email into another online account you're simply relying on yet another provider to perform that service.
About those pesky contacts
What we've discussed so far has been how to back up Gmail – your email in Gmail, specifically. Your contacts are not part of this process.
Contacts (or address book entries, depending on your terminology) are kind of a mess across all email programs, providers and platforms. There's little consistency as to exactly how they are stored, what they contain or how they are exchanged.
My recommendation for contacts is very simple: export them from Gmail periodically.
Go to your contacts: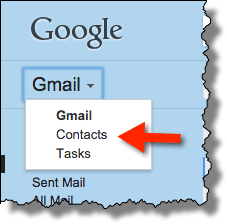 And then click on the More item and the Export… menu item: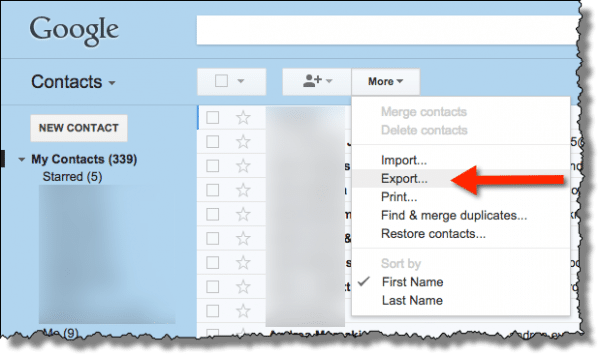 Follow the instructions to export your contacts in "Google CSV format (for importing into a Google account)". This will let you restore your contacts to a Google account should you ever need to. Alternately you can choose a different format for potential later import into a different program.
And of course, store this export file in a safe place, perhaps with your backups.