So just why are manhole covers round?
Well, I'll tell you, but if all you want is the answer, then you completely missed the point of the question.
The interview question
"Why are manhole covers round?" is a now-famous job interview question considered anywhere from insightful and thought provoking to downright stupid (by people on the receiving end).
And, to be clear, it's so well known these days that it simply shouldn't be getting asked any more.
If the answer misses the point, why was it used in the first place?
The journey is the goal
It's all about how you respond to the question.
The idea wasn't to see what you know, but rather to get a sense for your ability to think on your feet outside of your area of expertise.
The way you approach problems, think of potential solutions, and present, defend, or discard them are all exceptionally relevant to the person asking the question.
It's a simple question. There are simple answers. But the thing about this question – and indeed these types of questions – is that it's not about the answer! Everyone seems to miss that.
The interviewer cares much more about how you arrive at whatever answer you give than what that answer is.
Are you thinking logically? Is there method or madness to the solutions you consider, accept, and discard? Are you even willing to entertain such an absurd question?
If you're getting yourself all wrapped up about the answer – if you think there's a right or wrong answer – then I say again: you're missing the point. It's not about the answer – it's about how you respond to the question.
Answers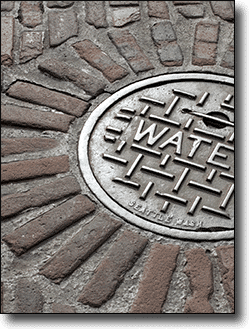 But you still want an answer.
Fine.
Remember, there is no single or "correct" answer.
The most common answer is simply that a round manhole cover can't fall into the hole it covers. The lips that keep it from falling in when properly in place make a hole smaller than the cover itself. That keeps it from falling in regardless of how it's placed in, on, or over the hole.
Another thought is that heavy, round manhole covers are easier for one person to move: you stand it on end and roll.
You don't have to "align" a manhole cover to its hole. Since it's round, any orientation will do.
My late father, a mechanical engineer, provided an answer I hadn't heard before: round manhole covers are easier to manufacture. That's a nifty answer, and it would have been great in an interview … except he also claimed that was the only reason, and all the others were wrong. Whoops.
And for the record, round is not the only shape that can't fall into its hole. There's an entire class of such shapes, referred to as "Reuleaux polygons". One common characteristic is that they share a constant width or diameter.
Meanwhile, back at the interview
If you walk into an interview having simply memorized answers, there's a good chance you'll fail miserably.
Expect lots of questions about why the answer you recite is correct, and how you arrived at that answer, step by step. That's what interviewers care about: the whys and hows behind your answer.
Just knowing an answer isn't enough.
And, for the record, if anyone really is using this question in a real interview after all this time, I'd question their interviewing skills. There are appropriate ways to bring it in, but still … there are other, better, and lesser-known alternatives.
Podcast audio

Download (right-click, Save-As) (Duration: 4:48 — 4.5MB)
Subscribe: RSS