My computers have Windows XP. As Microsoft will no longer issue updates after next year, I was wondering if I should wait for Windows 8.1? I've heard so many negative things about Windows 8 that I'm hesitant to buy it. I'm a senior citizen and just use my computer for the internet and email so I only need the basic. I'm told Windows 7 is more user friendly and I'm wondering if maybe that would be my best bet?
If there's nothing prompting you to upgrade or change now, then I would wait.
8.1  will probably resolve some of the issues that people had with Windows 8, but not all of them. It is still Windows 8 and it's an incremental improvement.
I know Windows 8 has cause a lot of grumbling. But it's fine. It really is.
Let me explain why I feel that way.
Windows 8 with Classic Shell is Windows 7
I don't know what you've heard about Windows 8, but 90% of the concerns that I hear are unfounded, especially when you take the extra step of installing Classic Shell.
Windows 8 with Classic Shell looks and operates pretty much like Windows 7. I see my Taskbar. I don't have tiles. I can set it for multiple monitors just like when I was running Windows 7.
I normally tell people to upgrade to the version that has a bit of a reasonable track record. These days, that's Windows 8 if your hardware supports it.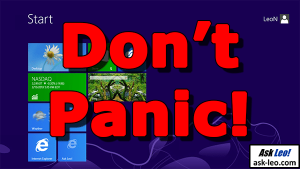 When to go with Windows 7
I can only think of one situation when you might want to wait on Windows 8 and that's if hardware is an issue.  For instance, if your machine is too old it's possible that Windows 7 may work, but Windows 8 may not.
In that case, Windows 7 is a fine operating system. It's a good alternative and Microsoft will offer support on it for some time.
But in the end, my gut tells me that if you're comfortable with Windows 7, you could be just as comfortable with Windows 8.