Now that you can buy a 256 GB SD card for about $100, would that be a good way to back up a laptop? I always hate plugging in an external drive to backup my laptop. This way I can schedule automatic backup and not worry about the media. The 256 GB card has a lifetime warranty and so if fails you can, in theory, get a replacement. Any idea about the expected failure time for reading or writing the SD card daily?
You know, my gut tells me that this is a bad idea. There are a few things that make me uncomfortable.
Warranties don't get your data back
First, realize what a lifetime warranty really means. If the SD card dies, you get a replacement for the card. But if the SD card dies, it's taken whatever's on it. Poof! All of the backups you may have stored on it are gone, and typically without any hope of recovery.
Now, of course, the same could be said of any external hard drive as well. They also die, though technically, the data stands a somewhat higher chance of recovery should that external drive be a traditional hard drive.
The difference here is what "lifetime" we expect from the hardware.
Flash memory: SD versus SSD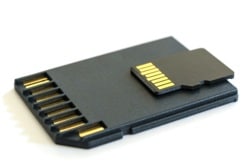 Now, I do want to make one clarification here. A $100, 256 GB SD card falls into the category of what I typically call "cheap flash memory". And as we all know, flash memory wears out more quickly the more often you write to it. And periodic backups write a lot of data.
I personally would not trust my backups to a cheap SD card.
However, a $100, 256 GB SSD (Solid State Drive) is a different beast. Actual prices aren't quite down to the $100 level, but I was actually surprised to see them getting closer.
While it technically uses flash memory, it's of a far higher quality. It's not a card; you can't just insert it into an SD slot; it's actually designed to be a hard disk drive replacement. You would install it in your machine or into an external drive enclosure – just like a hard drive.
SSD: still not for backups
While its lifespan is likely to be much longer than the cheap flash memory card that's used in an SD card, I still wouldn't use it for backups.
Why? Well, it's a waste. The big advantage of Solid State Drives is their speed – specifically their reading speed. When used as a primary drive and a system drive, you'll often notice significant improvements in your overall system feel in its speed. Many machines are now coming with SSDs as their system drives.
But that much speed you just don't need for a backup for a variety of reasons. For the same money you can get at least twice as much traditional hard disk storage or even more.
SD cards are easy, it's true
Now I realize the appeal of just being able to insert an SD card into the side of your laptop, for example, and use that for backup. And I'll absolutely agree that it's a 1000% better than nothing – but it has some inherent risks that I, again, personally would not be willing to accept.
Risks like the backup not being there when you need it.
Backing up is too important. Backup over the network to another machine if you don't like attaching an external drive – or just bite the bullet and attach that external drive periodically.
And you know what? The latter is exactly what I do with my own laptop.