It's no secret that crap (pardon the language) piles up on our computers over time. Temporary files that don't get cleaned up properly, assorted caches, histories, and backups of files that we might never need all seem to accumulate and can even negatively impact performance.
I use the word "crap" here specifically, because that's what that initial "C" in CCleaner originally represented – "Crap Cleaner."
Regardless of the political correctness of its name, then or now, CCleaner is a useful tool in managing the accumulation of "stuff" on your computer that might be doing nothing more than wasting space.
In the past, we've focused on running CCleaner as needed to clean things up when we think of it or encounter a problem.
The beauty of computers is that they're very good at doing things automatically. That includes not only creating crap, but cleaning it up as well.
Backup first
I wouldn't be me if I didn't remind you to back up your machine before you run CCleaner, or any cleaning tool, particularly for the first time.
While it's rare for CCleaner to actually break anything, you may realize after a cleaning that you cleaned something you didn't  want to lose. A restore to a full backup image can quickly help you recover from that, so that you can then adjust the CCleaner settings and move on.
Run CCleaner and choose settings
If you haven't already, download CCleaner (making sure to select the free version), install it, and then run it.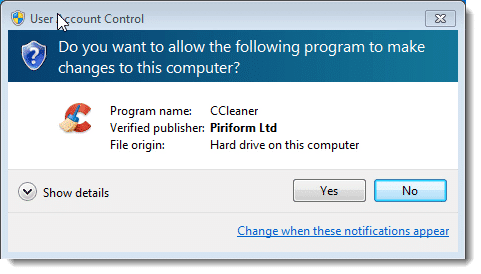 CCleaner does require administrative access to run. It will clean up areas on the machine that are system controlled and thus require administrative privileges.
Spend a few minutes examining the items listed in CCleaner's "Cleaner" section: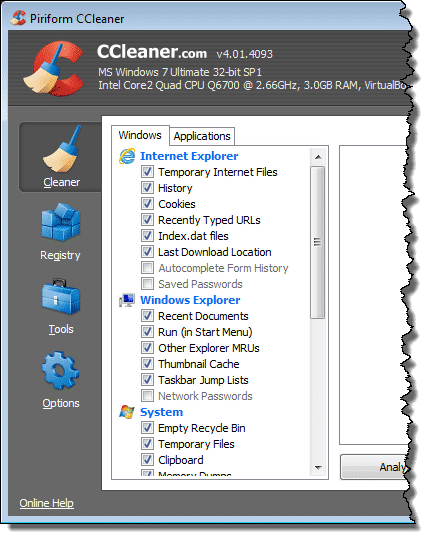 Make sure to scroll through the entire Windows tab for components included with Windows and the Applications tab for applications that CCleaner knows how to clean.
Select only those items that you want to have automatically cleaned up on a regular schedule. I'll discuss some of the implications below, but the important thing to realize here is that whatever you select will be automatically removed without your involvement on each automated run of CCleaner.
After selecting what you want cleaned, go ahead and run an analysis:
In fact, you might even want to run an actual cleaning to make sure that the result are as you expect them to be.
Once you're satisfied, click the Options icon, then the Advanced button, and make sure that "Save all settings to INI file" is checked: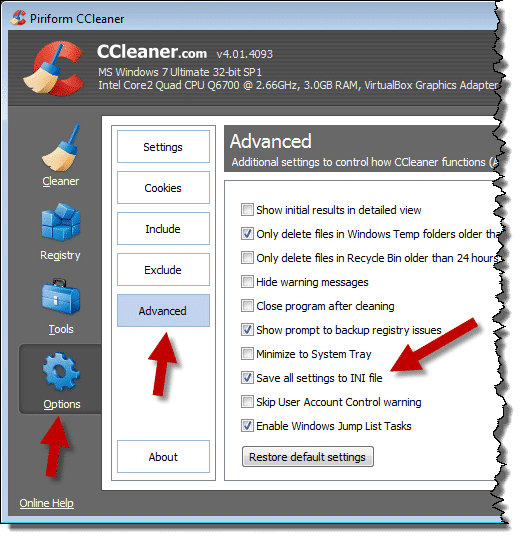 This causes all of the options that you've selected to be written to an .ini file for use by CCleaner when it is run automatically.
Important: If you later run CCleaner and change any settings while this checkbox is checked, you will be changing the settings for the automated run as well.
Close CCleaner. It's time to schedule things.
Schedule the cleaning
In Control Panel, click Administrative Tools, double-click Task Scheduler, and in Task Scheduler, click Task Scheduler Library (on the left):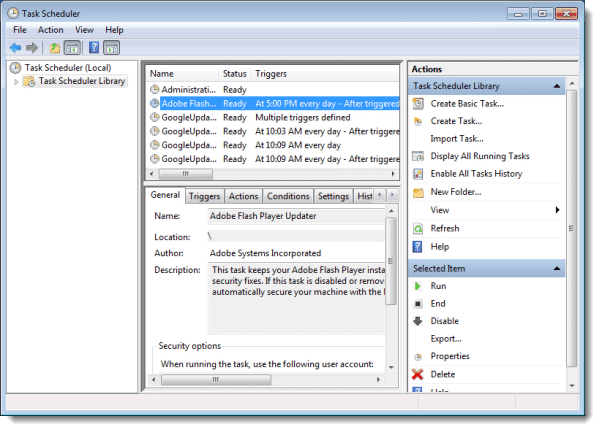 As you can see, this will list a number of pre-existing scheduled tasks.
Click Create Basic Task… on the right.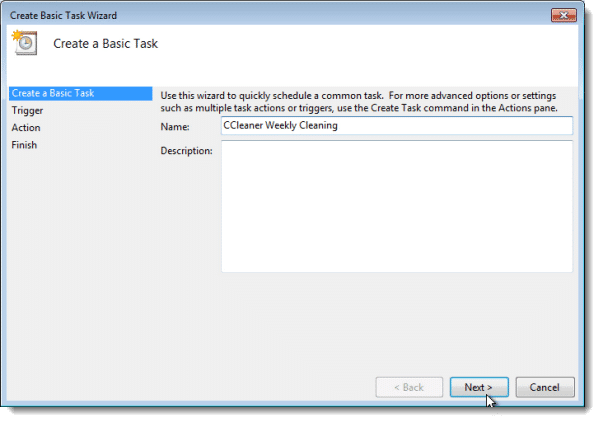 Give this task a name. I selected "CCleaner Weekly Cleaning" in the example above.
Click Next.
Task Scheduler actually has a number of ways that tasks can be initiated. In our case, we'll set up a weekly task.
Click Next.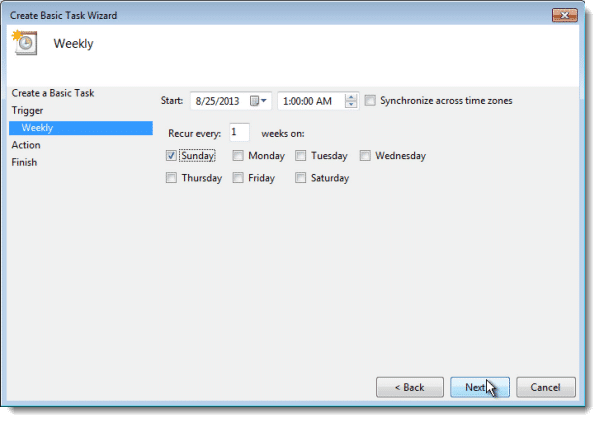 In the example above, I've configured the task to run beginning the following Sunday, at 1AM, and then repeat every Sunday thereafter. Choose whatever time or schedule you might prefer.
Click Next.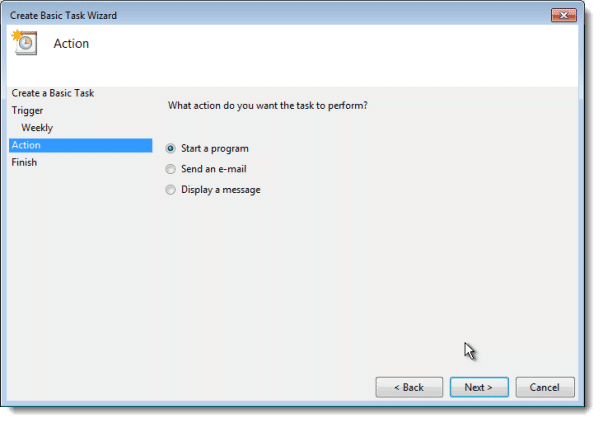 Select "Start a program" and click Next.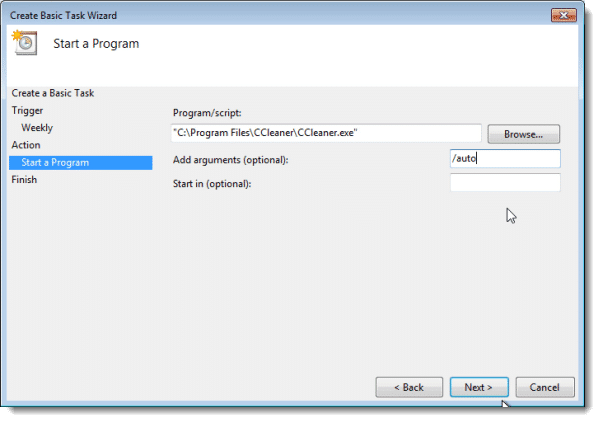 The program to be run is "C:\Program Files\CCleaner\CCleaner.exe" (including the quotes, as there's a space between "Program" and "Files"). If you're running 64-bit Windows, you may want to run CCleaner64.exe.
The argument is "/auto", which tells CCleaner not to bother displaying its user interface, but get right to cleaning when it's run.
Click Next.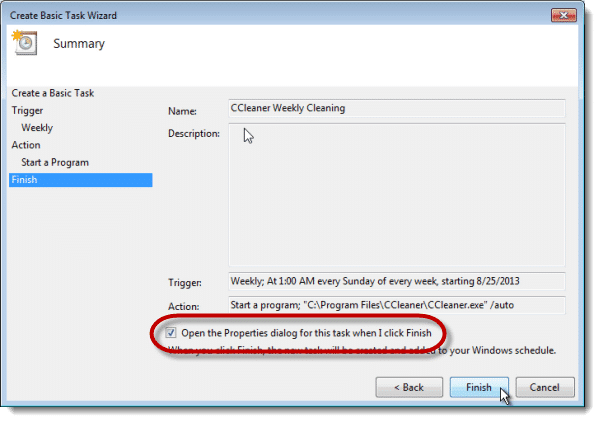 Before clicking Finish on the summary screen, make sure that "Open the Properties dialog for this task when I click Finish" is checked. There's one more thing we need to specify.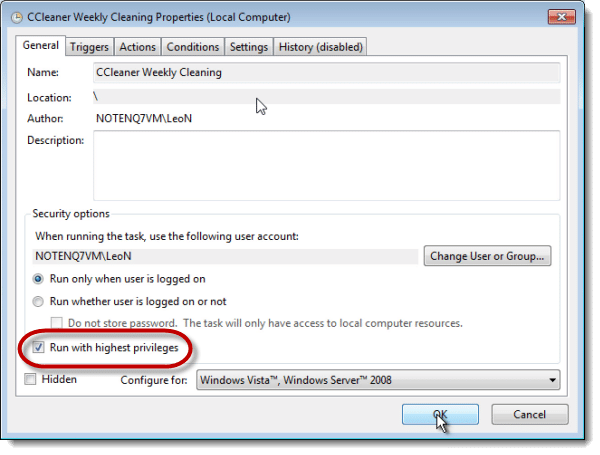 As we saw when we started CCleaner manually, it needs administrative access. Make sure that "Run with highest privileges" is checked to enable that for the scheduled task. (You might also want to change the "Run only when user is logged on" setting.)
Click OK. Close all the windows and you have your weekly scheduled CCleaner cleaning.
The implications of automated cleaning
When you run CCleaner or any cleaning tool manually, you'll expect that certain things will be removed. That's the point, after all. When cleaning happens automatically, it's easy to forget and you'll sometimes be surprised when something goes missing.
With the schedule put into place above, CCleaner will run silently once a week and clean things up. That means that after the CCleaner run:
You'll be logged out of all the sites that relied on cookies to keep you logged in if you allow CCleaner to clear cookies. You'll simply need to re-login to those sites as you visit them again.
You won't find any deleted documents in your recycle bin, if you've allowed CCleaner to empty it.
You'll find that some conveniently remembered bits of information in various programs (for example, recently typed URLS in IE) may have been forgotten, if you allowed CCleaner to clean them.
The first few page fetches in your browser might take a little longer as it has to rebuild the cache if you let CCleaner clean it.
And so on…
You get the idea. CCleaner is great at cleaning things up.
You'll just want to make sure that they are things you actually do want to have cleaned up – particularly once you allow the process to happen automatically.