While the Windows 10 free upgrade offer expires July 29, it turns out there are a couple of approaches that, while they are a little bit of work, can save the free upgrade so you can use it after the deadline has passed.
There are the normal number of caveats and possible issues, but if you're not ready to make the switch just yet, we have a way to save that free update.
The basic approach
The approach we'll start with is very, very simple: back up, upgrade, back up again, restore.
1. Back up
In my opinion, this step is mandatory any time you upgrade your operating system for any reason.
And by "back up", I mean a system image backup: a backup of everything on your hard disk. That includes the currently installed operating system, your programs, your data, the boot information … everything.
I recommend using a third party application such as Macrium Reflect, or EaseUS Todo. Both have free editions that handle this job nicely.
The result will be a single file that contains the image backup. Save this file somewhere safe. In fact, consider making a duplicate copy somewhere else, as a backup of the backup.
2. Upgrade
Let Windows 10 Upgrade do its thing.
One approach is to let the nagging Windows 10 upgrade notification run and perform the upgrade for you. If you've been using GWX Control Panel or Never10 to stave off the upgrade, you'll need to reverse those effects.
Another approach is to download the Windows 10 ISO, burn it to a DVD or place it on a USB device, and then boot from that DVD or USB device to perform the upgrade.
Regardless of which approach you use, perform the upgrade. Let Windows 10 install and update itself completely.
3. Back up again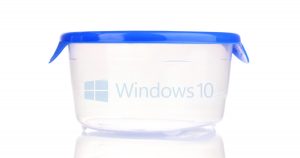 Perform another system image backup.
Once again, that's a backup of everything on your hard disk: the operating system (now Windows 10), programs, and data.
Save this backup somewhere safe. In fact, definitely make a second copy – a backup of this backup – and save that somewhere else.
This is your "free Windows 10" you'll use later, when you're ready.
4. Restore
Now, using the same backup program you used to create your original backup image, restore that image to your hard drive.
Typically that means creating and then booting from "rescue media" to run the backup program that can copy the backup image to your machine.
When you're done, it'll be like none of this ever happened …
… except you'll also have a backup image of your ready-to-go Windows 10 installation.
When the time comes to upgrade
When you finally decide to upgrade to Windows 10 "for real", past the offer's expiration date, here's what you'll do:
A. Back up your existing system again.
B. Restore the Windows 10 image backup you took above.
C. Let it take any updates that have been made available since you took that image.
D. Update any software on the machine that was updated since the image was created.
E. From the backup image taken in step A, restore any data added or updated since you originally created that Windows 10 image.
That's basically it. You should now be running Windows 10, for free, while having run your previous version of Windows well past the offer expiration date.
Variation #1: Let Windows 10 revert
Instead of performing the restore operation outlined in our original step 4, Windows 10 will allow you to revert to your prior version of Windows for a period of 30 days after the upgrade. You can elect to do so.
Personally, I feel safer with the image-restore approach, as I can't imagine that the process of installing and then reverting Windows 10 using its own processes wouldn't leave assorted detritus behind. Restoring an image ensures you get exactly what you had when the image was taken.
I've also heard reports of the reversion process failing. That's one reason for taking the image backup to start with, as at that point, restoring it is your only option.
Variation #2: Upgrade again when the time comes
I have heard, but cannot confirm, that rather than restoring the Windows 10 image you created, you may be able to simply perform the upgrade again and have it work.
The concept here is that your initial upgrade to Windows 10 creates what's called a "digital entitlement" for the specific machine on which you it's done. That digital entitlement is preserved, so you're able to upgrade the same machine at any time later.
If this works, it could have one significant benefit: any changes you've made to your installed applications and/or data will be preserved. As you may have noticed, the previous restore to Windows 10 involved also updating not only Windows 10 itself, but also updating all your applications and data that may have changed since your original Windows 10 image was created. That could be a fair amount of work.
Needless to say, while I consider this to be worth a try, I wouldn't bet on it completely. Be prepared to restore your Windows 10 image and move forward from there if this doesn't work for you.
Caveats and "gotcha's"
The "free" upgrade applies only to machines running Windows 7 SP1 and Windows 8.1. If the compatibility checker indicates that your machine is not compatible, you may be able to "force" the upgrade using the downloaded ISO, but I'd recommend you be prepared for failure.
Digital entitlement, mentioned before, is key to any approach that allows you to install or upgrade later. Unfortunately, it's apparently highly dependent on your hardware configuration. What that means is that if your computer changes in almost any way (RAM, motherboard, hard disk, network, and perhaps more), the "entitlement" may fail, and you'll lose your free upgrade. If that happens, you'll be forced to purchase a Windows 10 license if you want to complete the upgrade.
Finally, this is not a way to get both Windows 10 and your previous version of Windows running at the same time, or even installed at the same time. The free upgrade is a single-machine upgrade: you had a previous version of Windows, and you upgrade to Windows 10, which replaces it.
Podcast audio

Download (right-click, Save-As) (Duration: 7:04 — 6.5MB)
Subscribe: RSS