The safety net you might not be aware of.
If you're using OneDrive for your regular work, its recycle bin provides an extra layer of backup and protection.
You've deleted some files on your computer and you've emptied the recycle bin on your hard disk.
Now you wish you hadn't deleted that one important file. Whoops.
On top of that, you did all this a few days ago, so data recovery tools are unlikely to work.
If you've been doing your work within your OneDrive folder, however, there is hope.
Recovering files from OneDrive's Recycle Bin
If you delete a file stored in OneDrive, you can recover it from OneDrive's recycle bin online for up to 30 days. This feature acts as an extra layer of backup. However, don't rely solely on recycle bins — either on your computer or OneDrive — as permanent storage.
OneDrive's Recycle Bin
Did you know OneDrive has a recycle bin of its own? For the longest time, I didn't. It wasn't until the scenario I outlined above actually happened to me1 that I found it out of desperation.
OneDrive's recycle bin works just like the recycle bin on your PC: when you delete a file in your OneDrive folder, it's not really deleted but is instead moved to your OneDrive recycle bin.
OneDrive's recycle bin is completely separate from the recycle bin on your computer and has different rules about how long it keeps things. Your computer's recycle bin permanently deletes older files to make room when it fills up. The OneDrive recycle bin permanently deletes files after 30 days.
How to use the OneDrive Recycle Bin
For this example, I'll start with three files in the OneDrive folder on my computer.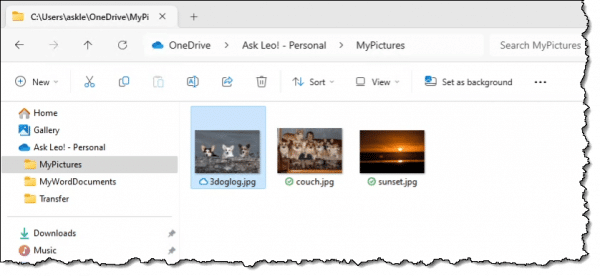 Those files are on my computer, in a subfolder of my OneDrive folder called "C:\Users\askle\OneDrive\MyPictures". Since they're in my OneDrive folder, they've also automatically been uploaded to my online OneDrive account.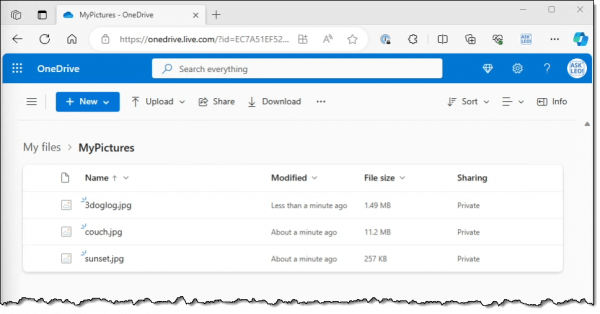 For clarity, my OneDrive recycle bin is empty. You can view the contents of your own OneDrive recycle bin by clicking on the Recycle bin item on the left-hand menu in OneDrive online.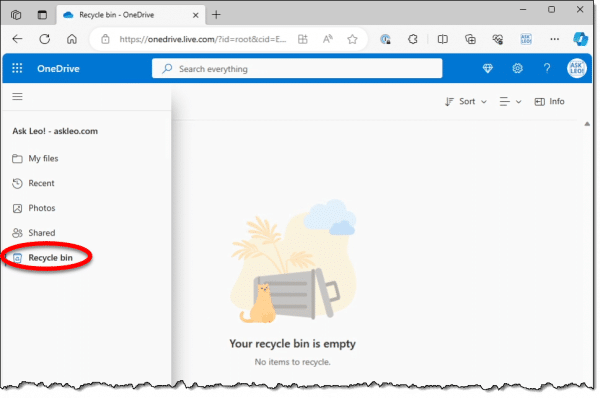 On my computer, I delete one of the files.
Within a few seconds (or minutes, depending on your internet connection), that deletion is mirrored to OneDrive online, and I'm left with the same two files in both locations.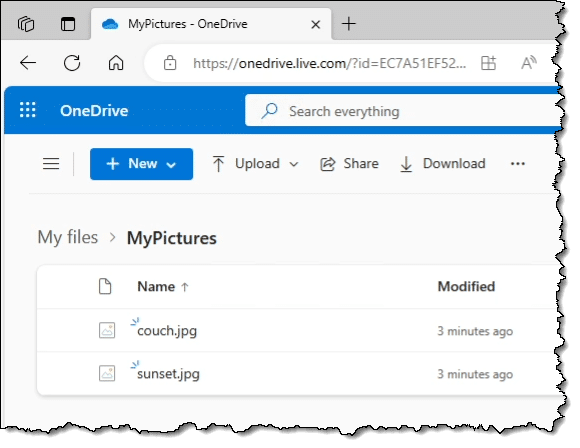 Restoring a recycled file
In OneDrive online, click on that Recycle Bin link in the left-hand menu to view a list of files deleted in the last 30 days. In my case, that's the file I just deleted. You can right-click on the file you want to restore and click on Restore, or, as I do below, click the selection box in front of the file and then click on Restore near the top (this technique allows you to select multiple files to restore at once).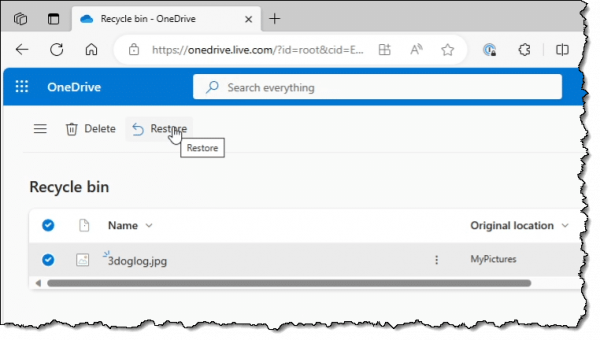 The file will be restored to its previous location in your OneDrive folder online. As soon as your computer's OneDrive app synchronizes (typically in a few seconds or minutes), the file will reappear on your computer as well.
Do this
As a matter of safety and general philosophy, you should never count on the recycle bin.
I say that because I hear from people who purposely place things in their recycle bin and are surprised when those things disappear — either through the mechanisms I described earlier or through explicit recycle-bin cleaning. The recycle bin is not meant as a place to keep things; it's a safety net and nothing more. If you want to keep files but want them out of your way, create and manage your own folders. Then you remain in control.
That being said, OneDrive's recycle bin is a pretty nifty safety net. You hope you never need it, but it's great to know that OneDrive has your back.
As do I! Subscribe to Confident Computing! Less frustration and more confidence, solutions, answers, and tips in your inbox every week.
Podcast audio

Download (right-click, Save-As) (Duration: 3:18 — 2.3MB)
Subscribe: RSS