I am puzzled by a little item called "Print to file". I am loathe to experiment with it (from another painful experience!!). Nevertheless, I would like to know what it is, what it does, what it's for, and if or when I should actually use it . Does it have any practical benefit, or is it simply a technical appendage?
I vote for appendage.
The super-short version is that it's somewhat of a relic. If you see it, which is rare these days, then unless you know you have a specific need for it, just ignore it.
It's highly unlikely you'll ever have a specific need.
But because you're curious…
Print to file
Here's an example of the option we're talking about: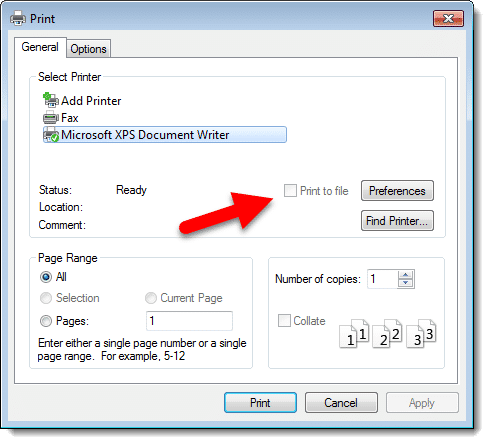 This option may appear in different locations on different print dialogs, or it may not appear at all. You'll note that's a Windows 7 style dialog; "Print to file" doesn't appear on any of my Windows 10 installations. That's a bit of a clue as to its current usefulness.
Printing at a high level
Printing is really a kind of conversion process.
When printing a webpage, the software involved "translates", in a sense, the webpage that you see from its original HTML encoding into instructions  specific to your printer1.
Each printer family, or sometimes even printer models, understand different sets of instructions. When an application prints, it communicates with the Windows printing interface, which in turn communicates with the driver for the printer you select, to translate the instructions into whatever language the printer understands.
The result is sent to the printer, which presumably prints what you wanted.
Printing to a file
When you select the "Print to file" option, the data in the last step (normally sent to the printer) is written to a file on your hard disk instead2. Typically, the output is saved as a ".prn" file.
One idea is that if printing in your application is a time-consuming or inconvenient process, you can click Print once and save the output of that print process using Print to file. Any time you need an additional printout, you simply copy it to the printer.
Copying a ".prn" file to the printer can be as simple as dragging and dropping the file onto the printer icon in Windows Explorer, or entering a copy command like "COPY FILENAME.PRN PRN" in a Windows Command Prompt.
Printing directly from the original isn't typically that difficult these days, so there's little need for printing to a file anymore.
And, in fact, there are a few reasons why you might not want to try it.
Problems with Print to file
Most printer drivers today just don't support it; the option isn't even present. Even if the checkbox is visible and checked, the printer driver may still not support it, resulting in errors at print time. Sometimes the errors persist across different printings, even those not using print-to-file.
More importantly, however, as you can see from the description of how it works, a file created using Print to file is not portable. It works only with the specific printer selected at the time it was created.
You cannot take a ".prn" file created by Print to file and expect it to work on any printer. At best, it'll only work on printers that are compatible with yours — possibly only the same make and model.
What you probably really want
Print to PDF is a better solution, and its ubiquity is likely responsible for the demise of Print to file.
Print to PDF creates a PDF file, which stands for "Portable Document Format". PDF files are not in any printer-specific format at all, but are optimized for display as if they had been printed.
PDF files are portable, not just from printer to printer, but from device to device. A PDF will display — and print — the same3 everywhere, on every platform.
Windows 10 and other modern operating systems now include Print to PDF by default.
Podcast audio

Download (right-click, Save-As) (Duration: 4:38 — 4.9MB)
Subscribe: RSS
Footnotes & References
1: Or printer-mimicking device like Print to PDF.
2: Actually, the instructions are generally written to a file anyway — this is the role of the print spooler, which marshals multiple applications all trying to print at the same time. While there may be differences in the details, "Print to file" can also be thought of as "Don't send the spool file to the printer, and don't delete it."
3: In theory. I'm sure there are edge cases where the formatting may be incorrectly created or displayed, depending on the software creating the PDF or the software displaying it. The goal of PDF, however, is to be the same everywhere.