The problem may not be where you think.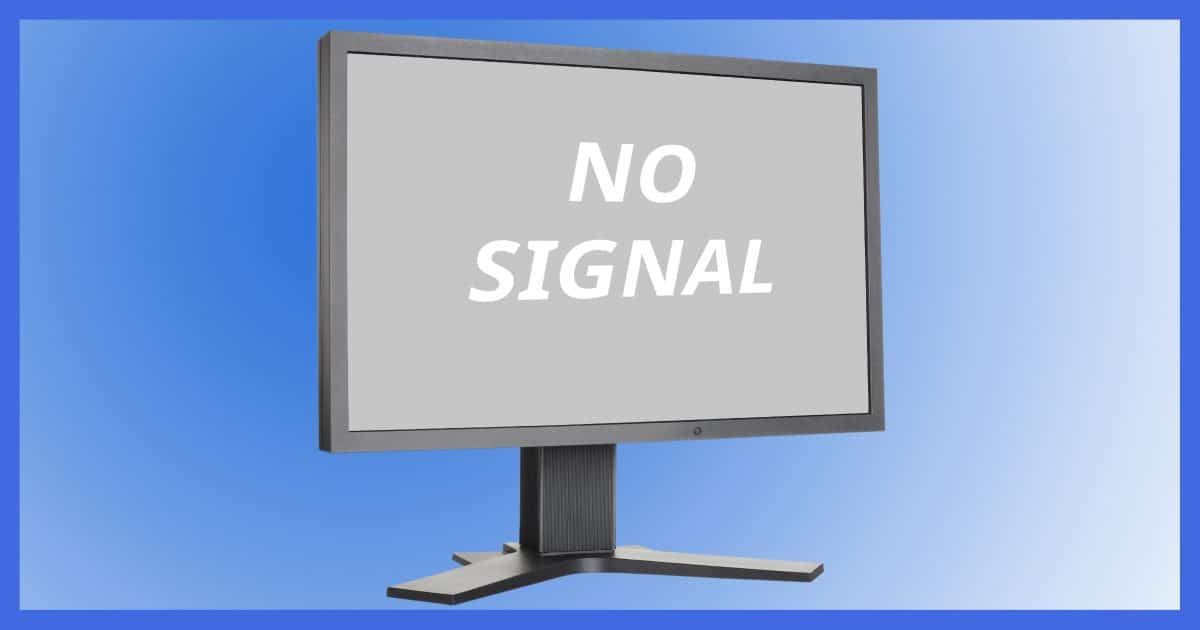 "No Signal" is a message coming from your display device (not from your computer), indicating it has nothing to display. I'll review possible causes.
Question: I  just got a "No Signal" message when trying to start up. When I push the Panic button on the tower, it starts. Everything works normally after the start. What's going on?
This message, and several others like it, confuse many people.
The reason for the confusion is that the message doesn't come from your computer — it comes from the computer's display.
And on top of all that, it may or may not indicate there's a problem.

No Signal
Your desktop computer is connected to a monitor via a cable. "No signal" is a message from the monitor, not the computer, that it is not getting information from the computer. Most commonly it's a configuration, connection, or power problem — or just a temporary message while booting.
PCs and display devices
Your desktop computer is typically connected to a display device variously referred to as the monitor, screen, or display. It is not "the computer", since by itself, the display can do almost nothing. It's only when connected to your computer that a display serves a purpose.
The video card or circuitry inside your computer turns the bits and bytes that represent the image you see on your screen into information that travels along the cable connecting your computer to the display. There are various types of cables and video interfaces, ranging from the older "VGA" style to the newer Digital Video Interface (DVI) and the increasingly popular High-Definition Multimedia Interface (HDMI).
Even if you're using an all-in-one computer or a laptop with a built-in display, this is all still present, though often using different interface technologies and hidden from view.
Each of these interfaces transmit information about what should be displayed from the computer to the display.
The information traveling along that connection is typically referred to as the "signal."1
And therein lies the clue.
No signal
The "No Signal" message does not come from your computer; it's generated by the display itself.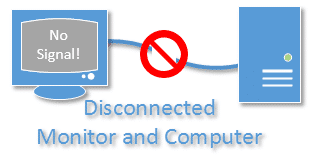 All it means is that the monitor is not receiving a video signal from the computer.
Possible causes
That's a pretty simple explanation. In fact, from the display's point of view, it's a pretty simple situation: it's expecting a signal telling it what to display, and it's not getting one. So it displays a message on its own to tell you what's up.
Like so many "simple" situations, there are many, many possible causes:
The computer is outputting a resolution (such as 3840×2160) that the display does not support.
The display is on, but the computer is not.
The cable connecting the computer to the display has become disconnected.
The cable connecting the computer to the display is faulty.
The display has multiple inputs, and the wrong one is selected.
The computer has multiple display outputs, and the one the actual display is connected to is not enabled.
The computer is in standby or hibernate mode, and has turned off its display signal.
The computer has crashed in such a way that it's not displaying anything.
The computer is broken in such a way that it cannot boot.
And, of course, the display itself could be broken.
It's also completely normal for a display to show "No Signal" for some period of time while your computer boots up. Often the computer's display adapter temporarily stops trying to display anything as it is configured for use by Windows.
As you can see, there are many possible causes.
When faced with this situation, I check to make sure that everything is turned on (it's so embarrassing when it's not :-) ) and that the cable is properly connected. If that doesn't resolve it, I move on to trying another cable or display, and finally, attempting to diagnose whether the PC is working at all.
Display messages
Computer displays have become sophisticated devices in their own right and can display messages of their own. It's important to realize that these messages are not coming from your computer at all; they're being presented by the display.
In the case of "No Signal", it may be the only thing on the screen.
Other display-generated messages will often appear "on top of" whatever else your computer is displaying.
Understanding what they look like and what steps need to be taken means becoming familiar with your monitor's options and controls, which are completely separate from the computer itself.
Podcast audio

Download (right-click, Save-As) (Duration: 3:16 — 3.5MB)
Subscribe: RSS
Footnotes & References
1: Technically, "signal" refers to any electronic-signaling mechanism carrying information. It commonly refers to analog signals, like radio, TV, and the video signal carried over the VGA interface. It applies to digital information as well, because in some cases, digital information is transmitted using otherwise analog media.