I have an older Dell that has been upgraded to Windows 10.
The other night I ran a maintenance tool and turned the computer off  and on. When it came back on, the keyboard and mouse were not working. They connect by USB ports. When unplugged and replugged the computer acknowledges they are there. But I am unable to use the cursor or get any response from the keyboard in order to correct any problem.
The mouse works fine when connected to a different computer.
In your infinite wisdom…would you possibly have any ideas for me?
Several ideas.
I have a guess as to what happened, and a couple of ideas on what I might do next, were I in your shoes.
What I think happened
I believe the maintenance tool "cleaned up" the drivers for your mouse and keyboard.
In other words, it removed them and replaced that software with something else — something that obviously doesn't work.
I can't really say why it did so. Perhaps it mistakenly thought the driver software was malicious. Perhaps, as a performance optimization, it thought there was a better choice. Perhaps it just screwed up.
Either way, it made a mistake. There's too little to go on to say whether that's serious enough to stop using that tool. If it makes mistakes like this consistently, of course, I would look for an alternative.
Try a different mouse and keyboard
First, I would try a different mouse and keyboard if you have some lying around.
While it's more likely this problem affects all USB mice or keyboards, there's a chance it doesn't. If so, and these replacement devices work, this makes interacting with the computer significantly easier. You can still try some of the steps below to restore your original devices' functionality, but as you'll see in the next steps, at least you can do so relatively easily.
Restore from a backup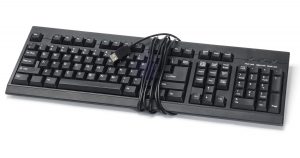 Honestly, if this were my machine and I wasn't lucky enough to have a different mouse/keyboard combination that worked, I'd restore my machine to an image backup taken prior to the problem. That way, I'd effectively "undo" the damage, and would know not to run that tool again without understanding why it disabled the input devices.
This is another case in which a recent image backup can save you a lot of hassle.
If you haven't been taking image backups, or don't have one recent enough to go back to without a lot of loss, then things get uglier.
Accessing a machine without a working mouse or keyboard
If, as I suspect, no mouse or keyboard will work, then you have a dilemma, as all of the recovery steps require you to at least type into the machine.
There are three approaches:
Remote access. If your machine has remote access configured (Remote Desktop is enabled, or you have some other remote access software installed), and you can access it from another machine, do that. Ideally, the other machine will be local, and you can connect to your problem child from a machine on which the mouse and keyboard work.
Safe Mode. Whatever disabled your mouse and keyboard did so within Windows, which would not affect your BIOS or UEFI. That means you should be able to enter safe mode by pressing F8 (perhaps repeatedly) as your machine boots. I honestly don't know if your keyboard and mouse will work in safe mode, but it's certainly worth a try.
Recovery disk. You might try booting from a recovery disk and see if the repair tools on that disk give you some options to non-destructively fix your mouse and keyboard drivers. I'm generally not hopeful of this method, as most repair discs focus on options to reinstall Windows. Before you take that path, be sure to read the notes on backing up, below.
If you get access to your system
If you can access to your system one way or another, then there are two approaches to attempt to repair the damage.
First, locate, download, and install the latest drivers for your keyboard, your mouse, and possibly USB in general. You would normally find these at the appropriate website of either the device manufacturer or your computer manufacturer.
If that doesn't work or is not an option, the second approach is to force Windows to locate drivers as if this were new hardware. You do that by deleting the existing drivers and rebooting. Windows will see "new" hardware for which it has no drivers, at which point it will attempt to locate and install the drivers appropriate to what you have. You'll find instructions in my article, "How do I force Windows to reinstall a driver?"
That sounds scarier than it really is, but honestly, you don't have much to lose at this point.
Speaking of which…
Back up
If you've gotten this far without success, your remaining options are few. Before we explore what they are, I strongly suggest you take an image backup of your entire machine.
That means rebooting the machine from your backup software's "emergency" or "recovery" disk, and using the tool not to recover, but to back up. Again, since the problem you're having is with your installed copy of Windows, booting from a different disk bypasses that problem, and you should be able to interact normally with the backup software.
Create a backup of everything and set that aside. Things are about to get destructive.
Reinstall Windows
Our options seem to come in pairs, and this one is no different. You can either:
Reinstall Windows, asking it to "preserve files", which means your data files will not be erased. Your installed programs on the other hand, will be, and you'll need to reinstall them when Windows is working again.
Reinstall Windows from scratch, which erases everything for you to start over.
Honestly, having just backed up everything, I'd use this as an opportunity to start over with a completely clean slate. Once you've done so, reinstall your applications and restore your data from the backup or elsewhere.
And, presumably, think twice about running that maintenance program again.
At least perform a full backup again before you do so, so that any damage is more easily undone the next time you try.
Podcast audio

Download (right-click, Save-As) (Duration: 6:34 — 3.1MB)
Subscribe: RSS