1. How long does e-mail delivery typically take? What are the most common ranges?
2. How long does it actually take (more or less) for the mailer-daemon at my e-mail host (or whoever) to find the addressee mailbox is full, the addressee is unknown or otherwise undeliverable? (such as address misspelled)
3. Where the addressee data seems valid, how long will the mailer-daemon at my e-mail host (or whoever) keep trying?
Answers to these questions might be of general interest to people frequently replying  to pen pals.
I'm guessing it's really only the answer to #1 that most people will be interested in, but I'll hit the other two as well.
People have high expectations of email, and most of the time, those expectations are met.
However, what's considered "allowed behavior" may surprise you.
Email delivery speed
Computers are fast, and the internet is fast, so it's no surprise that most of the time, email is fast. It's not uncommon for email to be delivered and ready to be read or downloaded in mere seconds of the sender hitting "Send".
A few minutes is probably more common.
A few hours is quite possible.
Here's the surprise, though: a few days is also possible, and quite acceptable behavior.
Your email could take seconds, or it could take days. Most of the time, delivery is closer to seconds than days, and we're typically happy with the time it takes for email to get from point A to point B.
Delays happen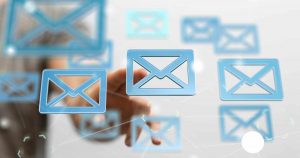 So, what might tip the scales? What might cause an email to take hours or days to reach a recipient?
There are several possibilities.
SPAM (#1)
Some spam prevention mechanisms cause delays on purpose.
For example, the first time someone emails me directly, my mail server may say, in effect, "I'm too busy for you now; come back later". This technique — known as greylisting — prevents a fair amount of spam, as many spambots won't "come back later"; they move on to their next target.
Legitimate mailers, on the other hand, will wait "a while" and try again, at which point the email is accepted. The length of the delay varies quite a bit based on the sending server; I've seen it be a few minutes, and I've seen it be a few hours.
SPAM (#2)
Mail servers can sometimes be brought to their knees by an incoming flood of spam. The server can't keep up, and legitimate email can be delayed.
The spam problem is huge, and I believe this is fairly common. I see it from time to time with big email services and with mailing list providers. Email typically makes it through eventually, but with an added delay.
Failures
Hardware breaks. Machines fail. Networks fail. Servers crash.
Then they get repaired.
Mail servers are designed to note that some errors are temporary, so they keep trying until the error gets resolved.
In this case, the delay can be up to five days. You may have seen bounce messages that say, in effect, "I've tried for five days and couldn't get through — I'm giving up."
Load
Sometimes mail servers are overloaded with legitimate email. This happens from time to time, particularly with mailing list services.
User error or behavior
Email delays can also be our own fault, for several reasons.
Occasionally, we compose a message and forget to hit Send. It's not until we notice and do so that the email gets sent.
On occasion, someone might write their email while not connected to the internet. The message isn't sent until after they make the connection.
At the other end, if someone only checks their mail every three days, you might see what looks like a three-day delay.
It's usually quick, but
As you can see, there are many legitimate reasons email gets delayed. The good news is that if it can be delivered, it typically will be, eventually. The even better news is that "most of the time", it's pretty quick.
You just might not be able to count on it.
On mailer-daemons
A "mailer-daemon" is software that runs in the background on mail servers to deliver and otherwise process email.
Mailer-daemons typically process mail very quickly, so decisions on the validity of email, the state of a mailbox, or anything else that can be determined easily by looking is extremely fast — as in less than a couple of seconds, if even that.
How long a mail host will keep trying to deliver an otherwise legitimate email depends on the specific problem that is preventing delivery, the decisions made by the author of the server software, and configuration choices made by the mail server administrator.
Typically, failure will either be immediate (if it's clear that the problem is something permanent) or within several days (if it's something that might resolve itself over time).
It's important also to realize that failure — be it immediate or after a delay — may not generate a bounce or error message in return. In other words, it's frequently the case that errors happen, but you never know.
Podcast audio

Download (right-click, Save-As) (Duration: 5:48 — 2.7MB)
Subscribe: RSS