I knew Windows 10 had gotten more aggressive about updates but today it took over and restarted in the middle of a live presentation!
It suddenly announced 'I'm restarting at 12PM save your work.' I went into settings and couldn't uncheck the time and set a new one. It didn't do a countdown, it didn't let me postpone the update, so live, in front of hundreds of people at my author event my computer restarted. Ugh!
It was a long one, too. I was 'dark' more than ten minutes during my presentation.
Is there at least a way to set hours Windows cannot restart? I'll do a registry hack, write VB code, whatever it takes.
Actually, Windows 10 now includes an option to set exactly what you're looking for: the hours during which it should not reboot.
There are some restrictions, of course, but as long as your presentation happens during those hours, you should have what you need.
Windows Update settings
Start by going to Windows Update settings. You can fire up the Settings app and navigate there, but there's an easier way.
In the search bar (aka Cortana) just start typing "update settings".
Eventually, search will automatically display "Windows Update settings" at the top of the results, as the "Best match". Click on that. (If there are too many ambiguous choices, typing "windows update settings" should get you exactly what you want.)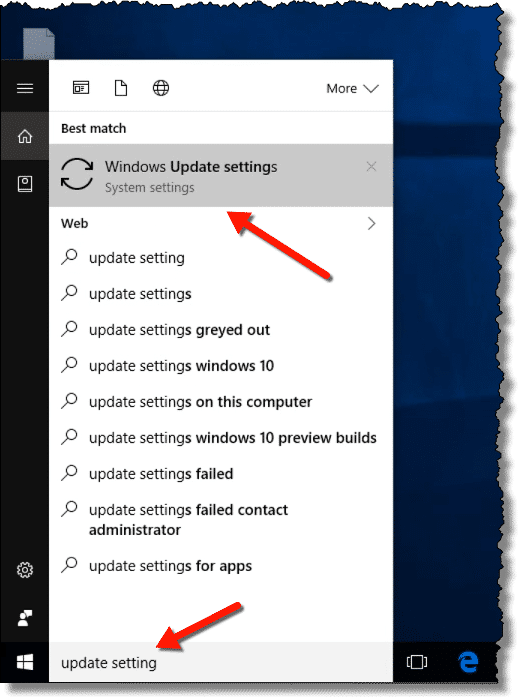 Click on "Change active hours". It's probably grey, indicating it has not been set yet.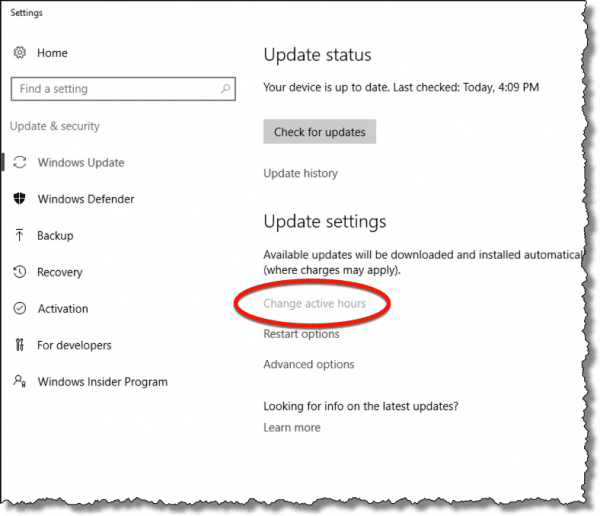 You'll be presented with an interface to select a start and finish time for your "active hours".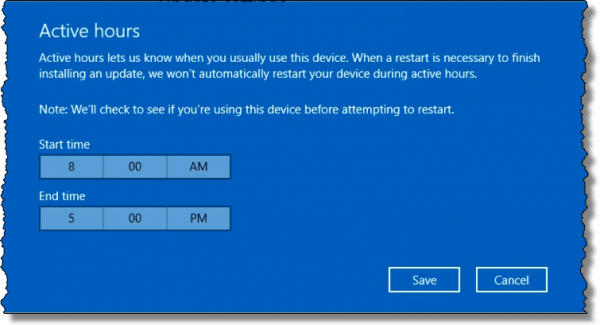 Update the times to reflect the time range you want, making sure to click the check mark at the bottom of the time selector to set the new time.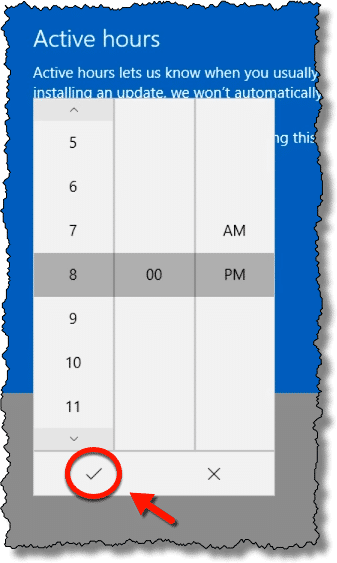 Once you've set a start and end time, click on Save.
Updates may be downloaded and even partially installed at any time, but Windows Update will not reboot your machine during your "active hours".
Limitations for workaholics
In setting this up for myself, I encountered a limitation that surprised me.

Being the self-employed, almost-always-working guy that I am, I wanted to keep Windows Update from rebooting between something like 8:00 a.m. and 10:00 p.m. – a total of 14 hours.
I was denied. Active hours can only be set up to a maximum of 12 hours. Apparently, the "other" 12 hours of each day remain open for Windows to do whatever rebooting it needs.
Apparently, Microsoft thinks I work too hard.
Podcast audio

Download (right-click, Save-As) (Duration: 3:09 — 1.5MB)
Subscribe: RSS